Looking for Inspiration? 6 Creative Ways to Design the Best Postcard
The season for holiday greetings is near, and it's the best time to reach a larger market. You can send postcards to several homes, increasing the chances of a customer reading your message. But your postcard arrives with the bills, promos, and announcements from other companies. You need a design that stands out and hooks the recipient from the start.
So, where do you begin when creating a distinct postcard? Here are some ideas from some of the best postcard designs.
1. Reframe a familiar place in a new look.
Travelers use postcards to bring a part of the world to a letter reader. Before email and instant messaging, postcards revealed a country's famous landmark. Recreate this nostalgic (or novice) experience in your own business postcards. But instead of showcasing a photograph, use line icons to represent experiences unique to a city, like Makers Company did in its postcard sets. Their illustrations of New York showcase activities the city is known for, like hotdogs and pretzels, along with the well-known landmarks like the Empire State Building and Brooklyn bridge. The line icon style reframes these places and encounters, compelling recipients to appreciate the details in the artwork.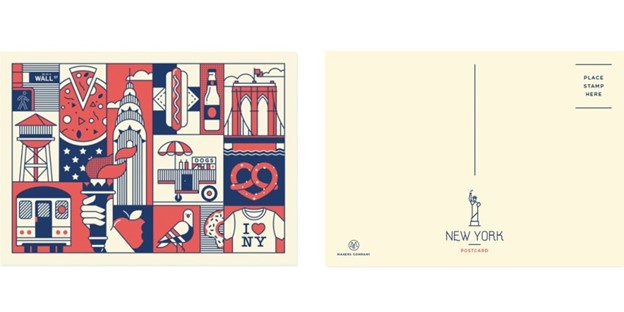 2. Paint a landscape or skyline specific to your customer's area.
Prefer the more traditional depiction of a place but don't want to print a photograph? Get inspiration from the timeless paintings of National Parks postcards. The landscapes are illustrated in full detail, highlighting nature's small and large details in the various colors and deep textures.
Painting a familiar place for your customers will evoke nostalgia and draw them toward your postcard. Think of landscapes, landmarks, sky- or city lines in your customer's area and see how they come out as beautiful paintings. Apart from likelier reading the postcard, they'll also want to display it in their home. The displayed design increases your chances of being remembered and staying top of mind.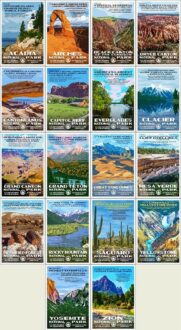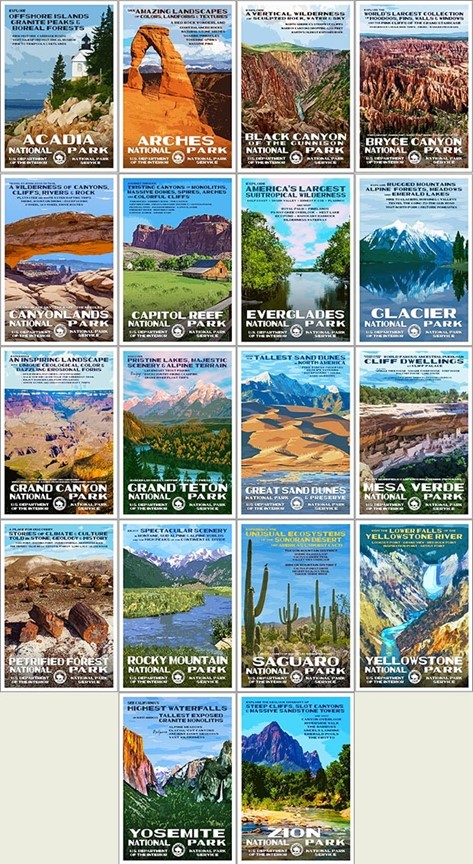 3. Use typography to tell your story.
Postcard designs aren't limited to images and graphics. You can explore how typography, the art of arranging letters and text visually appealingly, can spell out a special greeting or message. You've seen typography across different communications, from the titles on a menu to promotions on a window storefront.
A good example is how Jen Serafini described her services as "storytelling through design" on a postcard. The font choice, color, size, and spacing show and tell what she wants to convey to her potential customers. Explore what phrase best summarizes your business and how typography can show it artistically on a postcard.
4. Create a design customers can hang up as wall art or decorations.
As time passes, customers will end up throwing away your postcard. They're likelier to keep a design they can display on their refrigerator or walls. A good example is how the apparel brand Vacant Soul Thread conceptualized their postcards as wall art. Customers can display these spooky designs around their houses come Halloween.
See which holidays best match your brand and create a decorative design based on that occasion. You can send out postcards for December, Thanksgiving, or other special occasions like Valentine's, the fourth of July, and the start of spring.
5. Recreate relaxing subjects like flora and butterflies on your postcard.
Are you a freelance artist or designer looking to expand your client list? Postcards are a great way to showcase your talent, as there's ample space for an elaborate or focused design. Crystal Pyren of Pacific Coast Artisan did this with her work entitled "The Monarch Butterfly on Milkweed", which she printed on a postcard. A mural she painted at the Butterfly Grove Inn in 2020 inspired the painting.
Are there any designs you can craft from a previous artwork? Get inspiration from your past works and see how they come out as postcard designs. Your customers can hang these up as mini painting in their homes. It's an affordable alternative to actual paintings while promoting your talent to several individuals.
6. Design the postcard like a personal letter.
Don't have the resources to paint or recreate a scene as artwork? Take a few snapshots of what's unique to your business, like the architecture of your store building or an activity popular among customers. Send out the images on the front side of your postcard, as the Four Sisters Inn did with its design. Their vintage postcard evokes relaxation and shows an experience specific to their boutique hotels.
Highlight experiences relevant to the customer on your postcard. Review the activities or products that your customers enjoy and explore how they can be depicted in a photograph. The artwork appeals to their tastes, so they're likelier to read the rest of your postcard.
Postcards are a timeless way to spread messages. But you need a strong design for customers to read and keep what you send out. Take inspiration from some postcard examples above. Once you've completed the concept or artwork, you can start creating a design online on PrintPlace. On our site, you can customize a postcard on the browser or download a template for your preferred editing program. We'll accommodate your preference and assure the highest quality in every step of the process. Explore the postcards you can send out with us today.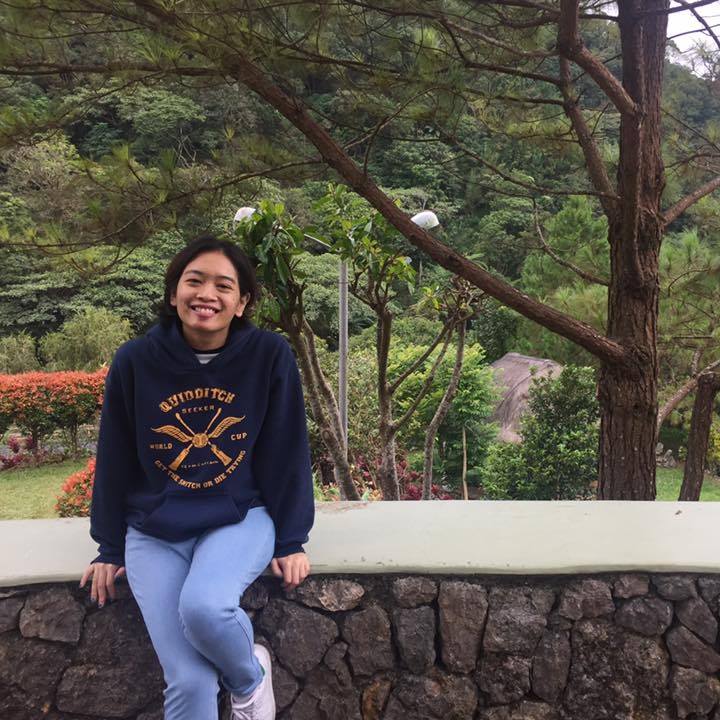 Angela's first love is food but her second love will always be the written word. She loves discovering new ways to tell stories and reads everything from YA to memoirs. Her time away from words is spent either with her three dogs or catching up on her favorite Netflix shows.