Looking for Inspiration? 6 Creative Ways to Design the Best Holiday Postcard
Expand your current audience by sending season's greetings postcards to potential and loyal customers. If you're worried that your audience won't see them, don't. US consumers will notice your mailed postcard—72% say they "read direct mail immediately or the same day they bring it inside their residence," according to the "The State of Direct Mail Consumer Insights" report. But since your message arrives with the bills, letters, and junk mail, you need a design that instantly captures their attention.
Here are some ideas to inspire the best postcard for your next holiday message:
1. Reframe a familiar place with a new look.
Travelers use postcards to bring a part of the world to its recipient. Before email and instant messaging, postcards were widely used to reveal famous landmarks and new terrains. The holiday season is also a time when many people travel, and you can recreate their nostalgic experience with your postcards.
Instead of a photograph, use line icons to represent experiences unique to a place like Makers Company did in its postcard sets for different cities. Their illustrations of New York City showcase things The Big Apple is known for like hotdogs and pretzels, along with famous landmarks. The line icon style references these places and encounters, compelling recipients to appreciate the artwork.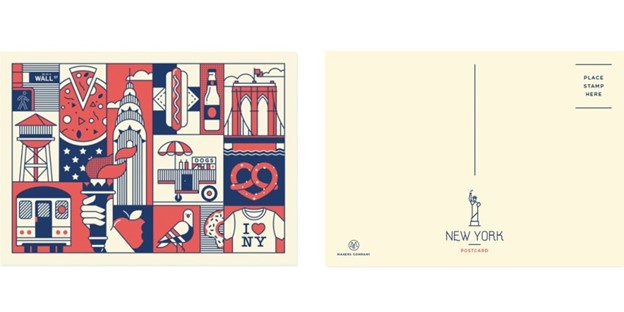 2. Paint a landscape or skyline specific to your customer's hometown.
Get creative with your medium. Think of easily recognizable landscapes, skylines, and attractions and reimagine them as paintings instead of photographs. The timeless depictions on the National Parks postcards are a great source of inspiration. The landscapes are drawn and colored in full detail, highlighting nature's small and large details in different colors and deep textures.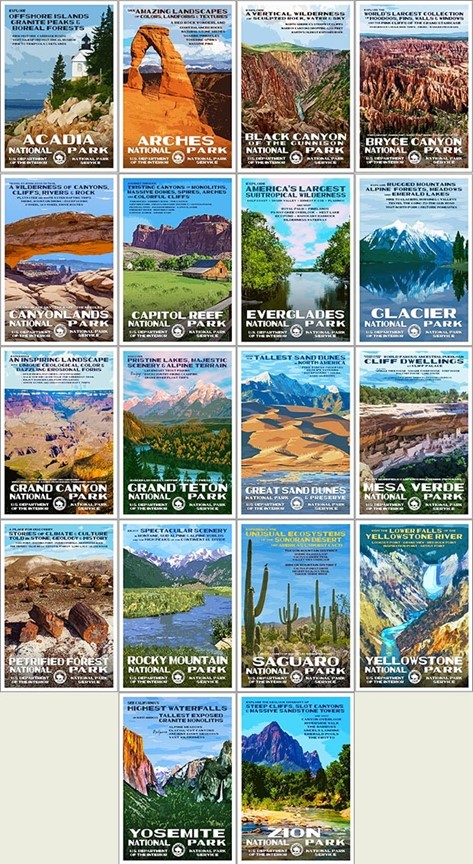 3. Use typography to tell your story.
Postcard designs aren't limited to images and graphics. You can explore how typography, the art of arranging letters and text, can show what makes a place unique. A good example is Christina Rose Trimidal's postcards of different cities. Drawing inspiration from Kate Moross' hand lettering designs, she used typography to portray these places as she felt photographs of landmarks and skylines didn't tell enough about a place's culture.
In her postcard for Cebu, Philippines, she positioned Filipino phrases close together to show how crowded and busy the city is. Her postcard design for Tokyo had phrases in all three Japanese writing systems: Hiragana, Kanji, and Katakana. By just reading these phrases and studying how they're presented, Trimidal proves that typography accurately portrays the experience of visiting a new place.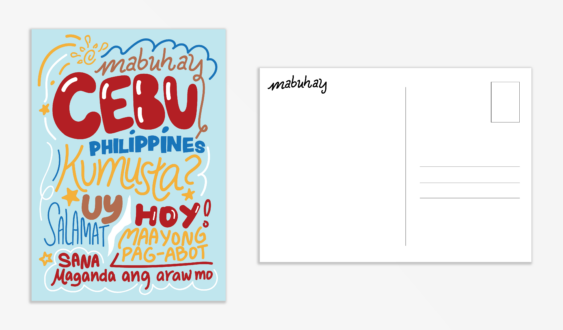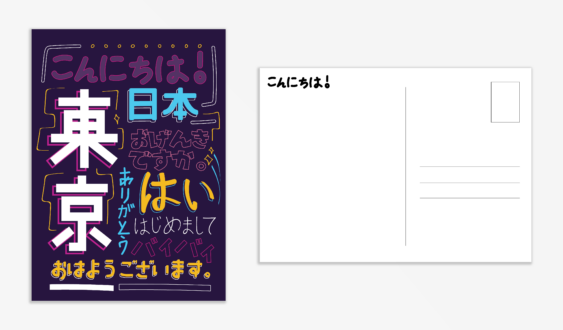 Images from Christina Rose Design
4. Create a design customers can hang as wall art or decor.
Don't let your postcard get caught in the mail-to-trash pile. Customers are more likely to keep a design they can display on their refrigerator or walls. Get inspired by RandelDesign's Christmas postcard set for your next set of holiday designs. The festive illustrations focus on details specific to the season like Christmas wreaths, gingerbread cookies, reindeer, holly, and pine tree leaves. They're also so beautifully done that you'll want to hang them up alongside your decked-out tree and colorful lights.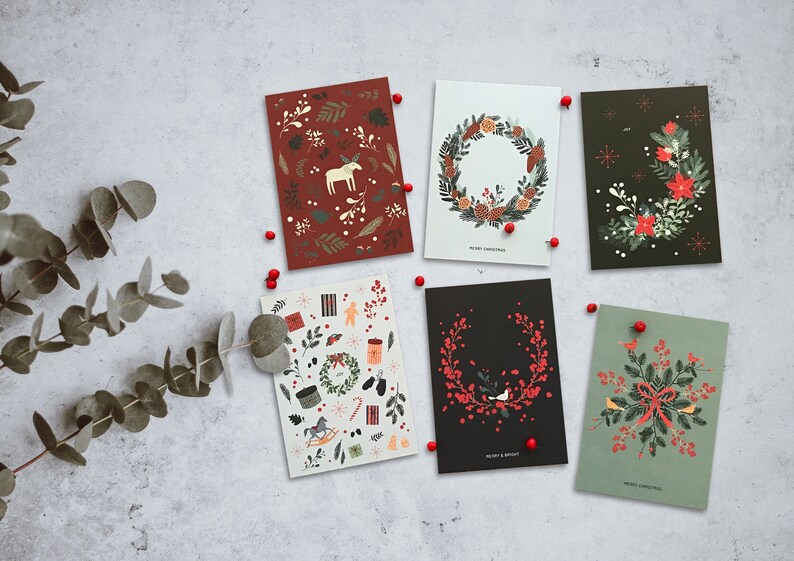 From RandelDesign's Etsy
5. Draw inspiration from your past designs.
Don't know where to start for your upcoming postcard? Get inspiration from your past work and see how it leads you to a new design. Crystal Pyren of Pacific Coast Artisans has felt a strong connection to monarch butterflies since painting a mural in 2020 at the Butterfly Grove Inn. From that experience, she was inspired to create a new postcard design, "The Monarch Butterfly on Milkweed." The postcard features the monarch butterfly in a different setting and another medium. Her art shows that you don't need to look far for your next idea.
6. Showcase photos of your business' one-of-a-kind experiences.
Don't have the resources to paint or recreate a scene as artwork? Take a few snapshots of what's unique to your business—it can be the architecture of your store or an activity popular among customers. Review the activities or products your customers enjoy and explore the ways they can be depicted in a photograph. Print the images on the front side of your postcard, as the Four Sisters Inn did with its design. Their vintage postcard evokes relaxation and shows an experience specific to their boutique hotels.
Rethinking Traditional Postcards with Creativity
Printing postcards are a timeless way to spread a message, and breathtaking images help your holiday or seasonal message stick. Get inspired by the designs outlined here and start designing your own with PrintPlace. You can download a template or create your own postcard online on a blank slate. We'll accommodate your preference and assure you of the highest quality in your order.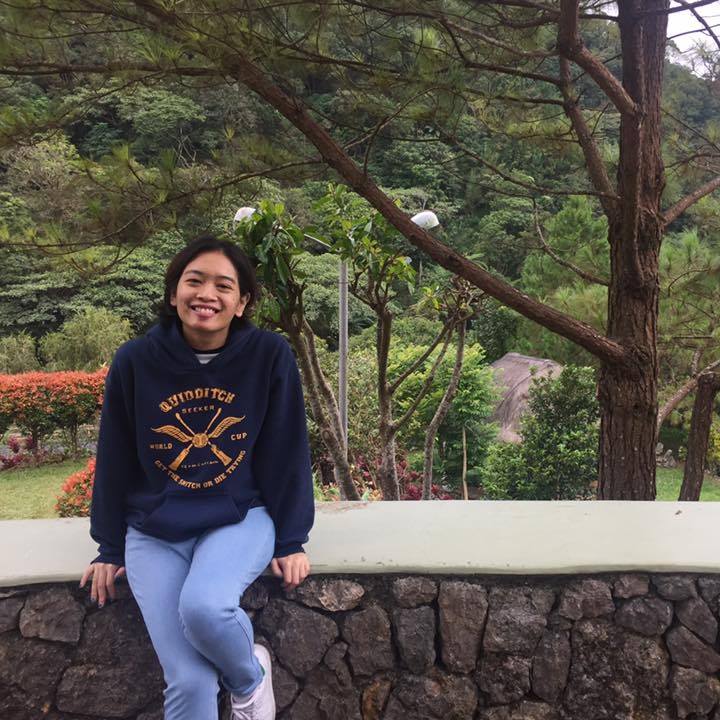 Angela's first love is food but her second love will always be the written word. She loves discovering new ways to tell stories and reads everything from YA to memoirs. Her time away from words is spent either with her three dogs or catching up on her favorite Netflix shows.