Table Banners
A wide variety of standard & custom sizes
Printed on heavy-duty vinyl materials
Add grommets to secure the banner
SHOP NOW
Attention-Grabbing Table Banners to Showcase Your Booth at Any Event
Take advantage of those few seconds potential customers look at your stall at a public event. Customize table banners that showcase your company name, logo, and other relevant information to draw them in. Choose from several small to large sizes that fit any kind of space. All designs are printed on sturdy vinyl options built for outdoor or indoor event displays. Find out how you can customize every detail with the custom printing options available.
Complete the Perfect Custom Table Banner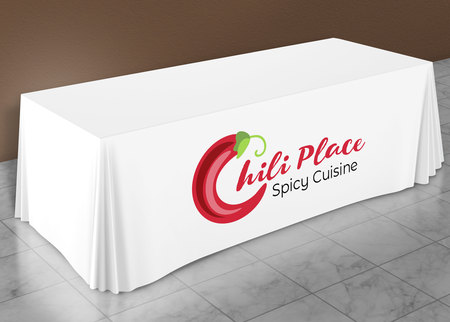 Choose a Size That Fits Your Booth's Table
Limited space doesn't mean you should limit the reach of your design. Check out the available dimensions below:

Small: 3' x 2' and 2' x 4'
Medium: 3' x 6' to 3' x 10'; 4' x 8' and 5' x 3'
Large: 6' x 4', 8' x 2', and 10' x 5'
Print in a Material That Suits the Event's Conditions
All options are made of tear-resistant vinyl.

15 oz. vinyl is built for outdoor use and can last up to 5 years.
13 oz. vinyl comes in a readable matte finish and is more affordable compared to the thicker 15 oz.
Mesh vinyl is built for windy conditions and keeps your design good as new despite the weather.
Secure the Banner With Grommets
Add grommets on the banner edges or corners for fast and easy installation. These are metal rings placed around holes to keep the custom banner in place while it's on display.
Have More Questions About Our Printing Services?
Contact any of our print experts from Mondays to Fridays from 7 am to 8 pm CT. They'll clarify everything from bulk printing prices to other aspects of our online printing services.

Custom Table Banners FAQs
How soon can I get the custom table banners printed?
Choose from 1, 2, or 3-business-day printing. Note that for 1-business-day printing, you need to submit and approve the file before midnight CST. Follow this time frame to ensure your order is shipped on the following business day. Check out this page for more information on our printing turnaround times.
Can I download a template to use on my preferred editing program?
Yes, you can download a ZIP file based on your preferred size from the Layout Templates tab. Formats include Adobe PSD, AI, PDF, and Microsoft PUB.
How do I ensure my file is ready for printing?
The entire table banner design should have the following allowances:
Bleed: 0.25" larger than the ordered size
Caution zone: the text is 0.125" away from the trim line or 0.25" away from the file's edge.
Set in CMYK color mode. Do not submit your file in RGB.
300 dpi resolution for all visual elements. Anything lower will make it appear blurry or pixelated when printed.
Download and refer to this document
for more information.
Can I review the file before it is printed?
Yes, after uploading the file on our site, select "Send me a PDF proof first." A PDF file will be emailed for you to review and approve online. We will only print your order after you've sent the approval.
How soon can I receive my table banner printing order?
The arrival of your table banner will depend on the turnaround time and your location. Go to "Shipping Estimate" below the online calculator and input your ZIP code to load the estimates.
---
Related Products
Top Sellers