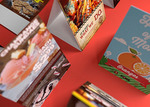 With so many standard options, it's easy to design and print the perfect table tent cards.
Introduce promotions and discounts
Provide quick and easy information
Use in salons, stores, banks, diners, bars & pubs
Also known as table talkers in restaurants
Table Tent Layout Templates
The specifications in the layout templates below will ensure your artwork prints correctly. These guides will help you design your artwork to our printing specs, giving you the best results possible.
Marketing Design Tips for Custom Table Tents
Here's a simple idea to get more out of yours: Print on both sides of your table tent cards to get two designs for little more than the price of one! If you print on only one side, the inside panels will be blank. If you print a second offer or design on the inside panels, you can simply reverse the table tent and re-lock to display the second side. For example, print a patio special for the summer on one side and a fall event on the other.
You can also think outside the box and design something in addition to a standard table tent. A desk calendar can fit nicely on a tent card. Put your contact and company information on one side, and a year-at-a-glance calendar on the other.
{{tatDisplay}}
{{ priceData.discounted_price | currency : '$' : 2 }}
{{ priceData.price | currency : '$' : 2 }}
{{ priceData.unit_price | currency : '$' : 2 }} each