Green Marketing Practices: Better for You and Your Customers
The ever-increasing global move to green practices has made green marketing efforts a necessary part for businesses of all sizes and industries. Conserving resources and limiting waste are becoming just as important to customers as value and quality. Since marketing materials can be a big consumer of resources and a process that creates waste, it is an important area to concentrate on when it comes to green marketing practices that are good for you and your customers.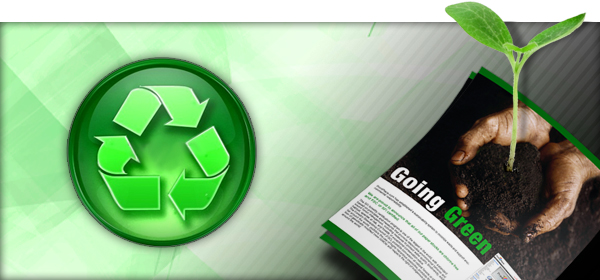 There are many different areas that marketing practices can be greened up as well as many areas of green responsibility that your business can market. Trends of conservations, responsibility, and value will continue to grow in the business marketing arena. Use the ideas below to help form a strategy of green marketing practices for your business that will be better for you and your customers.
Choose the Right Vendors – A large part of marketing is printed material in the form of advertising brochures and posters, direct mail advertising, labels, and packaging. Many of these items are sourced to other vendors. Make sure you are aware of the practices of vendors before hiring them. If you are not sure, ask about their green practices. A printing company should be managing waste in two ways: by avoiding it and by recycling it. The paper stock they use for brochures, posters, labels, etc.,  may have recycled material in its composition. Inks should be vegetable based inks and inks with low volatile organic compound emissions being used, as opposed to petroleum based inks.
Eliminate Your Office Waste – In addition to choosing vendors who are environmentally responsible, find ways you can eliminate waste in your own business. Take note and ask employees to report environmentally responsible practices they notice around the office. From energy efficient office equipment to healthy green grounds that help clean the air, measure and document as much as possible the savings your business is  doing.
Alert Your Customers – Finally, be sure to let customers know about the efforts you are making to use and encourage green practices in the marketing realm and in business operations. Add a little note to brochures, posters, and labels that they are printed on paper using inks with low volatile organic compound emissions. Add a paragraph to your sales brochures about your business's green marketing and operations practices and about how you encourage vendors to use them as well. The collective reduction all of these little changes make adds up to be a big difference for you, your customers and future generations.

PrintPlace's mission is to provide customers with unparalleled printing services through the knowledge and expertise of its employees.