Business Card Maker
The most personalized and prominent way to introduce yourself.
Print in standard and personalized sizes
Die-cut shapes available in circle, leaf, and oval
Get creative with a folded design
Business Cards in Every Size and Shape
Elevate the first impression you make.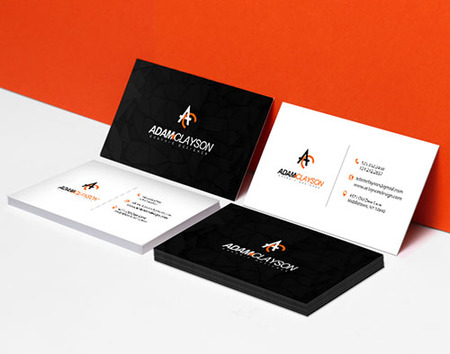 Standard square & rectangle sizes
Durable 14 pt. & 16 pt. cardstock
Protective gloss or matte coating
Get Creative With This Online Business Card Maker
Are you a business owner with limited design resources? Looking for an online printer that covers every step—from providing a free business card maker to delivering your stock the next business day?
PrintPlace lets you customize every detail of your
business card
, from the size, shape, to protective finish. Choose from a variety of standard dimensions or select a die-cut shape that matches your logo.
How to Make Your Customized Business Cards
PrintPlace helps you create a business card design online. There are three easy ways to get started printing from the
standard
,
die-cut
, and
folded business card
pages .
Use our online business card maker.
After selecting your desired shape, size, and finish, go to "Design Online" at the bottom of the online calculator. You'll be taken to a free space where you can add text, combine colors, and place images based on your specs.
Upload your print-ready file.
Is your business card design ready for printing? Select "Upload Now" to send us a file from your device or Dropbox. Here you can also select to review a free PDF proof before we proceed to printing.
Download any of the templates.
Prefer to use a specific design program but need the printing guidelines included in the file? Go to the "Layout Templates" tab and select your preferred size. A ZIP file will be downloaded to your computer. It includes a PDF, PUB, PSD, INDD, and AI layout template.
The Best Customizations for Your Business Card Design
Design in a variety of shapes and sizes that will effectively bring out your brand and business' vision.
Print in the standard 2" x 3.5" U.S. size or opt for a more modern 2" x 2" or 3" x 3" square.
Align your design in the shape of your company logo, like a circle or leaf.
Print a folded business card if you want a more interactive experience with your details. It also provides extra space for additional contact information.
Business Card Maker FAQs
Q: What is the best free business card maker?
A:
PrintPlace offers various ways for you to create a business card. Use our online design tool if you aren't familiar with design software.
If you're more experienced, design from any of our downloadable AI, PDF, PSD, or PUB templates. The files come with the safe zone, bleed, and borders.
Q: How can I make my own business cards for free?
A:
You can use our online design tool or download any of our templates. Both options come free before you finalize the business card order.
Q: How much does it cost to make business cards?
A:
The cost will depend on the size, shape, and finish of your order. The larger your order quantity, the less you spend on each piece. For instance, 250 2" x 3.5" business cards with gloss on both sides cost 62¢ each. But 1,500 pieces of the same type only costs 18¢ each.
Q: Why should I choose PrintPlace as my online business card maker?
A:
PrintPlace offers a variety of business card sizes, finishes, and coatings. All these you can combine in one online calculator order, depending on your preferred design type. You can also create a design online or use a template at your own pace.
Q: What is the best shape and size for my business cards?
A:
It will depend on the impression you want to make and the specifications of your design. The standard 2" x 3.5" easily fits in most wallets. Plus, it immediately gives a professional impression of you and your business.
The 3" x 3" is recommended for a square design. It's big enough to read, small enough to easily store.
If you have a preferred shape such as circle or leaf, you can check out the sizes for these specific forms.
Q: What is the sturdiest cardstock for a business card?
A:
The
16 pt. cardstock
is recommended for its increased rigidity compared to the 14 pt. cardstock. Its thickness and rigidity protect your design from creases and folds.
Q: How soon can my business card be printed?
A:
We can print your business card design on the same day of your order. To qualify for this production time, you need to send and approve your file by
noon CT
for it to be shipped on the same day.
Same day printing
refers to the time it takes to produce your order. Note that it does not include the transit time for shipping the order.
Browse by Category
Related Products