Trusted By Over 10,000 Customers in the USA.
Introduce yourself in a subtle but stylish shape.
Comes in the popular 2.5" x 2.5" square size
Printed on durable 14 pt. or 16 pt. cardstock
Apply gloss or matte coating on one or both sides
Add rounded corners for a smooth edge
Reviews
5 Star

(18)

4 Star

(1)

3 Star

(1)

2 Star

(0)

1 Star

(3)
83%
of customers that buy this product give it a 4 or 5-Star rating.
May 31, 2023
by Sydney Farooq
( FL )
"Had all of the options I was looking for with a great price."
July 21, 2022
by Supa
( SC )
"They are unique and different. This why I chose them from the normal regular business cards."
September 1, 2021
by GV_Dave
"Love the square business cards. We use business cards for lots of various things… QR code's, event tickets fir small events, invitations, and more. I love working with Print Place… there's something about the quality of work that cannot be described, you just sense it every time you get your order. ."
August 19, 2021
by Smiddy
"The product came out great. People constantly ask me where did I get it made at."
April 25, 2020
by darilyndc
"Pricing is great. Great Product and High Quality Printing"
Sleek and Striking Square Business Card Printing
Print square business cards and give potential clients a remarkable impression of your company. Your introduction and information immediately stand out against the standard size and shape for business cards
Straightforward Yet Trendy Sizes
Our square business card sizes cover the small, medium, and large range: 
2.5"x 2.5" is the most popular size thanks to its medium capacity. It's highly recommended for those looking for a size not too big or too small.
3"x 3" is our largest dimension available.
2" x 2" is the smallest size option.
Bold, Bright and Elegant Colors
Choose from two durable cardstock options that offer their own unique appearances: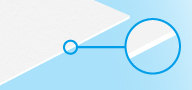 14 pt. Cardstock Uncoated
A sturdy cardstock that withstands multiple handouts and easy to carry around
Uncoated feature suits colors meant to look less saturated
A slightly textured surface allows for writability and an elegant touch to your design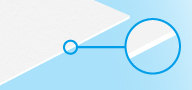 14 pt. Cardstock Uncoated Back
A durable cardstock you can easily carry around and hand out
Writable back and coated front side
Colors appear less saturated on the backside, perfect for designs with light palettes
16 pt. Cardstock
Slightly thicker than the standard 14 pt. cardstock
Increased rigidity prevents creases and folds
Your design is given a very professional look thanks to the durable weight and feel
Choose gloss coating to make every color pop or matte to create a soft, muted look
Shine Bright or Engage in Elegance
Give your logo and information that extra pop and shiny surface with a gloss coating. Its reflective surface keeps text readable while enhancing the visual elements.
High gloss UV offers the ultimate shine that complements an uncoated, writable backside option. Opt for the uncoated sides or back option if you require a writable surface.
Matte coating prints square business cards on a smooth, satin-like surface. It provides a sophisticated look perfect for premium brands targeting high-end clientele.
Customize the Small Details
Create custom square business cards with 1/4" rounded corners. Your design ends up looking extra unique and distinguishes itself from other cards of the same shape.
Upload your artwork or download one of our layout templates to get started on your square business card printing. Your order can be produced in 1 business day.
FAQs
What is the best size for my square business card?
Most customers opt for the medium sized 2.5" x 2.5", which isn't too small for a minimalist design and handy enough for easy storage. The 3" x 3" is ideal for those who need more space for visual elements and additional text.
Is there a minimum or maximum quantity for my order?
You can order as little as 25, up to more than 1,000 pieces. You get more bang out of your buck with a large quantity order in hundreds or thousands.
How can I create a square business card design?
A minimalist approach is best for the size and shape of a square. Mandatory elements include your company name or logo and the contact details you frequently use. Only place your most important details so as to not overwhelm the limited space.
Do the printing turnaround times for square business cards include shipping?
The printing turnaround time refers to the number of days to produce an order. We can print square business cards in 1 business day.  All turnaround times are based on business days and exclude national holidays. It does not include shipping transit time.
Browse by Category
Featured Products
Business Cards Templates
To make designing and printing your business card online easier, PrintPlace.com offers layout templates. These templates provide you with the right specifications to ensure your design is printed correctly. Download one of the formats below to start.
The Guide to Minimalist Designs for Square Business Cards


Here are some tips for creating great minimalistic designs:
Add a strong design element like a logo or artwork to one side. Use the other side to supply your contact information.
Stick to a font size above 10 points so customers can easily refer to your information.
Use icons to symbolize your contact information. A highly visual yet simple and clean design works best on a square shape.
Need more comprehensive tips? Check out our
7 overlooked square business cards design tips.