Rounded Corner Business Cards
Rounded Corner Business Cards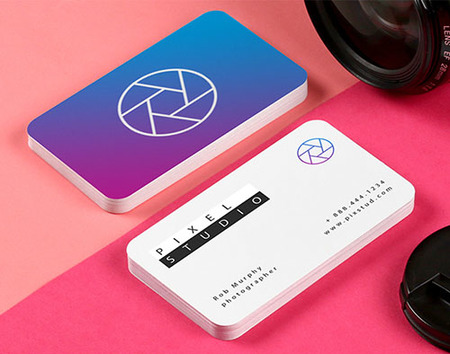 Trusted By Over 10,000 Customers in the USA.
Rounded corner business card printing allows you to create jaw-dropping designs.
Sleek & professional design
3 sizes with coating options
Thick 14 pt. cardstock
Ready to ship in 2 business days
Reviews
5 Star

(7)

4 Star

(0)

3 Star

(1)

2 Star

(1)

1 Star

(3)
58%
of customers that buy this product give it a 4 or 5-Star rating.
Very happy
November 8, 2022
by Alli H
( NC )
"Quick and beautiful cards! Everyone at our company was pleased."
September 23, 2021
by Mark VP
"Very impressive. High quality business cards on nice stock. Feels good and very crisp. NICE JOB!!"
July 2, 2021
by Maryalice Kalaghan
"I used another print house for years for a hotel that I do design for, but after a few orders were badly printed, I decided to give Print Place a try. My orders come out great and arrive in a timely manner. Thank you, Print Place!"
"I am very happy with my order. Will definitely order more"
January 17, 2020
by JasonSmith75248
"Great job on print, even got them faster than you guys estimated."
Rounded Corner Business Card Printing
Our rounded corner business cards are available in different sizes. We have 2" x 2" cards for those who want a square card but also offer them in 3.5" x 1.75" and 3.5" x 2" rectangles. There is also a standard business card size (3.5" x 2") single rounded corner option.
Round corner business cards are printed on thick 14 pt. cardstock (with an option of having one or both sides printed with gloss coating). Speaking of coating, you have the option of picking how glossy your cards are. Matte aqueous coating has the least shine while high gloss UV coating makes your cards super shiny. Gloss aqueous coating is somewhere in the middle which makes it a safe bet if you're unsure how glossy you want your cards to be.
Browse by Category
Featured Products
Business Cards with Rounded Edges for Younger Audiences
The road to having new and exciting business cards starts here. Unlike your usual standard business cards, rounded corner business card printing allows you to be more playful with the design but still look sleek and professional. Because there are no pointed edges, the cards can be stored comfortably inside your shirt pocket.
Rounded corner business cards are great for those in the creative space (graphic designers, artists, and the like) as well as businesses that usually interact with a younger audience.