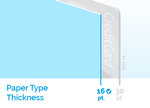 A creative way to make business cards stand out.
Embossed ink adds texture to business cards
Prints on thick 16 pt. Cardstock
Available in standard size: 2" x 3.5"
Velvet lamination complements raised ink
Raised Spot UV Business Card Templates
Our layout templates will show you how to format your artwork. This ensures your business cards print correctly. Follow the steps below to prepare your product for spot uv printing:
Create two layers on your file.
The first layer shows the design in regular CMYK color.
The second layer shows which areas will be printed in spot uv. Color all portions for spot uv printing in 100% K. All other sections that will be printed in regular CMYK should be colored white.
Raised Spot UV Advantages
There are plenty of ways to maximize the raised spot UV effect on your business cards. Here are a few.
Highlight Logos – Your logo should always be the center of attention. Raised spot UV printing can shift the attention of a person to where it matters most.
Spotlight Products – You can apply raised spot UV on any image including pictures of your products. Let customers get a feel of what you're offering.
Raise Minor Details – Raising ridges in your artwork makes for a completely different business card experience. You can also use the process to produce raised lettering business cards.