Trusted By Over 10,000 Customers in the USA.
An easy way to create an unforgettable custom business card.
Attractive skinny business cards
Thick 14 pt. cardstock or extra thick 16 pt. cardstock
Print as fast as today
Reviews
5 Star

(3)

4 Star

(0)

3 Star

(1)

2 Star

(0)

1 Star

(0)
75%
of customers that buy this product give it a 4 or 5-Star rating.
November 27, 2020
by Janice
"I switched over to the Slim Business Cards a few years ago, and haven't looked back! Our customers love them, which is exactly what we were going for when choosing this unique design - thank you!"
"Great Printing at a great price! Would order from again."
April 12, 2018
by South church
"Our church is using these as hymnal bookmarks- we love the slim look.Members love them for quick reference when opening. We have one for each hymn."
October 26, 2017
by ad agency
"I like the size of slim business cards, and my design looked good when it was printed, BUT the printing was a little crooked on some of the cards, and I don't know how that happened since I know a machine printed and cut them. Some cards are perfectly aligned, but others are not. The ink printed fine, it was just that the cutting was off."
Create Customized Mini Business Cards for Your Business
Slim business card printing produces cards that are so sleek, some customers are choosing to go with these 1.75" x 3.5" cards over other size options (standard business cards are 2" x 3.5" and typically either 14 or 16 pt. thick as well). It's like having high-quality small business cards; they are compact and are therefore easy to carry around.
Dress Your Company's Introduction to Impress
Print your slim business cards on long-lasting cardstock available in a variety of coatings: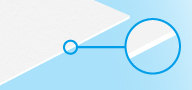 14 pt. Cardstock Uncoated Back
A sturdy cardstock that withstands multiple handouts and easy to carry around
Uncoated feature suits colors meant to look less saturated
A slightly textured surface allows for writability and an elegant touch to your design
14 pt. Cardstock
A durable cardstock you can easily carry around and hand out
Comes with a protective matte, gloss, or high gloss UV coating for double-sided business cards
16 pt. Cardstock
Slightly thicker than the standard 14 pt. cardstock
Increased rigidity prevents creases and folds
Your design is given a very professional look thanks to the durable weight and feel
Choose gloss coating to make every color pop or matte to create a soft, muted look
Get Creative With These Coatings
Having coating options is important as they do have a direct impact on the look and feel of your cards.
Our uncoated option helps emphasize the design itself.
The aqueous coating options give your cards extra pizzazz.
Matte aqueous coating leaves a muted finish, while gloss aqueous coating gives you just a little more If you need your cards to be really shiny, choose our high gloss UV coating option.
If you want your cards to be even more unique, try adding rounded corners to your design. Our slim business card printing services allow for same-day printing (provided you meet our
cut off time
).
Browse by Category
Featured Products
Business Cards Templates
To make designing and printing your business card online easier, PrintPlace.com offers layout templates. These templates provide you with the right specifications to ensure your design is printed correctly. Download one of the formats below to start.
Slim Business Card Printing: It's Not About Size, It's About Content
Just because they're small does not mean slim business cards are any less effective compared to standard-sized ones. It's all about the design and knowing what information to add and what to leave out. If you have a gym or a yoga studio (or other business focusing on health and fitness), for example, you could add a photo of your establishment on the back and add your logo and contact information in the front. Leave out other details that can be found through your website or other marketing materials.

These mini business cards are also just plain cute. They won't look overly formal when handed out. That makes them ideal for people who intend to use them as conversation pieces when introducing themselves to prospective customers.