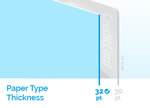 Make an awesome first impression from any angle with painted edge business cards.
Delivers a bold look, from any angle
Painted edges in 17 different colors
Brilliant metallic options available
Heavy, double-thick 32 pt. cardstock
Available in 3.5" x 2" (standard size) and other sizes
Painted Edge Business Card Printing Layout Templates
Use our business cards templates to ensure your artwork is sized and formatted correctly. PrintPlace layout templates for painted edge business cards can be downloaded for each standard size card below, in an EPS, PDF, or JPG format for Illustrator or Photoshop.
The Advantages of Painted Edge Business Cards
Colored edge business card printing offers several advantages over regular business cards. Here are some of them:
Better weight and tactile feel.
Painted edge business cards not only look great, but the texture of the double-thick 32 pt. uncoated stock feels great too. The additional weight also further emphasizes the added value of these premium cards.
Bolder color branding.
The highly visible painted edges can really make a bold statement. The wide selection of edge colors lets you pick a color that matches your brand or business stationery.
Visibility from any angle.
The increased thickness and colored edges of these business cards make them highly visible. When part of a stack, these cards can really stand out and attract your customer's attention. This makes painted edge business cards the perfect cards to keep at conference booths, reception desks, and anywhere else you want to be noticed.
Let customers experience your brand in a whole new way. Print painted edge business cards today.