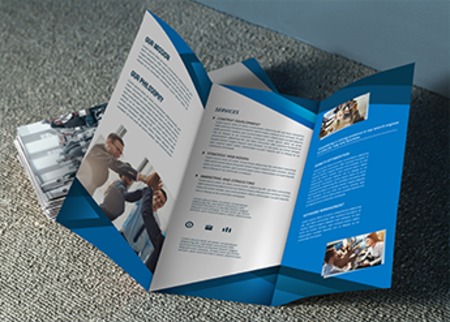 Create a brochure that tells your product's story.
Reveal details on two, three, or four panels
Sizes start at 4.25" x 5.5" & go up to 11" x 17"
Gloss, high-gloss, or matte coating adds protection
Print brochures on durable cardstock & paper
Showcase details in full-color printing
Create Professional Marketing Materials With Free Brochure Templates

Need help with creating your design? Let our free templates help you make a brochure with ease. We have templates for different sizes and folds. You can also use these to check your design file before submitting them to us for printing. Note that all listed sizes indicated below and on the calculator measure the brochure before folding.


Brochure Direct Mail Services
Let us take care of your mailing. We can mail your brochures directly to customers and print their address on the back cover.
Depending on your brochure?s material, we include a wafer seal or brochure tabbing so that it is mailable and follows the mailing guidelines. To prepare it for mailing, the brochure will open from the top and the folded edge is at the bottom.

Click on the "advance options" link in our calculator to compute the price. To prepare it for mailing, the brochure will open from the top and the folded edge is at the bottom.


The wafer seal or brochure tabbing will appear as follows, depending on the material.
Brochures on paper
Brochures on cardstock

Our direct mail services include:
Processing of 1 mailing list
Duplication removal upon request
CASS certification
Inkjet addressing
Postal presorting
Delivery to the post office
Those who prefer to mail their brochures in an envelope can call our mailing experts for more details.

For details about mailing requirements such as size and tabbing specifications, read our Brochure Mailing Requirements. You can also clarify any questions with our print experts.
Brochure Marketing and Design Ideas
A brochure can give a lot of information without overwhelming the reader. Each fold organizes details and lets visuals tell the story in a compact format.

If you're wondering what the best design tips for custom brochure printing are, refer to the steps below:
Tell the story of your company – Break down your business origins and remind customers of your value. Showing the personal side of your business will make your customers feel welcome.
Explain a popular service – Show how a particular service can be useful to your customer by giving them specific examples, such as the long-term benefits of a cleaning product.
Illustrate how your product works – When a photo isn't enough, more room for a product demonstration can come in handy. Brochures have enough panels to highlight the details of each illustration and step.
Detail an upcoming event – Include the schedule and other vital information about an upcoming event. Anyone interested will hold onto your brochure and use it to guide them on the day itself.
Check out our other helpful blogs for more design tips:
{{tatDisplay}}
{{ priceData.discounted_price | currency : '$' : 2 }}
{{ priceData.price | currency : '$' : 2 }}
{{ priceData.unit_price | currency : '$' : 2 }} each