Why Isn't Your Brand "Sticky?"
Whether you are a new company looking for ways to make sure your brand is successful or a company that has tried and tried again but just can't seem to get your brand to stick, there is a solution. When a brand flops, it is usually due to the same few mistakes. Your business can create a successful brand simply by knowing the most common reasons for branding failure and know how to correct them.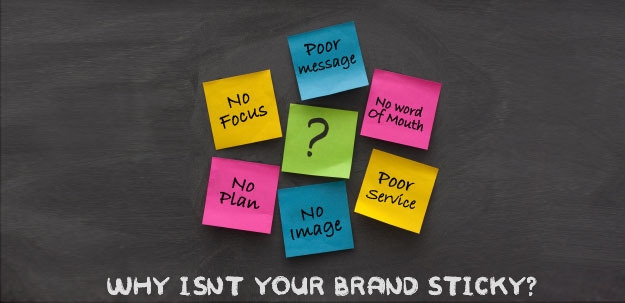 No Memorable Image – Some companies make the mistake of creating a logo without a memorable image.  Make sure that the image in your logo is something that is uniquely yours and is appropriate for your company. Think of the Nike logo – the swoosh image  is not only one-of-a-kind but also appealing to their target audience. The swoosh looks athletic.
Inconsistency – In every single item that is associated with your company, whether color posters or packaging materials, consistently use the same core branding aspects. The same logo, company name, tagline will reinforce your brand over and over to the public. For the same reason, you will need to give employees the same business card design for further branding consistency.
No Focus – What do you do best? What do you want to be known for? Whether it is one-on-one personalized service or the newest technology, constantly reinforce this unique offer. Also, know who your company appeals to. Know your target market so that you don't waste your branding efforts on an audience that doesn't have a need for your services. Knowing your target audience will further help you fine tune your company image to fit your customers' needs and lifestyle.
Unbelievable Message – Your tagline and core message should be believable to customers. If you advertise like Verizon Wireless that "we never stop working for you," you'd better follow through and never stop working for a customer when they come to you with a complaint about your service or product.
Poorly Constructed Message – In order for your customers to both remember and believe your message and tagline, they need to be able to understand what it is you are offering. If your message is jumbled with too many technical terms, your customers will get frustrated and give up trying to understand you. Be clear with your words and phrases so that customers know exactly what you offer and also what sets you apart from your competitors.
Poor Maintenance – Ever heard the phrase "keep on keeping on?" Don't just stop with one marketing campaign, one run of color posters, one printing of brochures. Your marketing campaigns should be ongoing and constantly putting your brand in front of your target market. This concept is at the heart of successful branding. Most brands are successful simply because they become recognizable because they are always in the public eye.
Poor Customer Service – Train employees on your mission and goals. If your employees don't know the image your company wants to portray, how can you expect them to portray this image to your customers? Employees should know the reason for your tagline; they need to be excited about making your brand known to customers.
Old Marketing Materials – Keep your look fresh by re-designing your marketing materials, including flyers, brochures and postcards every so often. While it does save money to order larger quantities, don't order too much or you'll bore your target audience with the same materials year after year. Just remember to keep your key branding items the same.
No Word of Mouth Advertising – One of the most common reasons for customers to switch companies is through referrals from their friends and family. Give existing customers referral postcards with a 10% discount for new customers, and give your existing customers the same for every postcard with their name on it that gets used. When you get positive feedback from customers, ask if you can use it in your brochures or place it on your website. Referrals help to reinforce the integrity of your brand.
No Plan for Testing – Your business needs to keep track of marketing efforts so that you know what works for getting your brand name to your target market. Track the return on investment (ROI) of your direct mail campaigns, research the best locations to hang your color posters, ask new customers how they heard of your business. Testing your marketing efforts will help you to build a tried and true campaign that will work for you year after year.

PrintPlace's mission is to provide customers with unparalleled printing services through the knowledge and expertise of its employees.