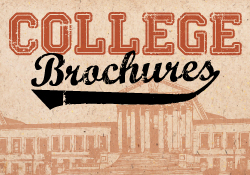 College marketing brochures that won't get thrown in the trash.
Remember when you were in college? Those were some of the best days of my life. Wouldn't you agree? Staying out until 4 a.m., dragging yourself to class in the morning, then doing it all again. You were constantly surrounded by friends and fun things to do. Naps were a personal friend.
Now think back even further. What made you pick that school? No matter where you first heard about it, you had to scope it out for yourself.
There are so many reasons a school is right or wrong for each person. The amount of information on a college's website can be overwhelming when you are starting your search. Something you can hold in your hand, something that gives you the facts you are looking for, is exactly what you need. In the sea of college mail and email that flood your life during the second half of high school, the best brochures give you exactly what you're looking for.
It is essential to have professional marketing materials to hand out to students, parents, teachers, and counselors. These easy-to-use handouts carry a big responsibility. They exemplify a university's image and brand.
Brochures are one of these essentials. No digital material can beat a brochure when it comes to a face-to-face handout or leave-behind.
How can you use marketing brochures to increase the success of your college or university?
We have the answers.
Try something different. If you use the same size brochure as everyone else, you will get lost in the crowd with everyone else. PrintPlace.com doesn't just offer the typical brochure sizes. We offer 9 different printing sizes, or the option to put in a custom trim size. So, try one of our 9 different sizes or make one up and have your very own custom-sized brochure to fit your school.
What about an accordion fold? The tri-fold works well and that's why it's so popular, but that also means that using a different fold, might be the best way to make your school seen. With 10 folding options, you are bound to find one you didn't expect.
Need help? We're happy to assist with artwork or uploads through our File Repair Services. Our designers can repair common file problems, missing bleeds, resizing files, formatting text, and many other common artwork issues before a job heads to press.
We will mail it for you! Direct mail service can save you time and money. A direct mail campaign with information about new school programs and services helps inform a large number of people efficiently and without the hassle. We will take care of printing the materials AND mailing them out.
Get inspired. We don't just sell printing, we live it, so we have a lot of ideas to help make yours the best it can be. With so many different forms of print materials to choose from, PrintPlace.com can help you decide what will work best for your marketing efforts. Need some inspiration? Videos like How to Design a Brochure and Brochures by PrintPlace.com will help give you some ideas.
Writer. Marketer. Enjoying writing about printing and marketing. Other things to talk to me about at a cocktail party include travel, dance, and food. Find me on Twitter @writtenbyemilie