Bulk Printing Services
Save hundreds of dollars with affordable bulk printing
Make your branding front and center on your print products
Customize size, shape, material, and more to your needs
Expertly printed and delivered on time
Essential Marketing Tools
High-quality bulk printing for your promotions, announcements, and signs.


Holds liquids, solids, and powders
Ensures the freshness of your products
Add zipper, hang hole, or tear notch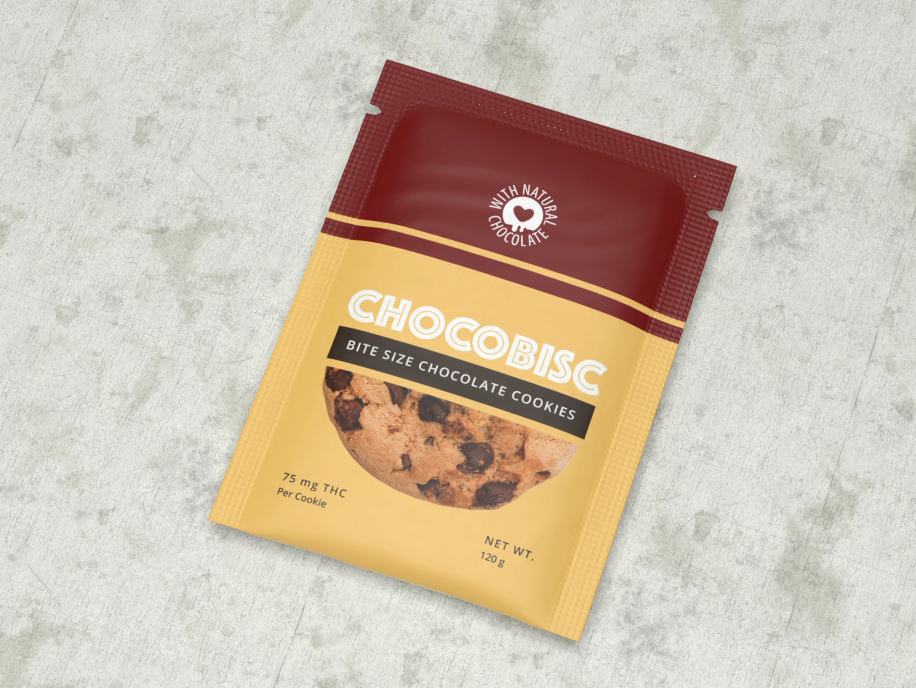 Made of durable white barrier film
Gloss or matte laminate option
Available in 8 sizes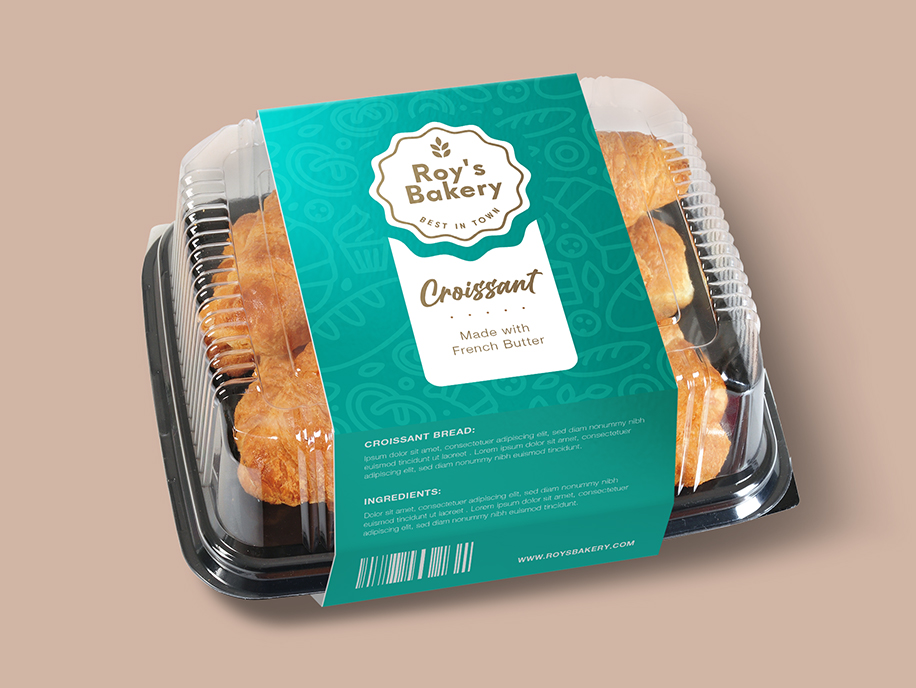 Print full color on one or both sides
Thick and durable 100 lb. paper
Custom sizes to fit your products
Print Essentials for Various Industries
All the print solutions you need in one place.


Printing Your Business Essentials? Get the Most Value With Bulk Printing Services
Replenish your supply of business essentials with bulk printing services. Create banners, flyers, stickers, business cards, labels, and other marketing tools that you can use to promote your business, school, or organization. Printing in bulk is cost-effective and practical. You can get bigger savings by purchasing everything you need in one order. Aside from restocking on marketing essentials, bulk printing is ideal if you need a large volume of materials for large-scale promotions or campaigns.
Print More and Spend Less With Bulk Printing
Amplify your reach without maxing your budget with the help of bulk printing. Ordering large quantities of marketing materials will save your organization from huge costs in the long run. Whether you're running a grassroots campaign, leading a small congregation, or getting a school ready for hybrid education, bulk printing delivers maximum value for every dollar.
With bulk printing, ordering more means spending less.
Offset printing
ensures each and every piece of your print run has consistent color and detail. Whether you printed just 250 or 5,000 flyers, offset printing will give you the same high-quality each and every time. PrintPlace is passionate about printing. We hold our printing quality to high standards while helping customers save more.

Order Your Print Products in Four Easy Steps
Step 1. Choose your print product.
Click the Shop Now button on the product that you want to order.
Step 2. Set your preferred specifications.
Depending on the product that you have selected, you may choose the size, shape, material, printed sides, quantity, production time, and more.
Step 3. Customize the design.
Upload your own artwork or create your design by using our online 3D design tool. You can also download free print templates of some of our popular products such as banners, labels, stickers, and more.
Step 4. Place your order.
Proceed to checkout once you are satisfied with the specifications and design of your product as well as the estimated date of arrival of your order.

Why Choose PrintPlace for Bulk Printing Services
Make PrintPlace your go-to place for
printing your marketing essentials such as bulk stickers
and banners. If you are planning to avail our bulk printing services, here's what you can expect from us from the get-go:
Unmatched Experience in Printing
PrintPlace has been in the industry for several years. Our company has produced marketing tools and various print products for a large number of businesses, schools, and different organizations. Whether the job is big or small, rest assured that we will strive to provide the best printing solution to your every need.
Free Design Review
We always aim for maximum customer satisfaction when it comes to our service. That's why before we proceed with printing your orders, we thoroughly check your design files for any technical errors. This is to prevent any printing mishaps that can render your print products unusable or delay production.
Large Selection of Print Products
PrintPlace is a one-stop shop for your printing needs. Whether you are a small business looking to boost the branding on your packaging or a non-profit organization promoting a fundraiser for your cause, we have a plethora of marketing tools that you can help you as brochures, flyers, stickers, banners, business cards, and more.

Frequently Asked Questions
Will bulk printing services help me save more money?
Yes, it will. Bulk printing doesn't only allow you to get everything you need in one purchase, it also offers you big savings on your order. The larger the quantity of the product that you purchase from us, the lower the price per piece.
What is the standard printing time of your print products?
It depends on the product that you are purchasing. Products such as stickers and labels, for example, have a standard printing time of five (5) business days while others like banners can be produced in three (3) business days. If you have a tight schedule, you can expedite the production process for an additional charge.
What can I expect from your layout templates?
We have the following print guidelines in our layout templates:
Bleed is the area that will be trimmed off. By printing beyond the bleed area, you can ensure that no detail is cut off upon printing.
Trim line indicates the edges of the final print product. It tells the printer where to cut.
Caution zone is at least 1/8" or 0.125" from the trim line. It serves as a marker for your text to prevent it from being cut off or too close to the trim line.
What are the file formats that you accept for uploading the design?
Our preferred file format is PDF, but we also accept TIF, JPG, or EPS files.
Can I request for a PDF proof?
Yes, you can request a free PDF proof of your artwork. Just select I need a PDF proof under Proofing Options to get one. You can download your proof from the Shopping Cart after uploading your artwork or design. It's also viewable under your PrintPlace account.
If you need a little more guidance in maximizing bulk printing for your business, here are a couple of ideas to help you out: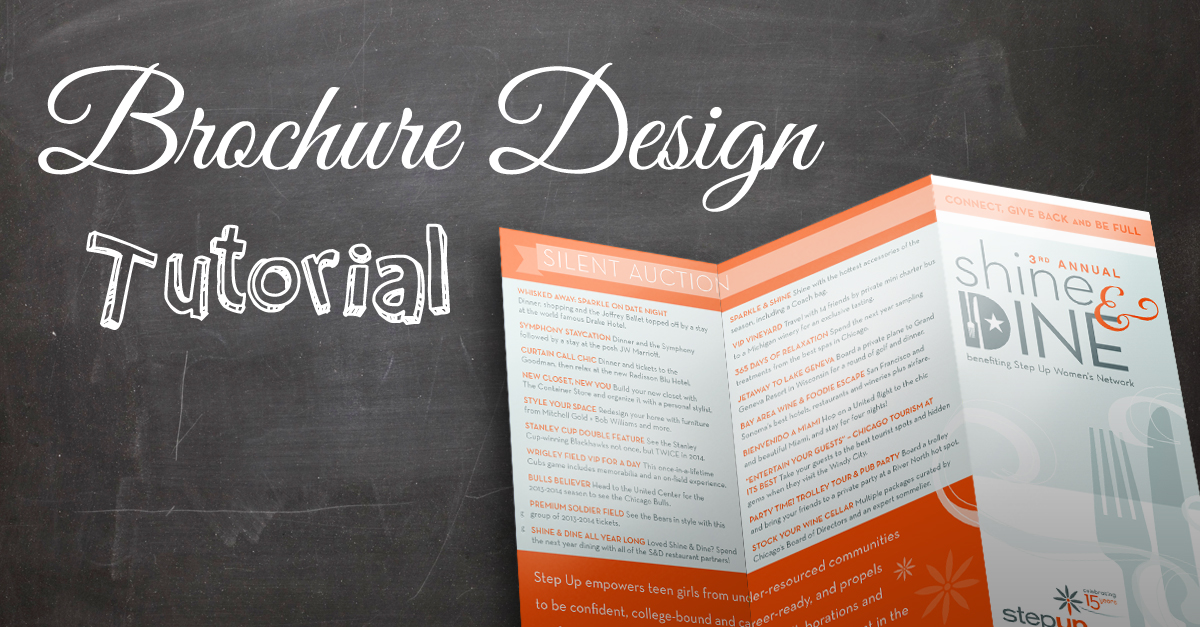 How to Create a Design Brochure: A Video Tutorial
OCTOBER 16, 2019 | by PrintPlace
Our graphic designer, Julie, walks you through the layout of a trifold brochure. She goes through each panel on the brochure and shares tips on how to design each section effectively.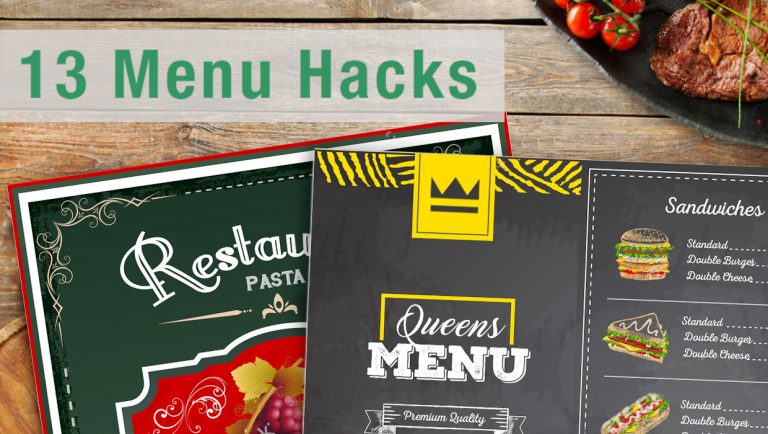 13 Menu Hacks Your Bar or Restaurant Can Use to Drive Sales
OCTOBER 18, 2016 | by Art
Clear sections, a limited number of clear choices, and design elements that lead diners through the menu help your designs influence decisions.