Corrugated Boxes
Create and view your box in an online 3D design tool
Customize the size, material, and printed sides
No minimum quantity to qualify for an order
The right size and fit for your unique business.


Customize the Ultimate Packaging Experience With Corrugated Boxes
Looking for a sturdy set of corrugated boxes to deliver and showcase your products? Customize mailer, shipping, or product boxes in the exact size, color, and finish your branding requires. PrintPlace lets you select the length, width, and depth to ensure all your items are delivered in every customer order. All boxes are made of corrugated cardboard built to protect the products from impact and external damage during transit. Whether you're an office supplies store, a gadgets company, or a general e-commerce provider, you'll be able to create custom corrugated boxes that fit your packaging and branding needs.
The Advantages of Creating Corrugated Boxes
Choose the Best Type and Size for Your Needs
Select a box type that will fit and present your items accordingly. All boxes come in sturdy corrugated cardboard:


Mailer boxes to present a personalized unboxing experience for your customers. The wider base inside provides enough space to organize several items of different sizes.
Shipping boxes for large, heavy, and bulky items that will be delivered through long distances. All boxes are pre-glued for fast and easy assembly.
Product boxes to fit small to medium-sized items such as cosmetics, makeup, gadgets, and the like. Choose from several styles that are built for specific products.


Built to Withstand Long Transit Times and Protect Your Items From Damage
Custom corrugated boxes are composed of three layers that make them thicker than the standard cardboard. These boxes are composed of two outer sheets and have a wave-like sheet in between. The multi-layer composition gives them extra strength and durability for withstanding impact, damage, and multiple handling while in transit.

Three colors are available to match your brand:


Standard white has a clean, smooth, yet vibrant finish.
Premium white offers a more elegant and luxurious look and feel. Comes in a glossy ink option if you need to elevate the design.
Kraft (Brown) has a rustic color that is matched with its partially recyclable materials. The down-to-earth appearance is perfect for organic beauty or health brands.


Customize the Box Down to the Smallest Detail
Planning to customize the unboxing experience from the moment your box arrives on their doorstep? Every detail can be tailored exactly to your needs, from a variety of lengths, widths, and depths for the interior dimensions to the printed sections of your design.


Box Type
Interior Dimensions Range
Full-Color Printed Sides
Corrugated Cardboard Options
Product Boxes
Length: 0.75" – 30"
Width: 0.75" – 20"
Depth: 1.75'' – 20''
1. Outside Only
2. Inside Only
3. Outside & Inside
4. Blank/no printing
Corrugated Cardboard in glossy, matte, or high gloss UV coating.
Shipping Boxes
Length: 2" – 30"
Width: 2" - 29"
Depth: 2.5" to 32"
1. Standard White Corrugated Cardboard
2. Premium White Corrugated Cardboard
3. Premium White Corrugated Cardboard w/ Glossy Ink
4. Kraft (brown) Corrugated Cardboard
Mailer Boxes
Length: 3" – 25"
Width: 2" – 25"
Depth: 1" to 15"
Preview Your Design in 3D
Create your very own design from scratch using the online 3D tool. As you add text, combine colors, and upload images to complete the box, the 3D preview unfolds its final appearance. You can also select a section to view its appearance in 3D up close. View the box design either with an open or closed lid.


---

Corrugated Boxes FAQs
Can I customize the box with specific features?
Yes, you can include additional printing options such as spot UV, foil stamping, embossing, or inserts into your shipping or mailer box. Contact our packaging specialist to know more.


Can I upload a print-ready file of my corrugated box?
No, but you can input the size then select the printed sides, material, and quantity of your order based on the design on-hand. Choose "Order Now & Receive a Dieline Template" at the bottom of the online calculator. This dieline template comes in a PDF file showing a flat layout based on your box specifications. It will show the following print guidelines so you can prepare the artwork to be print-ready:
Bleed lines or the last edge of the box's material. Extend the background artwork or color beyond this line.
Trim lines that are 1/8" from the text and artwork of your box. This ensures that no important details are cut off during production.
Crease lines also at 1/8" from the important artwork sections. These lines are placed to avoid having the areas behind them folded after printing.
Can I design on both sides of the custom corrugated box?
Yes, you can design both the interior and exterior of the box in the online design tool. After completing the outside design on the 3D tool, select "Add Inside Printing" below the exterior design. A pop-up window confirming the dimensions and other specs will appear before it takes you to a blank page to start your box's interior design.
How fast is the production time for custom boxes?
The standard production time for corrugated boxes is between 10 to 15 business days. Your order will be shipped after this period.
An expedited production is an option at 6 to 8 business days.
One sample box takes the shortest production time at 3 to 5 business days.
Can I see my custom box before it is printed?
Yes, after completing your design on the 3D tool, select "Add to Cart" on the upper right corner of the screen. A pop-up window will appear with "Send me a PDF proof for approval." A free PDF proof will be emailed to you and we will only print the box after we receive your approval.
---
Useful Tips and Innovative Inspiration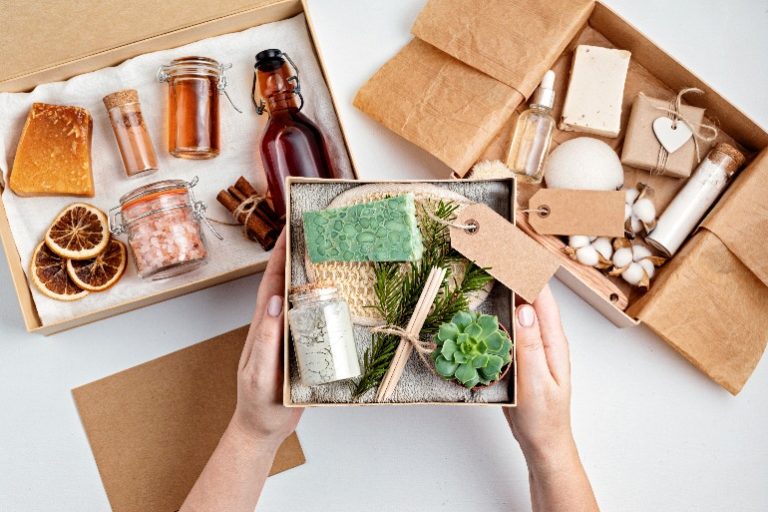 7 Ways to Reduce Your Packaging Costs

Here are seven ways you can save money, time, and resources in your packaging.


---
Related Products
Box Inserts