In a hurry? Expedited Production now available.

Made from cardstock or corrugated cardboard
Custom sizes available
No minimum order quantity
Fast turnaround times
Complete Your Order Today
1
Customize Your Box.
Choose the specifications of your custom boxes starting with the dimensions, material, printed sides, and quantity.
2
Design Your Box.
Create your design with the help of our intuitive online 3D design tool or upload your artwork.
3
Receive Your Box.
Once we've produced your custom boxes, simply wait for them to be delivered to your home or office.
Classic Cardstock Choices
A variety of lightweight yet durable choices fit any kind of item.
Thickness Options
14 pt. Cardstock
The thinnest cardstock we have. It is lightweight yet durable enough to store a variety of retail products such as snacks, tea, coffee, and more.
18 pt. Cardstock
This material is a bit more durable and expensive than 14 pt. cardstock. It also has more weight capacity, making it great for heavier products such as cosmetics, electronics, food, etc.
24 pt. Cardstock
The thickest paper material we have for our product boxes. It is the most durable and very capable of keeping heavy products safe and secured.
Protective Coatings
Glossy Aqueous Coating
Provides a mirror-like finish to your product boxes. This coating reflects light so it can make your packaging look extra shiny. It can also make colors "pop" and appear more vibrant.
Matte Aqueous Coating
Gives off a more muted and subdued feel when compared to gloss coating. This provides an elegant touch to your product boxes, making it ideal for luxury products.
High-Gloss UV Coating
Very similar to gloss coating in providing a shiny and smooth surface to your product boxes. The only difference is that this coating makes the colors more resistant to fading and gives your boxes a thicker feel.
The Material That Keeps Boxes Looking Premium, Protected, and Presentable
Corrugated cardboard is a thicker and sturdier material for product boxes delivered in transit. Choose from four styles that balance function with your brand's sophisticated aesthetic.
Standard White Corrugated Cardboard
Provides a crisp and clean appearance
Has a smooth surface and gives colors a vivid finish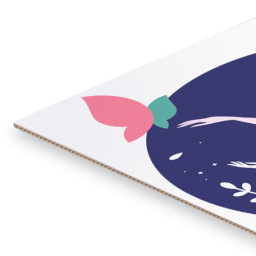 Premium White Corrugated Cardboard
The recommended choice for luxury brands
Smooth surface complimented with a soft touch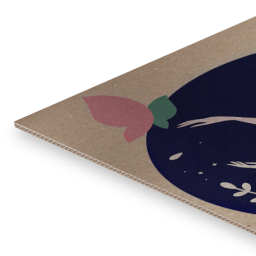 Kraft (Brown) Corrugated Cardboard
A simple, down-to-earth color that suits organic or health-based brands
A portion is made of recyclable materials; recommended for brands that value sustainable packaging
Premium White Corrugated with Glossy Ink
Emphasize your logo or name with a bright, shiny finish
Glossy elements stand out against a sleek white background
Order a Sample Custom Box
Create a single custom box with your own design and specifications that can be shipped within 2 business days.
To order your sample box, set the quantity to "1" at our price calculator.
Custom Product Boxes FAQs