The wealth of online printers has brought the once expensive and time-consuming use of professional printing to the masses.  Working with an online printer isn't difficult. Most online printers today have unique software systems and easy to use graphic interfaces so almost anyone can create a professional looking printed product with minimal fuss.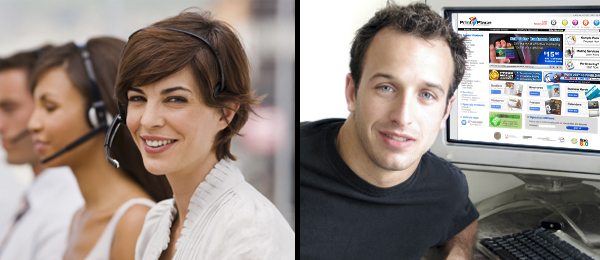 Online printing has become so commonplace, that even someone who is not a design professional can create a fabulous business card, brochure, booklet and more.  Easy to use software programs, even that old standby, Microsoft Word, can be used to create your custom marketing piece.  However, there are a few things that you should look for in an online printer and think about prior to submitting your work for printing.  The following tips will make the process just a little bit easier.
User friendly transaction processes.  One of the things that you should look out for when printing online is the transaction process. The processes of order placement, payment and uploading files should be smooth and very user friendly. The best online printers usually have a sequence of step-by-step processes that are easy to understand and that make it easy to see progress.  Some of the things to look for might include:
Easy to use options that allow you to select paper stock type, quantity, finish, front and back side printing and more.
Instant online pricing.
Online templates for all types of products and folds.
Quick and easy upload processes.
Instant online proofing.
The ability to store old jobs for a period of time for easy reordering.
Easy to use templates.  Templates make the process of creating printed materials much easier. The best online printers will provide free, downloadable templates for most any type of software being used. When you use a template, it will not only make the design process quicker and easier, but you will also gain a certain assurance that there will not be problems with your file when you upload it to the online printer. The printer should easily accept your design since it was made using their template.
Use high resolution images.  To lessen any issues with your design images, it's important for them to have high resolution.  A lot of people make the mistake of putting low resolution images in their designs only to be disappointed when the final piece is returned with a pixilated look.  To lessen any resolution  issues, it's important to use photographs or images that have a resolution of at least 300 dpi (dots per inch) or larger.  A quick way to check what your file will look like on your printed materials is to view your work onscreen at 300%.  If your image looks pixilated on the screen, there's a good chance it will look pixilated on your printed piece as well.
Use the right color model.  Your personal computer is probably set to display your piece in RGB color. While this mix looks vibrant on the screen, most online printers use a CMYK process for printing. It's important that your files be submitted in CMYK color mode or the color on your printed piece will be off. To ensure you are creating your document in CMYK color, check the Help section of your software. It can tell you how to be sure you are creating in the correct color model.  It is also important to keep in mind that variations in the color printed can be a result of the computer monitor not being calibrated to a printing press.  If color is a concern, a hard copy proof should be made available (although there is usually a fee for this type of service).
Submit your layout in the correct format.  Be sure to submit your file in a format that is accepted by the online printer. At PrintPlace.com, we accept files that are in .pdf, .tiff, .eps and .jpg formats.  A .pdf file is preferred, and there are plenty of free and/or very low cost .pdf makers online if you don't have one (do a search for free .pdf maker and you'll see a wide variety of results).  Online printers like PrintPlace convert your file into an immediate .pdf proof, so submitting in this format is a great way to see how the system sees your file.  Be sure to follow all the printer's other specifications for things like bleeds, embedded fonts and file resolution to ensure that your printed piece looks exactly the way you want it to.
Knowledgeable and friendly customer service.  Finally, an online printer would understand that different printing companies have different printing requirements and that customers range from novices to expert designers and print brokers.  The online printer you select should have a knowledgeable staff that can meet your service needs any way you choose – by phone, e-mail or live chat –  to answer any questions you may have about your printing project.  They should be able to answer questions from the simplest to most complex, like: Why do gang run printers require a bleed?  Your prices are low, how good is the quality?  Are sample packs freely available?  What's the difference between offset printing and digital printing?  Understanding the online printer's printing process will go a long way in helping you achieve your desired result.
Using these tips, and understanding your online printer's submission specifications, will ensure your printed piece looks as good as you expect.