Commercial Printing
Expand your reach with top-notch commercial printing services.
Wide selection of design options
Perfect for targeted campaigns
Available in Every Door Direct Mail® sizes
Be the Brand Clients Always See With Commercial Printing
Create professional-grade marketing materials that boost sales.


Commercial Postcard Printing
Cost-effective option
Add perforation for stubs or discounts
Matte, gloss, or high-gloss coating
Every Door Direct Mail® Postcards

Save on postage
Print in quantities of 250 to 500,000
Same-day printing available
Ideal for event invitations
Ample space for brand message
Meets USPS Mail standards
Commercial Business Card Printing
Standard & unique shapes
Durable 16 pt. cardstock
Foil, painted edge, or velvet soft
Die-Cut Business Card Printing

Available in 6 shapes
Thick & durable cardstock
Comes in 3 coating options
Folded Business Card Printing
More space for company information
Print in quantities of 25 to 500,000
Full-color printing on 1 or both sides
Commercial Banner Printing
Retractable Banner Printing
Step and Repeat Banner Printing
Use as backdrop for photo opportunities
Can accommodate group photos
Turnaround time as fast as 1 day
Commercial Poster Printing
Commercial Poster Printing
Large Format Poster Printing
Larger-than-life size of 24" x 36"
Printed on high-resolution photo paper
Available in durable plastic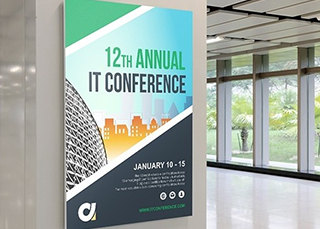 Commercial Flyer Printing
Commercial Flyer Printing

Perfect for events & special promos
Standard, metallic, or silk flyers
Wide range of card & paper stocks
Increase market reach
Select from 8 premium paper materials
Protective shrink wrapping available
Elegant & eye-catching designs
Add high-gloss UV for protection
Comes in standard & smaller sizes
Create More Business Opportunities with Commercial Printing
PrintPlace offers reliable commercial printing services for all your marketing needs. Create business cards, postcards, banners, brochures and other print materials that look and feel professional.

Let PrintPlace handle custom commercial printing so that you have more time to focus on your business. With digital and offset printing, we ensure you get the materials that you need to win that sales pitch.

PrintPlace allows you to craft an effective marketing campaign that conveys the right message to your target market.


Offer a Tactile Experience
Clients don't have to open envelopes or their email inboxes to read your message. Simply hand them your print flyers and business cards, or direct mail your postcards to get their attention. A study from the United States Postal Service confirms that postcards have a 94% read-through rate.


Give a Professional Impression
First impressions are everything. If you want to inspire confidence, your marketing materials have to look the part. Choose premium cardstock, brand colors, finishes and other design options that convey your expertise.

Order custom commercial print items from PrintPlace today.


Frequently Asked Questions
Q: What are the advantages of commercial printing?
A:
PrintPlace's commercial printing services offer cost-effective solutions. For organizations that need to produce bulk print materials, you can save on the purchase of professional printing equipment and the cost of their maintenance by using PrintPlace's state-of-the-art professional printers. Buy more and save more—each additional print will only cost a few cents.
PrintPlace's print experts will assist you from the software design stage to the actual printing process. They will ensure that you get rich and accurate colors, sharp details, and high-quality images.
Q: Can I use my own logo or artwork?
A:
Yes. You can upload your own artwork in our design tool. Alternately, you can also create print materials using our templates. Our dedicated print experts will guide you through the process from start to finish.
Q: What do you mean by Every Door Direct Mail?
A:
Every Door Direct Mail (or EDDM®) saves you money on postage while targeting more addresses than traditional direct mail. Since postage costs around $.175 per piece, you get to spend less (compared to traditional postcard mailing) while spreading the word about your business.
All of our EDDM® postcard sizes are covered under the USPS Every Door Direct Mail® rates. Be sure to avoid rounded corners. Also, we don't recommend using gloss or UV finish on your postcard's mailing panels if you wish to avail of EDDM®.
---
Browse by Category
Featured Products