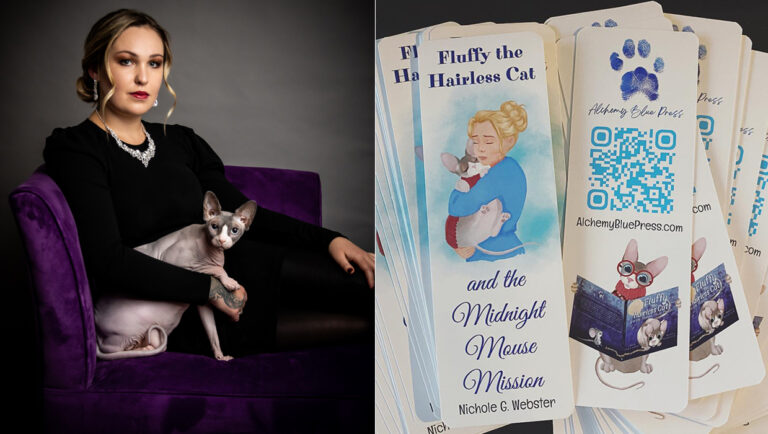 Customer Story: Nichole Webster
Fluffy the Hairless Cat and the Midnight Mission follows the tale of a silly Sphynx who sets out on a mission to catch the cheese-stealing house mouse, Arnold.
Sounds like a fun read? It is.
But more on that in the book. This story is about author and paramedic Nichole Webster, and the extraordinary lengths she's taken to raise awareness for the causes close to her heart.
Writing to Heal
Nichole has been working as a paramedic for five years. Even before her career in healthcare, she has always had a passion for reading and writing. And with the former's profound influence in her writing, there was no stopping her from doing both.
Balance, according to Nichole, is challenging but necessary.
"Balancing these two careers has been challenging at times, but my paramedic career has a heavy influence on my writing. My best practice for balancing both is knowing my boundaries of when I can dedicate all my time to writing, or all my time to health care. I never do both on the same day. I also have an incredible partner who offers me nothing but love and support."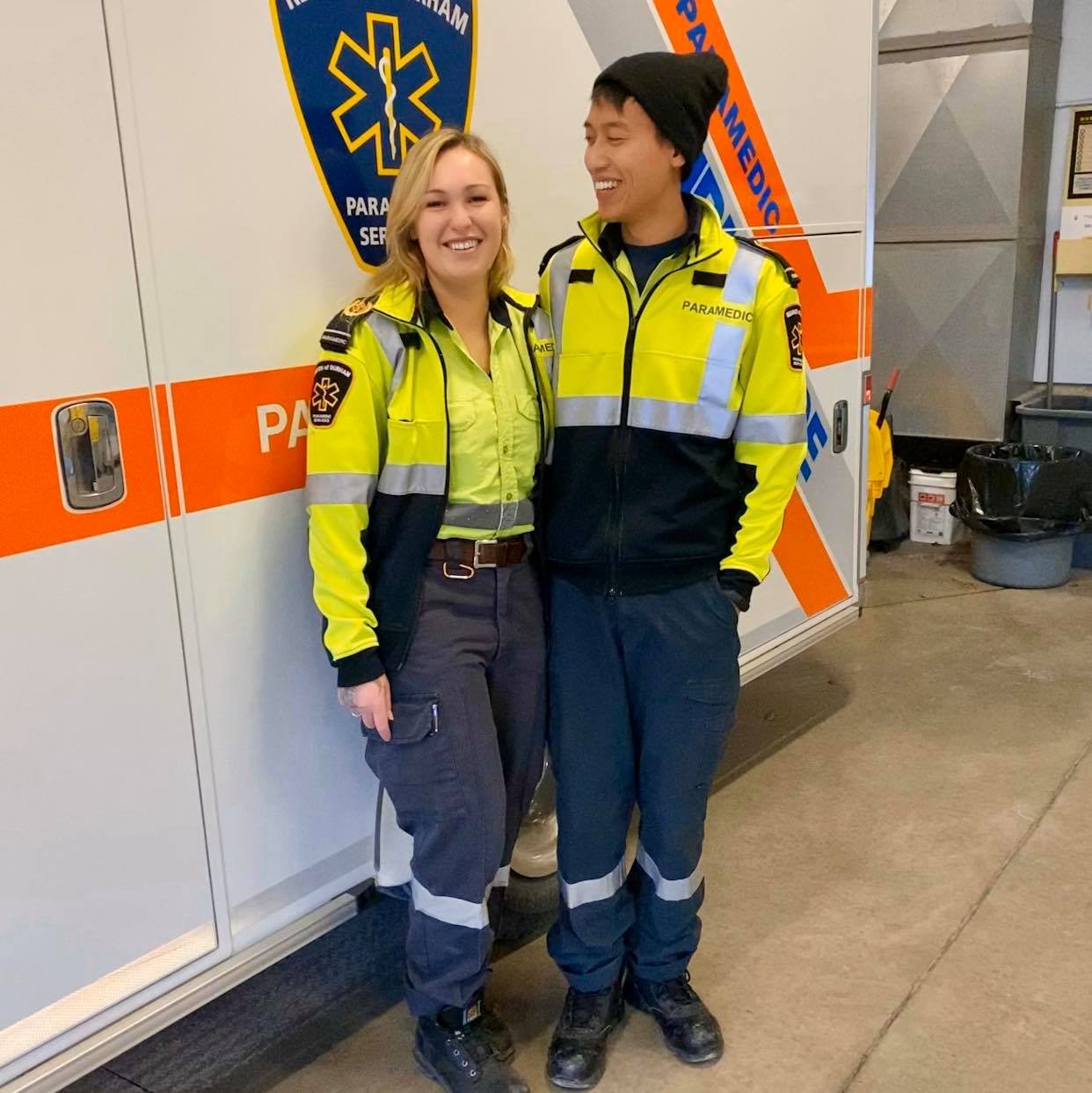 Four years into Nichole's paramedic career, she was diagnosed with post-traumatic stress disorder (PTSD).
"After this diagnosis, I realized I had a lot of shame because of the stigma that rests heavily on all first responders' shoulders," she tells us.
As part of her path to healing, Nichole started sharing her story through her blog, Transparent Healing. There she writes about the daily stress of her work, the calls that are often not talked about, and the feelings and emotions associated with them. Every single one is based on true experiences, both hers and from the many first responders who have reached out wanting to share theirs.
"My main focus is to raise awareness on the stress involved with being a first responder and to normalize mental health. My most popular short story is A Dying Man (trigger warning) that I wrote to raise awareness on the stigma that paramedics face daily."
A publication soon picked up Nichole's articles, helping to expand her reach in normalizing mental health, eliminating the stigma, and letting first responders know that they are not alone.
"When I write for the Change Your Mind Change Your Life publication or my Transparent Healing blog, my writing is heavily influenced by my career as a paramedic," she adds.
Fluffy the Sphynx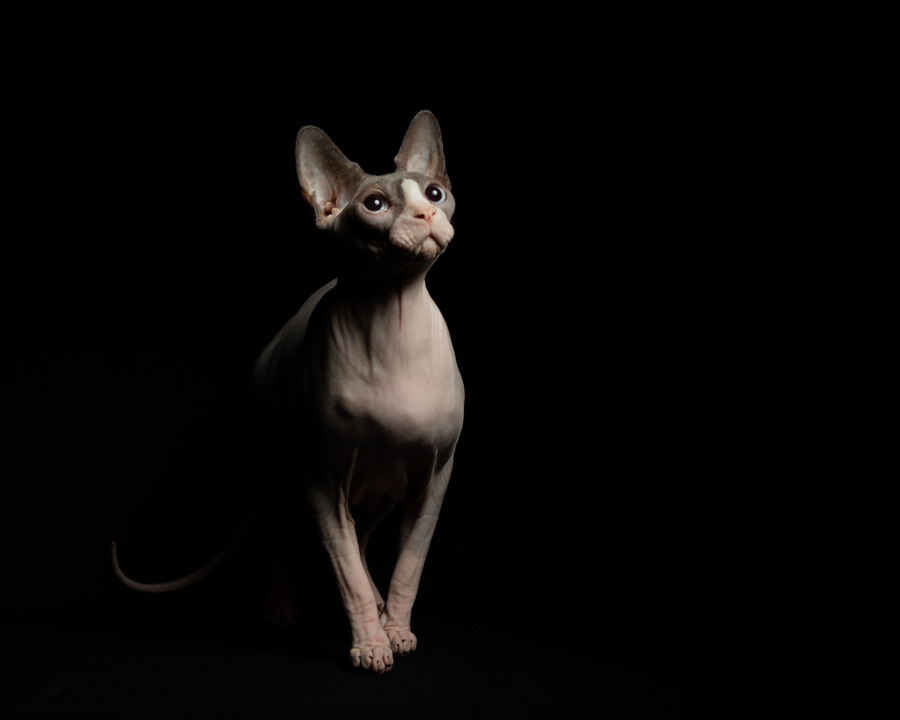 Through life's difficult moments, Nichole had one constant—her cat Fluffy.
"Fluffy was my silly, handsome, and unconditionally loving sphynx. I got him in 2017 when he was only a tiny kitten. Since the first moment I met him, my life changed for the better. I brought him everywhere with me."
According to her, Fluffy loved road trips and car rides were his favorite thing.
"He was there for both good and bad times. He was my constant in life. He was my best friend. We had the most precious and special connection."
Sadly, on December 9, 2020, her beloved feline passed away unexpectedly at only 3 years old due to Hypertrophic Cardiomyopathy or HCM. Nichole admits to feeling emotional upon recalling Fluffy's sudden demise but was still gracious enough to explain what HCM is.
"HCM is a cardiac defect widely prevalent in the Sphynx breed, and also affects Maine Coon, Ragdoll, British Shorthair, Chartreux, Rex, and Persian cats. HCM causes the heart walls to thicken (hypertrophy), resulting in the inability to effectively pump blood throughout the body."
The condition, which shows little to no symptoms, can result in blood clots and/or congestive heart failure which results in sudden death among felines.
"The worst part? Cats who screen negative for HCM can still be positive. Both of Fluffy's parents scanned negative for HCM. This is because all the genetic mutations of HCM have yet to be discovered. My Fluffy was undiagnosed and showed zero signs or symptoms. I never thought that morning in December would be the last moment I had with him. I never thought this would happen. It is still surreal to me."
Immortalizing Fluffy's Memories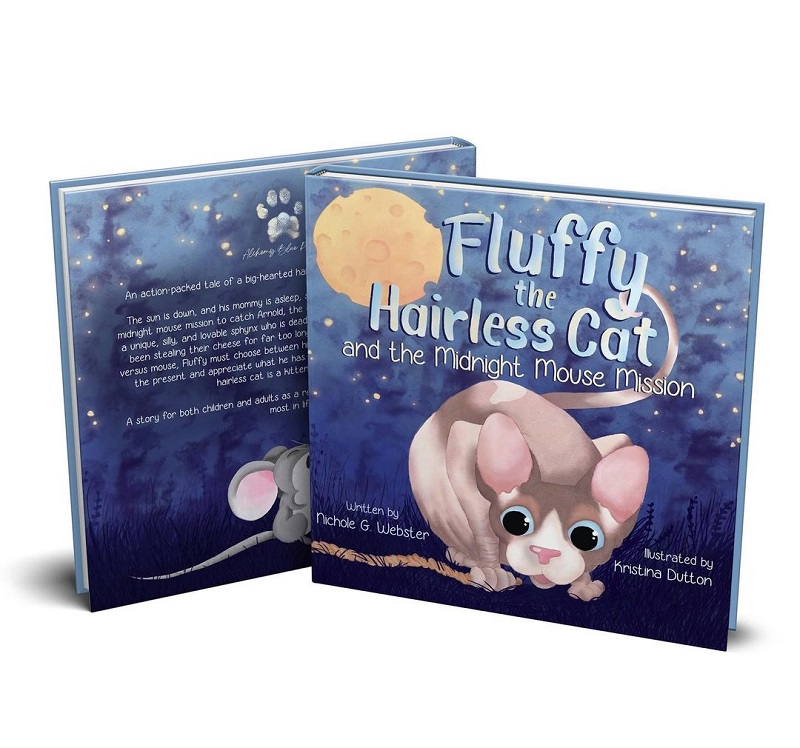 Fluffy the Hairless Cat by Nichole G. Webster. Illustrated by Kristina Dutton.
Fluffy's passing shifted Nichole's writing goals from sharing real-life experiences related to PTSD to raising awareness and donations for HCM research.
She published Fluffy the Hairless Cat and the Midnight Mouse Mission, her first children's book to support her cause.
"I am donating 20% of book sales to HCM research that is being conducted by Dr. Meurs at North Carolina State University. Dr. Meurs is working hard to find all the genetic mutations responsible for HCM so that breeders are able to effectively scan and only breed healthy cats. One day, HCM may not be the leading cause of death in cats anymore. I want to help make this happen."
The book also serves to immortalize Fluffy's memories; penned with love and illustrated to capture his charming traits in a tale told to impart valuable lessons to kids both young and old.
In the book, Fluffy must choose between his lifelong mission for justice, or live in the present and appreciate what he has.
"I want readers to have a laugh and enjoy the silliness and clumsiness of the sphynx breed. Family is important, and so is living in the present and appreciating what you have. This book is a good reminder for that."
Nichole is set to release her second book in the Fluffy the Hairless Cat series this coming fall. She can't share too many details yet but hints at the story to teach readers a thing or two about forgiveness.
The PrintPlace Experience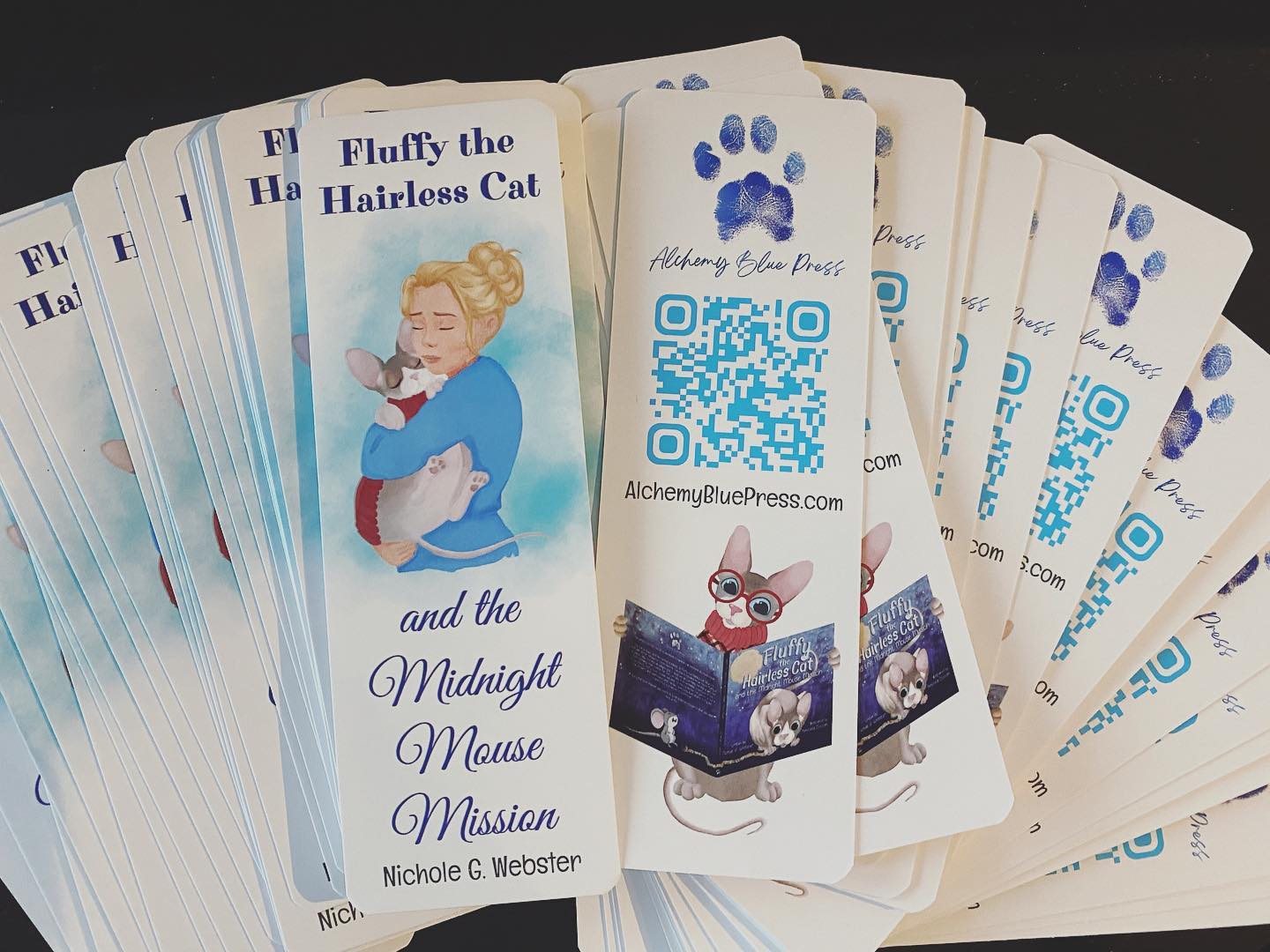 Affordable, functional, and the perfect marketing tool to promote her book, Nichole's custom bookmarks are always within reach when meeting new people who might be interested in Fluffy's story.
Her PrintPlace experience is something we're extremely proud to share:
"The online creator tool made making my bookmarks with PrintPlace very easy. I was able to completely customize my bookmarks from size and shape, to the front and back. I did not find an option to do this with any other company.

In addition, the live chat customer service was superb and they were able to set up shipping my order to Canada for me. I plan to continue printing with PrintPlace and I highly recommend it to all my small business friends.

I bring the bookmarks with me everywhere I go! Any time I get in a conversation with someone about my book and career, I hand them a bookmark.

I have a customized QR code printed on the back which brings people directly to my website bookstore. I love talking about my book, Fluffy, and the research being conducted on HCM. This is my passion, and the bookmarks have been a proven useful tool in opening that door to allow me to raise awareness for HCM, and keep Fluffy's legacy alive forever."
Lessons Learned & Shared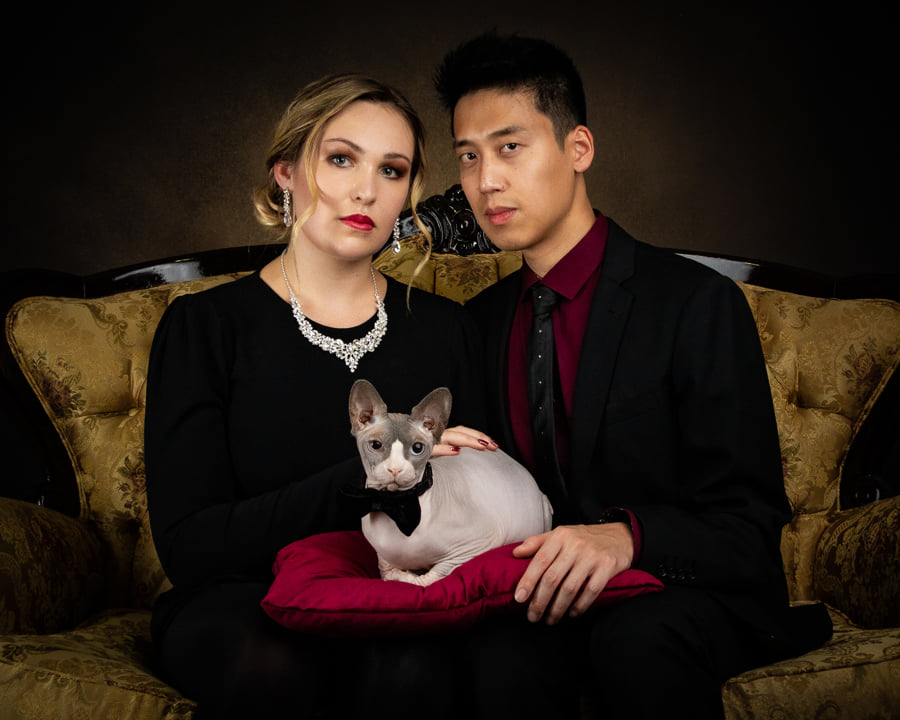 Striking a balance between career and passion is hard enough to think about, how much more to set things in motion? But if Nichole can do it, she believes you can, too! With the right drive and attitude, of course.
So for those of us who need that nudge to chase after our dreams, on top of a career, here's what Nichole has to say,
"There is no right moment or time to chase after your dream. I worked as a paramedic tirelessly for four years before I finally pursued writing, which is what I have always loved to do. It is never too early or too late to get started on doing what you have always wanted to do. This moment, right now, is the right moment.
Trust me, it is so freeing when what you do is your choice, and it subsequently brings you peace and happiness.
I still work as a paramedic, but I am also now an author. Pursuing your dream on top of your career is manageable and you can find the time to do it and make it happen. Because your dream is your passion. And your passion is what you were always meant to do."
Grab your copy of Fluffy the Hairless Cat and the Midnight Mission at Alchemy Blue Press. For updates, follow Author Nichole G. Webster on Facebook and Instagram.

Do you want to share your small business story with us and our community?
We would love to hear it. Send your story to
community@printplace.com
or tag us
on
Facebook
and
Instagram
.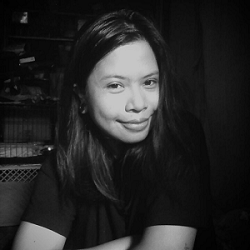 Roxanne is a furmom to 5 dogs and 4 cats. She loves to doodle, people watch, and obsessively wonder how Frank McCourt wrote Angela's Ashes.