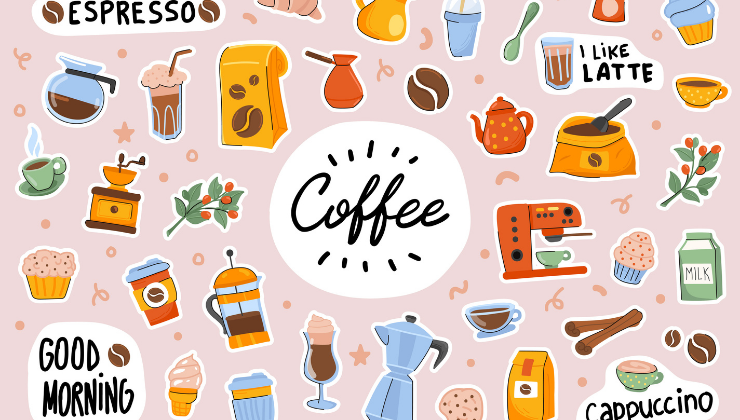 Your Ultimate Guide to Sticker Materials
Creating your first branded sticker design can be overwhelming for most first-timers or novice business owners. You may have a look or feel in mind, but the range of features and choices is overwhelming. Your choice of material, format, shape, and coating will determine the quality of your stickers. To help you through the options available, we've come up with a step-by-step guide on understanding the advantages and distinctions among what's offered for custom stickers. We start with the format before heading to the sticker materials and other features that make your design come together.
How to Distinguish Among the Sticker Features Available
1. Find the format that best suits your business or promotional needs.
Choosing the best sticker for your company's print marketing needs begins with the correct format. You can print in four standard formats that match specific applications and set quantities.
Singles
Individual pieces that we cut to the exact shape or size you need
Available in standard circle, oval, or square/rectangle shapes
Recommended for business owners or admin staff applying the stickers by hand
Best printed in quantities below 250 pieces for manageable tracking and easy counting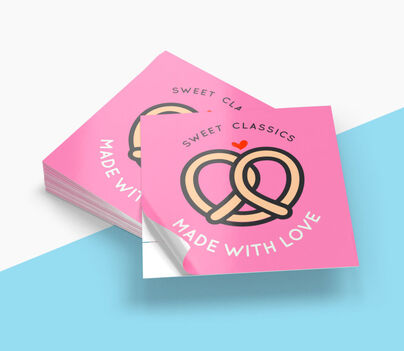 Rolls
Several stickers are printed on one roll for continuous placement
Fits in most automatic label dispensers for faster application
Comes in standard shapes and has a broader range of custom sizes
Recommended for bulk sticker quantities of at least 250 pieces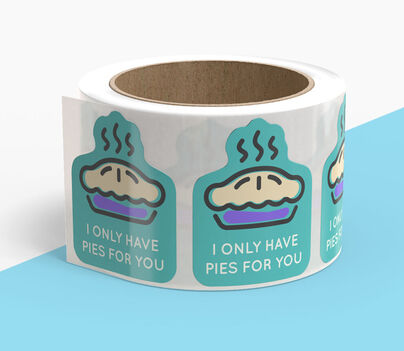 Sheets
Show the same or different designs on one sheet
Choose from 4 standard sheet sizes or select custom dimensions specific to your multiple designs
All printed stickers are cut to the exact shape you indicate
Easy to include in purchased delivery boxes as giveaways
Recommended for customers tracking the number of stickers per sheet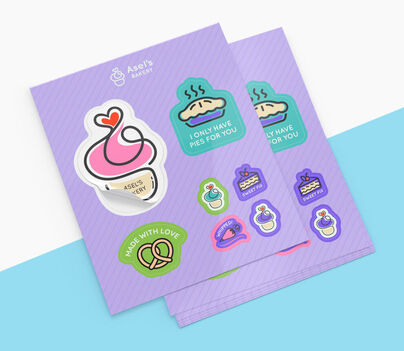 Kiss-Cut
Individual stickers printed to your exact shape and placed on a rectangular backing
Backing preserves the edges of more intricate designs, preventing damage during individual sticker applications by hand.
Recommended for small to large quantity orders; minimum of 25 stickers required
Perfect as single freebies or fun decorations, customers can use them on merchandise like tumblers or laptops.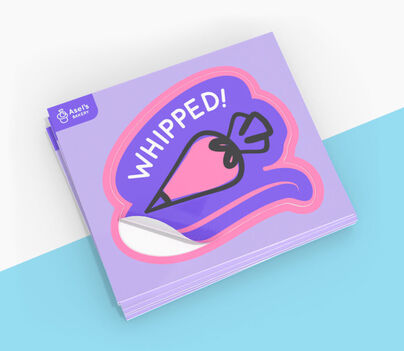 Read more: Choosing Between a Kiss Cut or Die-Cut Sticker
2. Print on a material that lasts and elevates the overall brand design.
What material are stickers made of? There are different types of sticker paper, each having features that will protect the printed design in specific conditions. Refer to the sticker materials checklist below to see which style suits your needs and what's available in the offered formats. Use the chart to see where you'd end up when considering vinyl stickers vs. regular stickers.
Sticker Material
White Paper Sticker
White Premium Sticker Paper
White Vinyl Sticker Material
BOPP
Textured Estate Variations
Format Available
Singles
Sheet
Kiss-cut
Roll
Singles
Sheet
Kiss-cut
Roll
Roll
Waterproof
✓
✓
Up to 4 hours in an ice bucket
Indoor or Outdoor Sticker Material
Indoor
Indoor
Outdoor
Indoors (refrigerator or chilled conditions)
Indoors (room temperature or temporary chilled storage)
Oil- or Chemical-Resistant
✓
✓
Writable
✓
✓
Adhesive Type
Permanent, all-purpose
In terms of color production, BOPP or vinyl come with a transparent or colored background. When it comes to white vinyl vs. clear vinyl stickers, we recommend decorating stickers on transparent surfaces. The white vinyl works best for solid color designs that complement another background like a laptop or water bottle.
Read more: How to Design Stickers
3. Consider including coating to build more protection from external elements.
Include coatings to ensure your branded design stays good as new. Apart from their protective functions, the laminated coatings elevate the overall look of your sticker.
Using neutral or pastel colors that look best with a soft finish? The almost zero glare of matte is easy on the eyes and makes lengthy text more readable. Matte lamination is recommended for stickers used or exposed primarily indoors, like on gadget surfaces or product containers.
A gloss coating has a bright, shiny finish that suits bold color combinations. It also protects against fingerprints, keeping stickers fresh and good as new after being handled.
High gloss laminate offers the most prominent shine and highest reflectivity for stickers that can be seen from afar. The extra stunning gloss also protects against abrasions and is built for frequent handling. We recommend this coating for stickers used to decorate cars, tumblers, and other items exposed outdoors.
---
Ready to customize your stickers based on the guide you've just read? Find what you need from our sticker types available below. You can easily find the best stickers for giving away at your next product launch or significant store event.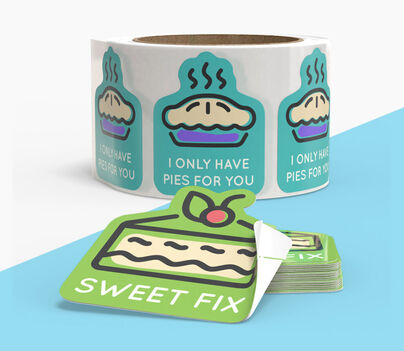 Custom Stickers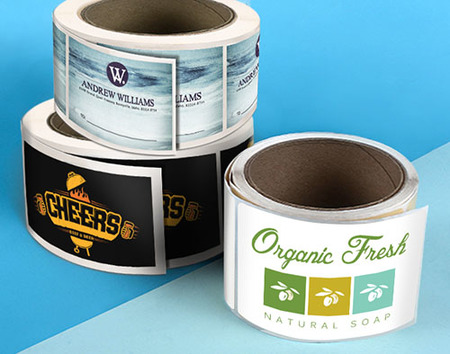 Bulk Stickers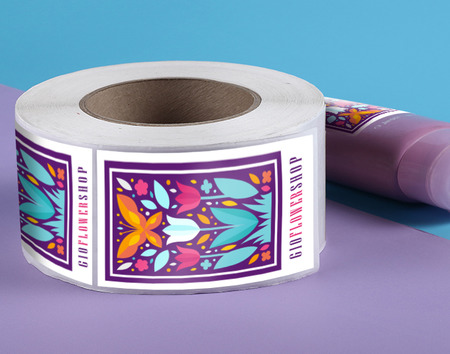 Vinyl Stickers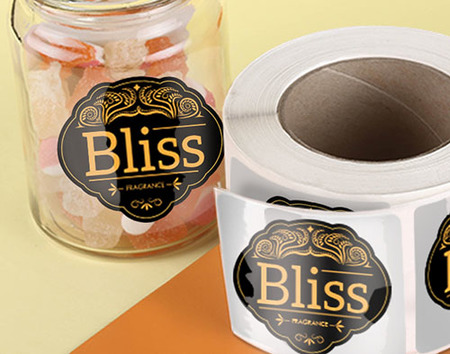 Clear Stickers
Have more questions about the sticker printing process? Feel free to contact our print experts from Mondays to Fridays at 877-405-3949, any time between 6 a.m. to 10 p.m. CT.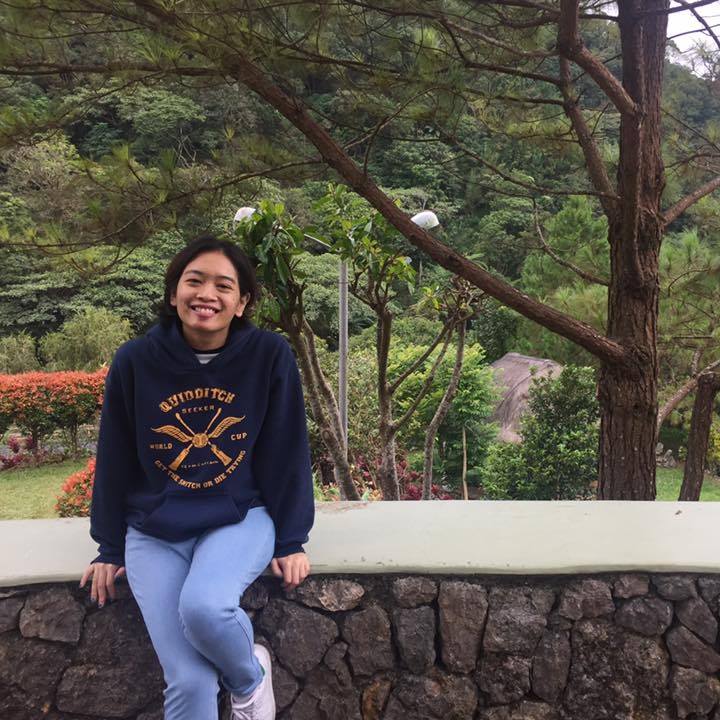 Angela's first love is food but her second love will always be the written word. She loves discovering new ways to tell stories and reads everything from YA to memoirs. Her time away from words is spent either with her three dogs or catching up on her favorite Netflix shows.