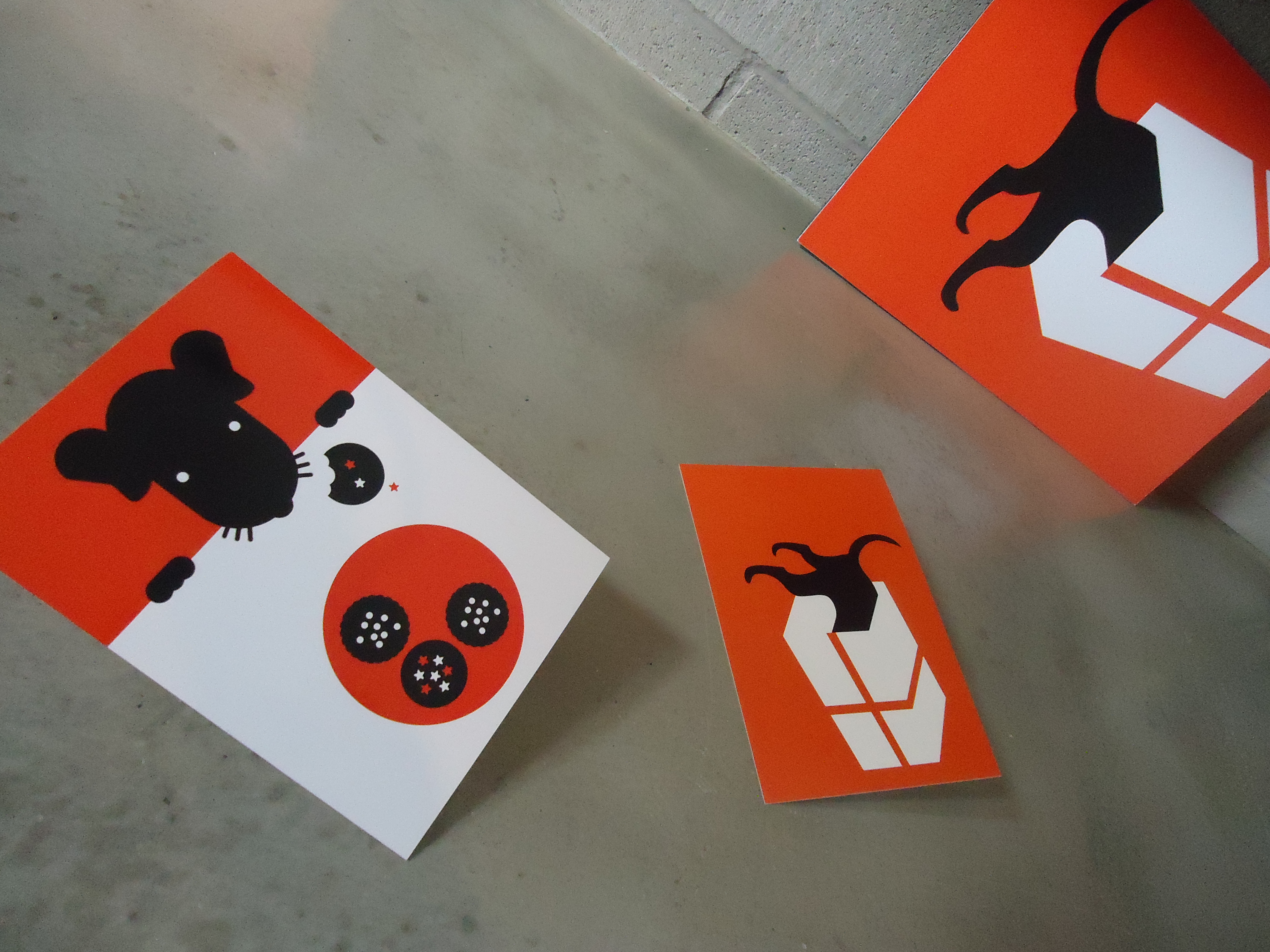 Greeting cards with a sleek, modern style are the center of this graphic design company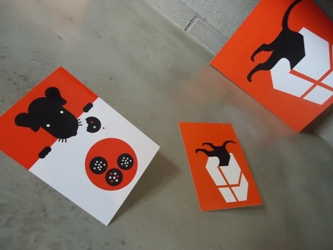 Rob Wilson is a graphic designer. He started his own company, Silas Tom, which currently includes greeting cards for every occasion, some equally witty cocktail napkins, and gift wrap. He is a longtime PrintPlace.com customer, so Tim and I asked him to be the subject of our next customer spotlight.
His condo was modern to say the least. It was long and skinny with an entire wall made of windows. With mostly bare cement walls and cement floors, it was a place only a graphic designer could make into an inviting space. And he did. The furniture continued the neutral color palette with a tan couch and clear chairs. Then pops of bright orange showed themselves throughout. There were orange flowers on throw pillows, orange flowers in a vase, and even orange glasses on open kitchen shelves. The true style was created by Rob Wilson's own designs, which decorated the space from their places, sitting sparingly on side tables and counters. The sleek forms continued the mood of the entire room.
Tim and I sat with him for about three hours, caught up in conversations about graphic design, videos, and blogging. Maisie, his five-year-old dog and office mate, never left his side.
With Maisie so close, dogs have been a common subject in Wilson's drawings and a source of inspiration on many occasions. His drawing for D Magazine, for example, came to him as they were walking one day. They walked past a shop window when Wilson noticed his dog's reflection. He realized that when a dog was added to his shop window drawing, it became relatable because people identify with a dog in a window.
It is for times like this that Wilson keeps his sketch pad and iPhone on hand at all times. He captures images and ideas with his iPhone camera and pencil to keep them for inspiration.
He describes his style as "bold, quirky, and brimming with visual wit." The theme of wit came up several times in our conversation and it best explains his images. Each image seems like a simple drawing, but contains a lot of character that reaches and amuses people, without a word.
His line of Texas images came from his own upbringing in a small town in west Texas.
"I was tasked by a client to come up with images that represent Texas in a non-cliché way. I wanted to stray away from cowboy hats and cactus…I was looking at a water tower and it dawned on me that the simple water towers you see across Texas and in small towns, like the small town I'm from…mean something to me and could resonate with other people. The lights you see on the football fields on Friday nights, oil wells…that spread across the plains, as well as windmills that you see scattered around west Texas."
His resulting images represent Texas so clearly, yet are a refreshing change from cattle and cowboys.
Wilson found PrintPlace.com several years ago when designing for Kitchen Dog Theater, a local theater company in Dallas.
"I worked with Kitchen Dog Theater for many years, working on their season collateral. I had to use black and white imagery copied on color paper, so it was pretty limiting. [With PrintPlace.com,] I discovered printing could be affordable. It could be quick. PrintPlace.com opened up options that we never had before."
He was so happy to find our four-color, two-sided printing with excellent quality, for a great cost. It immediately upgraded the theater's marketing efforts.
Wilson had a lot to say about his experience with PrintPlace.com.
"I recommend PrintPlace.com a lot, to a lot of people," he said.
He hasn't just printed one product with us though. His orders have included greeting cards, business cards, file folders, brochures, flyers and posters, to name a few.
One point he mentioned, that I thought was particularly meaningful, was that he uses our customer service representatives. Wilson is a graphic designer, so quite adept at computers, and the software necessary to create an online printing job, but even he has questions at times. This made me think how much someone without graphics expertise must use them. It shows how important it is to have our quality customer service at your fingertips.
Wilson also talked about how easy our templates are to use, compared with other online printers, and how confident our proofs make him feel. PrintPlace.com displays a proof at no cost for every customer, before their job is printed. It was good to hear from a customer, that this does alleviate stress, because it gives him the confidence that his printing job will come out exactly how he planned.
Watch our video, at the top of the post, to see the rest of Rob Wilson's story on how Silas Tom came to be and why PrintPlace.com is his favorite place for online printing.
Each design from Silas Tom has such wit. Which is your favorite?
Writer. Marketer. Enjoying writing about printing and marketing. Other things to talk to me about at a cocktail party include travel, dance, and food. Find me on Twitter @writtenbyemilie