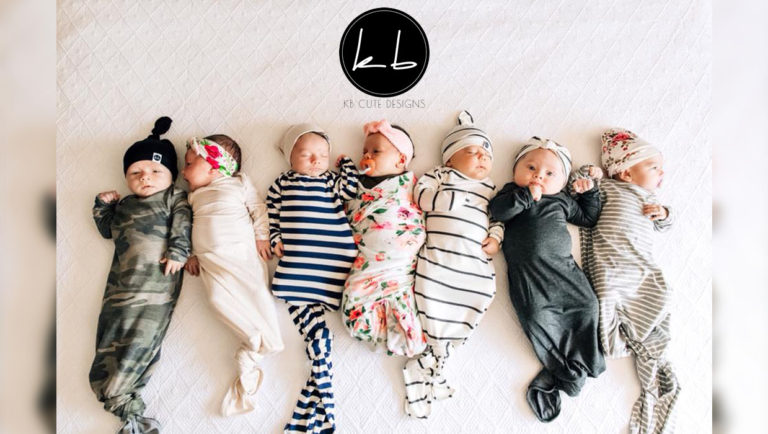 Customer Story: How Instagram Launched KB Cute Designs Into a Business
With over 44,000 followers on Instagram (and climbing), KB Cute Designs must be doing something right. Kerri Blaser, the operator and supermom behind this small business is a shining example of how to use social media to connect with your audience.
Kerri operates her business out of Mesa, Arizona. She sells sewn baby products — from crib sheets to swaddle blankets and top-knot beanies. No wonder her Instagram feed is one endless stream of baby pictures. Her tiny models make it hard not to follow their account.
But Kerri would be the first to admit that she's no Instagram whiz. As Kerri puts it, "While I would like to take credit for being a social media genius… who doesn't like seeing a feed full of cute babies?"
Who doesn't like seeing (an Instagram) feed full of cute babies? - Kerri Blaser, KB Cute Designs
Click To Tweet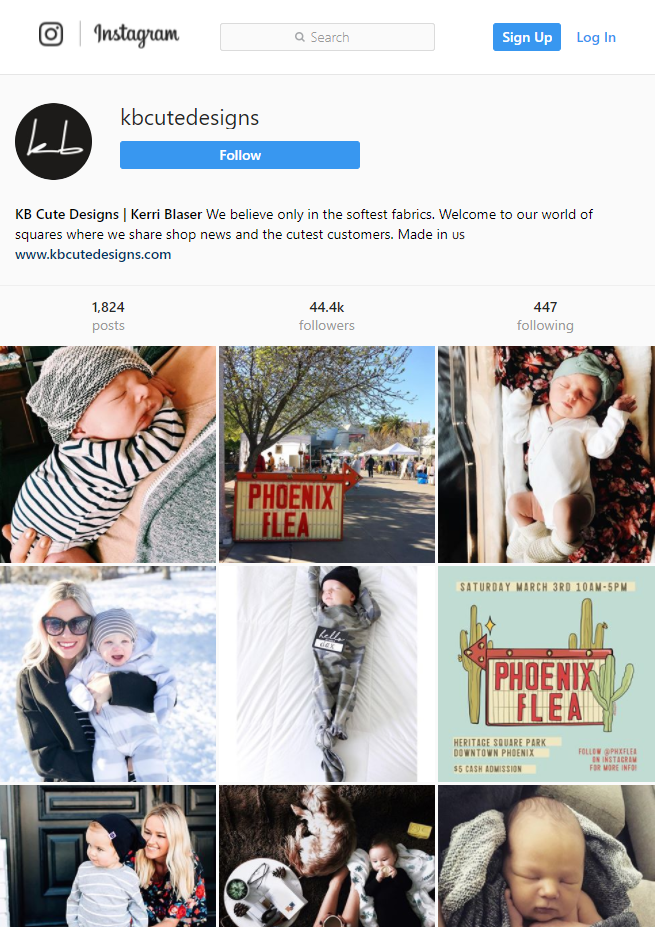 KB Cute Designs Instagram Feed
As I would later find out over the course of our interview, Kerri's humble nature is a reflection of her equally humble beginnings. Her business venture was not a byproduct of a calculated business plan but a desperate need to keep her family afloat during tough times.
The Dreaded Electric Bill
It was time to pay the electric bill and Kerri had to find a way to make ends meet. Her husband had been out of work for nine months at that point. Something had to be done.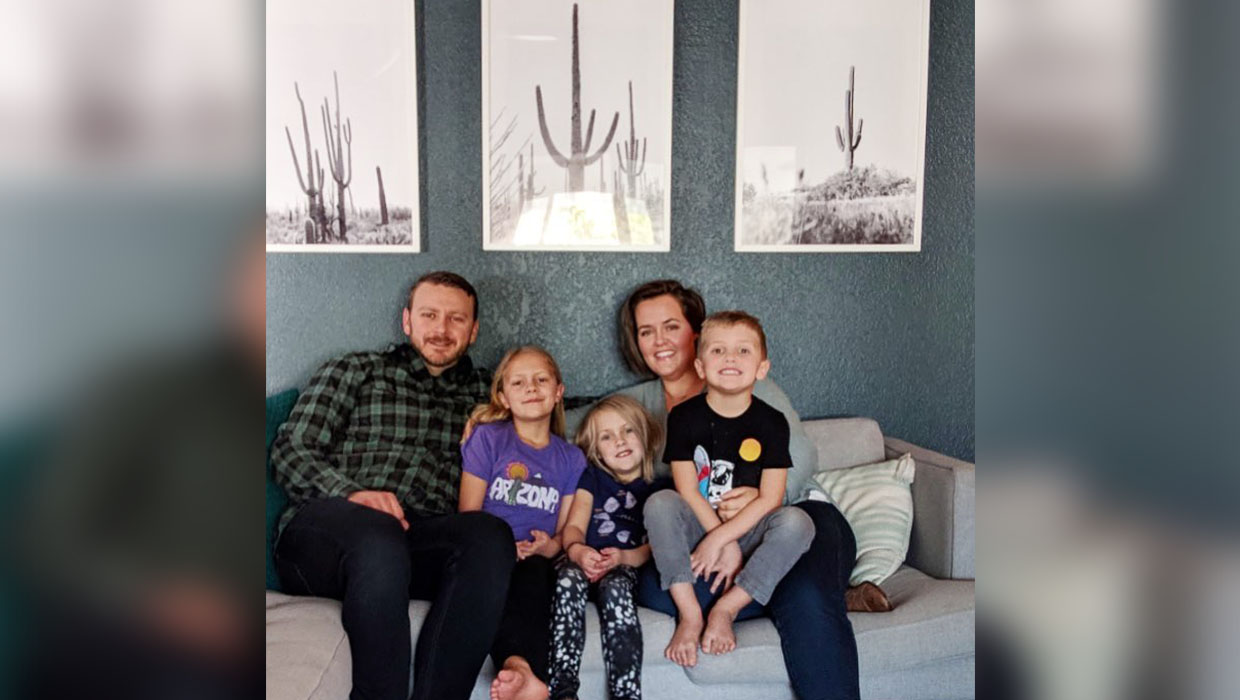 Kerri and her family
So Kerri took matters into her own hands. She dusted off her sewing machine and let her neighbors know she was open for business. She was down to sew anything. She hemmed pants for $5 a pair and did 100 pairs a month.
As word got around, she later landed a job for a custom crib sheet and blanket. Little did she know that it was the order that would change her life.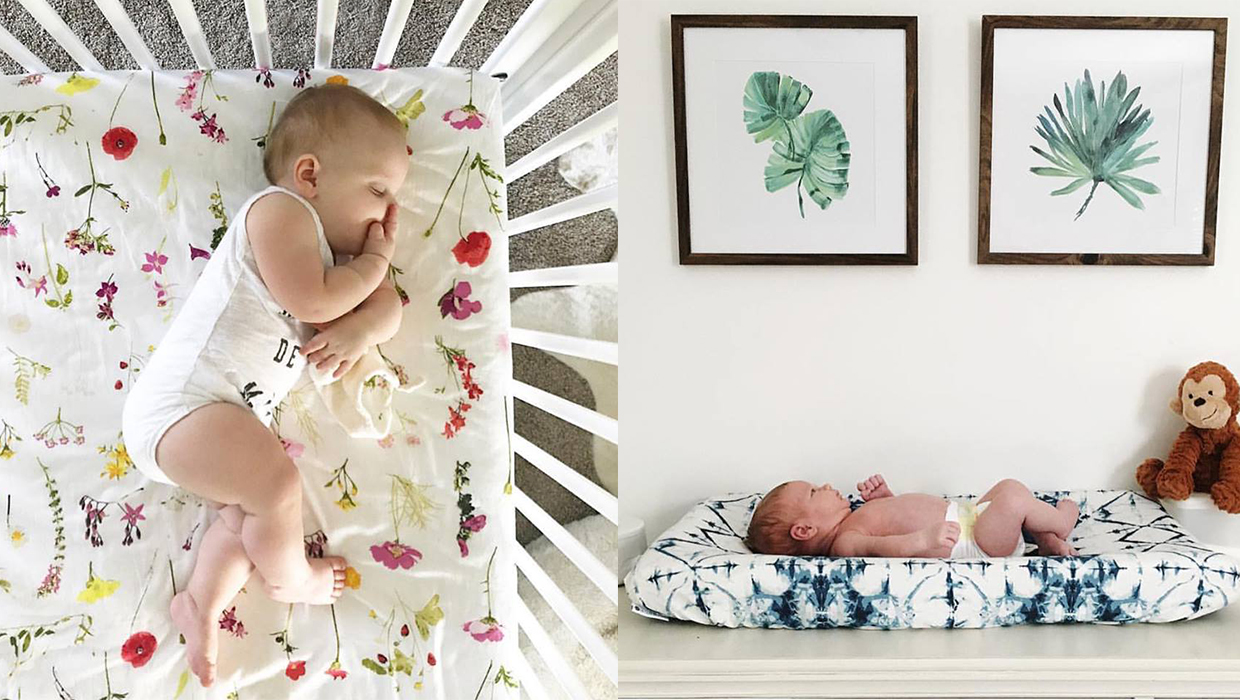 KB Cute Design crib sheet
The Rise to Internet Fame
Kerri had no idea how to make crib sheets but accepted the order anyway. Thank heavens she did. After the crib sheet was done, Kerri casually threw her work up on Instagram as anyone would do.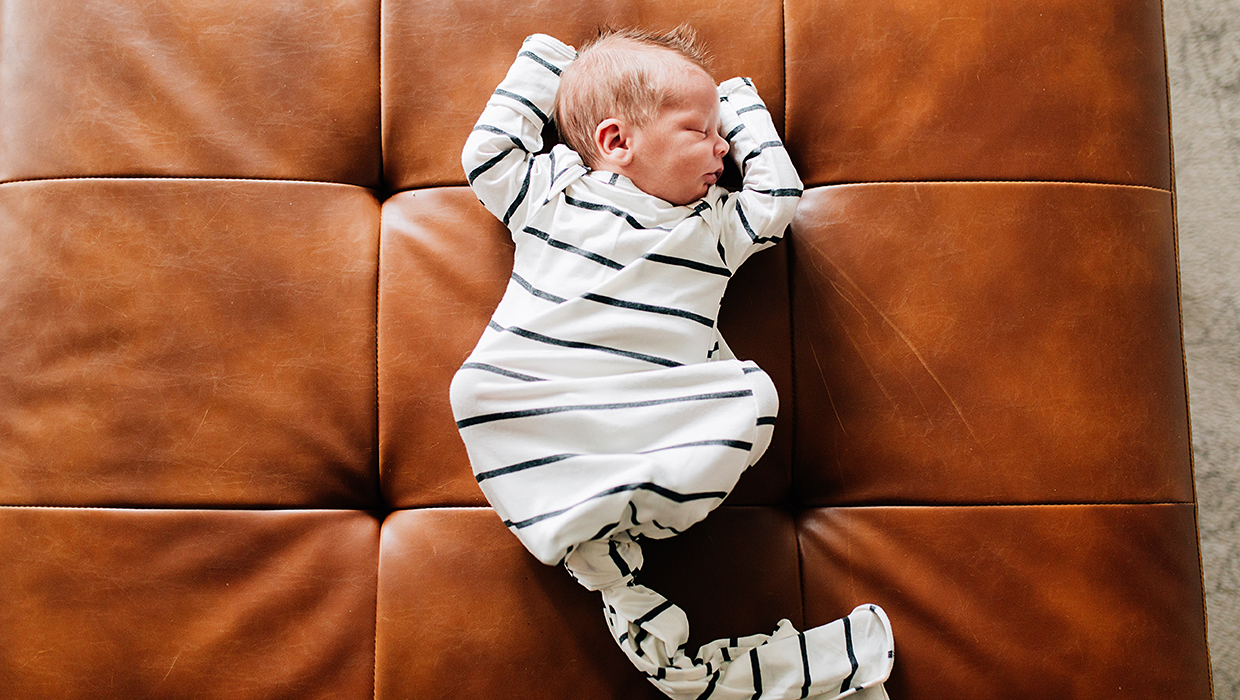 Look at this adorable little cutie!
"I had an Instagram at that point basically pointing out any work I was taking on and the crib sheet was a hit. Just over four years ago cute crib sheets at Target didn't exist and I had so many orders rolling in."
The mother of three struck gold. Not long after that, a Utah deal site called Brickyard Buffalo discovered her work and reached out to Kerri. They wanted a deal that would see them selling her sheets. It was at this point when Kerri realized that she had a real money-maker on her hands. That KB Cute Designs was strong enough to support her family moving forward.
"We quickly went from doing any and all custom jobs to focusing on nursery and baby specific goods and added quilts and swaddle blankets."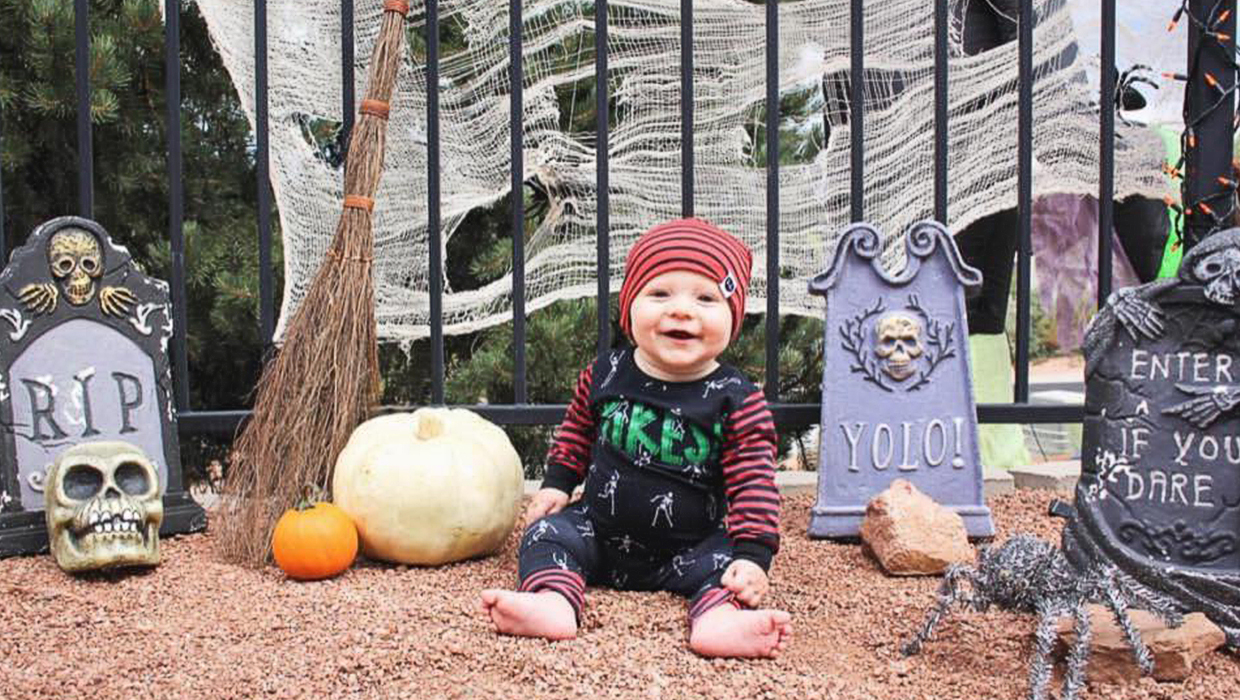 Nothing spooky about this adorable kid
Today, KB Cute Designs has grown to have a manufacturer, a fulfillment center, and a fully functional e-commerce site — all in the span of four years.
It's Not All Sunshine and Roses
Building a business has its share of issues. Kerri, a graduate of Arizona State University with a Bachelor's Degree in Marketing (with a minor in Communication), was able to foresee the headache that goes into running a small business.
"The biggest challenge has been funding the growth of the business. I was just telling my husband I feel like we are in the 'awkward teenage years' where we have so many new products we want to bring to the shop and we are working on printing our own designs on fabric."
But Kerri pushed forward and made changes to her manufacturing process to give customers the quality products they deserve.
"We have gone from purchasing small-end runs of [inexpensive fabrics] to massive quantities at a time to get the specific fabrics and patterns we want. And we have gone from making everything in-house—literally in my in-house sewing room—to hiring a cutting house and seamstresses in California to make everything."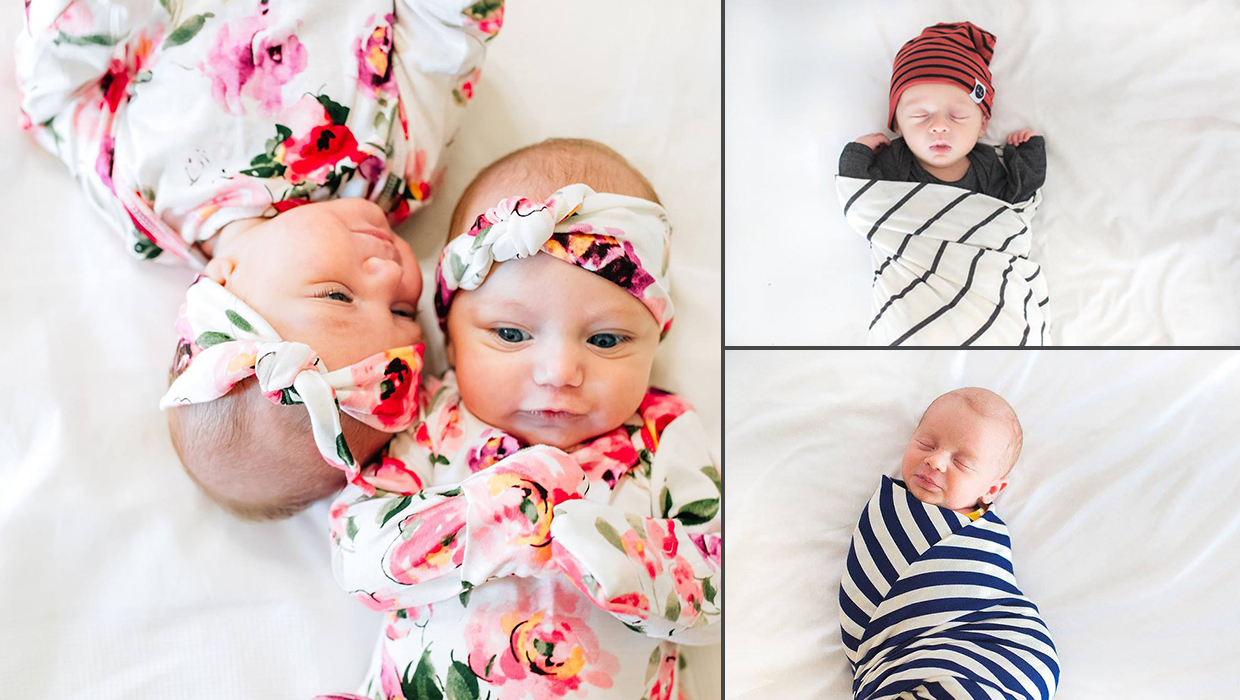 Baby models showing off Kerri's latest designs
But still, Kerri knew some sacrifices had to be made to keep the momentum going.
"While we are still trying to figure it all out, we pay ourselves very little and put almost everything we make back into the business. I thrive on challenges and figuring things out. So while there are 'challenges' at almost every turn, they just motivate me more to figure it out and make it work."
Simple Designs for Babies Everywhere
KB Cute Designs' appeal is simple enough to understand. Their products are designed by a mom for other moms. As Kerri explains:
"I wasn't a fan of the swaddle materials that were available four years ago so I found a fabric I loved that is thin and breathable but substantial and holds up well through dozens of washes a week."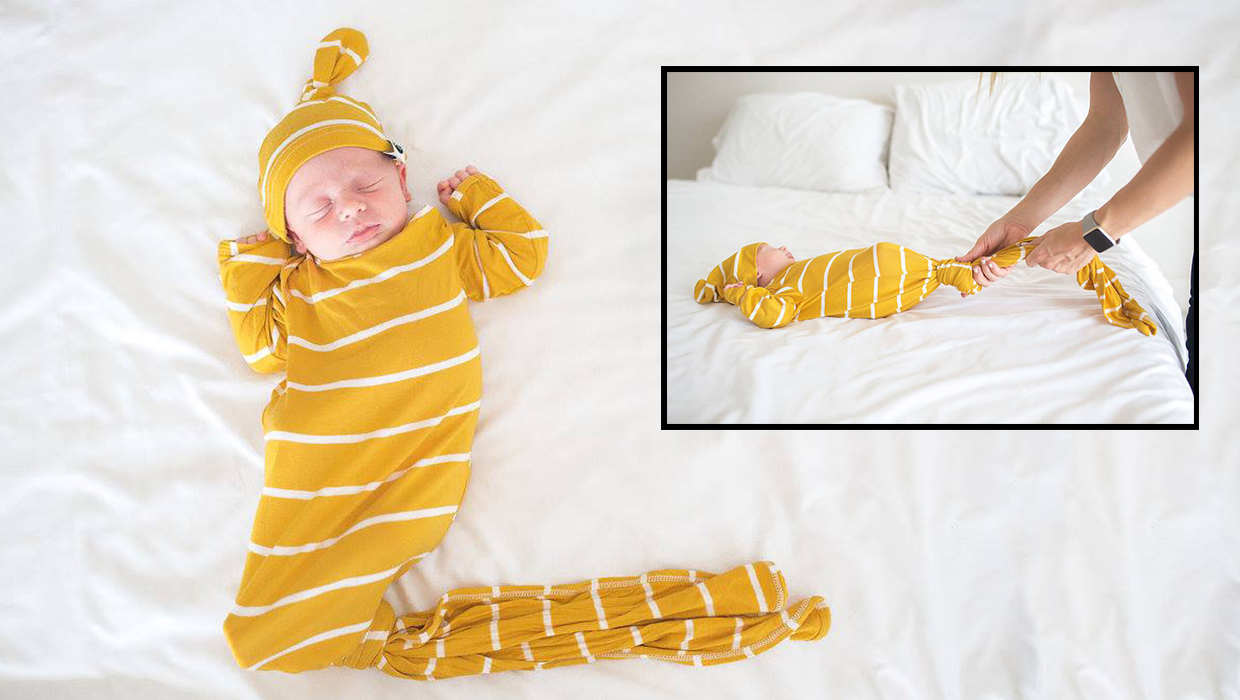 Beautiful and practical baby products
Kerri believes in practical products. Every design element serves a purpose.
"My youngest was taller than average and the sleeping 'gowns' that were available would end up around [her child's] waist by the morning – hence the knots on the bottoms of our gowns. Everything we make has experience and thought to it. We make our own patterns and we hand pick our fabrics to make sure they are buttery soft."
But functionality shouldn't get in the way of a great design. The aesthetics, after all, are just as important. Kerri was bored by the same-old, boring designs for kids. You have cars, trains, and fire trucks for boys. Girls are often limited to hearts, animals, and polka dots. So Kerri set out to design her own prints.
"I base our designs on my experience as a mom. I choose fabric colors and patterns that I would use with my own babies and in my own home."
Instagram Babies
Kerri continues to rely on Instagram to showcase her work. And so far, she's been getting nothing but love from fans of her work. And this accidental hit of a company is grateful for the positive response.
"I really feel like we connect with our followers on a personal level and it doesn't hurt that we have some of the cutest little customers anyone could ask for."
Kerri primarily works with babies. A dream job for many, I'm sure. And as such, she constantly meets new people. A thing she finds most rewarding.
"The coolest part of my job is the opportunity it brings to meeting so many wonderful people. I have met so many other business owners that amaze and inspire me that [I now get to] call my close friends. We have the best and cutest customers and I love getting to meet them when we do shows and photoshoots — they really are why I do what I do and I couldn't do it without any of them."
And as you would see on their Instagram page, her little customers are just as fond of her products.
Always Thank Your Customers
Another key ingredient in any business is showing your gratitude to your customers. Where would you be without them, right? Kerri keeps this in mind as she packs her products for shipping.
Kerri uses PrintPlace to print out custom postcards and sends one with every order she ships out.
"I LOVE these postcards so much! I believe a good quality Thank You card helps convey my thanks in every order placed. I love sending out pictures showing our items in use to give new fabric combination ideas or uses."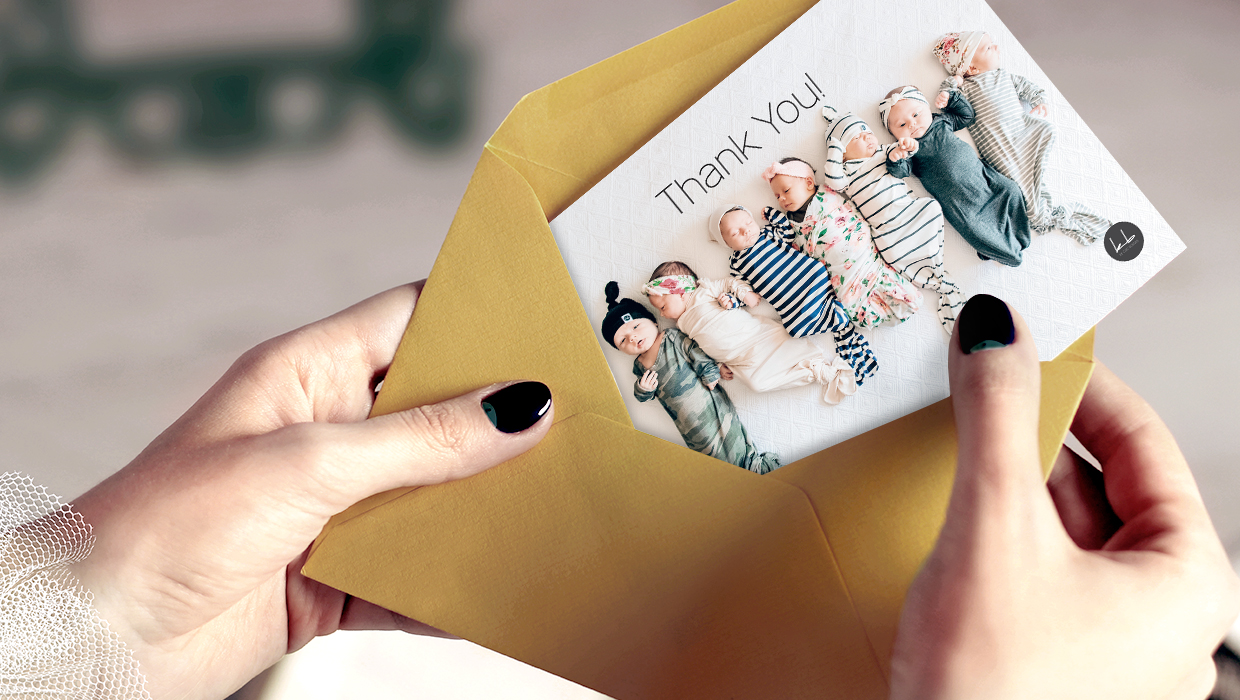 KB Cute Designs use postcards to thank their customers.
Go thank your customers with your very own custom PrintPlace postcards!
We had a great time working with Kerri on her postcards. And based on her feedback, we're happy to see that she had fun printing her postcards as well.
"I have used five other printers before I found PrintPlace and I have been so pleased with PrintPlace from the very beginning. The quality of the postcards is amazing. From the print quality to the thickness of the paper – they are absolutely perfect! And the process of getting the design on the site and [having] the sample approved – it was a seamless, easy, and fast process!"
From print quality to paper thickness, PrintPlace is perfect!
Click To Tweet
Follow KB Cute Designs on social media:
Instagram: kbcutedesigns
Facebook: @kbcute
Pinterest: KB Cute Designs
Twitter: @kbcutedesigns
How does PrintPlace help you with your business? Do you have a story to share? Send us an email at blog@printplace.com
Rafael likes writing about marketing through printed materials and spends most of his time searching for inspiring business stories for this blog.