Band Stickers
Great for band merchandise
Available in custom shapes
Choose waterproof materials for outdoor use
Fast turnaround time
Get Creative With Your Music Merch Using Custom Band Stickers
Get Creative With Your Music Merch Using Custom Band Stickers
Promote your music using personalized band stickers that you can sell or give away to your fans. Design these stickers with your band name or logo, popular song titles, album covers, and even photos of your band members. You can sell these custom band stickers on website or social media pages and use them as freebies on your tours.
Customize your band stickers with eye-catching designs that are in line with your band's image. Print them in water-resistant vinyl or BOPP so they can be suitable for outdoor use such as car or motorcycle decorations. To make your designs look more appealing, coat your stickers with a shiny gloss or a subdued matte finish.
How to Create Your Very Own Band Stickers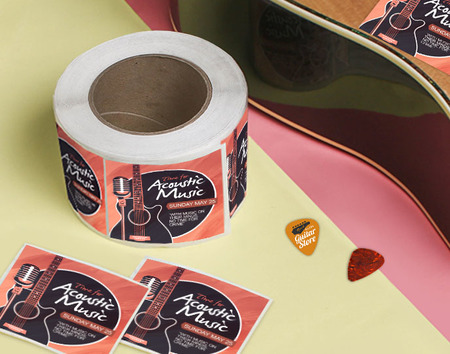 Go With Cut-to-Size or Roll
Small batch order quantities of at least 25 pieces are ideal for cut-to-size band stickers. They are individually cut and can be manually applied on items or handed out at gigs and concerts. If you need more than 250 pieces, we recommend roll stickers. These stickers can be easily applied with the help of any standard label dispenser. They are perfect for labeling hundreds of products that you sell on your band's website.
Choose a Material That Matches Your Design
We offer a wide range of indoor and outdoor-friendly materials. Here are the most durable sticker materials available:

Vinyl is the thickest and strongest available with its waterproof and weather-resistant features.
BOPP is exclusive to roll stickers and is recommended on designs that will be applied on water bottles given away at concerts.
The textured estate works for stickers that will be temporarily exposed to water.
White sticker paper is recommended for band stickers you want to be displayed on laptops, gadgets, notebooks, and other indoor items.
Select the Best Shape and Size for Your Brand Stickers
Our cut-to-size and roll band stickers come in four standard shapes: rectangle, square, circle, and oval. If none of the shapes we offer fit the design you have in mind, go with a custom shape under roll stickers.
When it comes to size, both roll and cut-to-size band stickers are available in several sizes. Depending on the shape that you pick, you can go as small as 0.5" x 0.5" on your custom stickers. You can also print in die-cut shapes to fit the exact form of your band name or album art. We recommend printing them in the cut-to-size format so the specific custom shape is printed.
Personalized Band Sticker Designs
Create your design or upload your print-ready artwork on our website. Our online design tool is intuitive and easy to use for customizing the design of your stickers. Add photos, insert text, change the color palette, crop images, and more.
You may also upload your print-ready design or artwork on our website. Before we move to printing, we will review your artwork and make the necessary adjustments to prevent any technical problems. If you want to request for a PDF proof to check before printing, it can be downloaded in My Account. Make sure to approve it so we can proceed to production.
---
Band Stickers FAQs
Can I review the band stickers file before it's printed?
Yes, you can preview and approve the free PDF proof before it's sent to production. After uploading your file, select "I need a PDF proof" under "Proofing Options." The PDF file will be available for download on your Shopping Cart. We will only print the PDF proof after you've sent your approval online.
How do I ensure the file I upload is ready for printing?
Set up your file accordingly to make your sticker file print-ready:
Set the color mode in CMYK.
Images are in 300 dpi resolution.
Place the design according to the trim, bleed, and caution line. For more information, read through this guide on setting up your file.
Save the file in any of the preferred formats: PDF, JPEG/JPG, PNG, TIF/TIFF, PUB, or EPS.
How soon can I receive my custom band stickers order?
Your order's arrival will depend on the production time and your location. The stickers will be shipped after the selected production time. To find out how soon you can receive the band stickers, expand the "Get Shipping Estimate" section below the online calculator and input your ZIP code. Several arrival dates and transit times will appear for your reference.
---
Band Stickers Layout Templates
Use our sticker printing layout templates to ensure your artwork and designs are sized and formatted correctly. PrintPlace layout templates can be downloaded for each custom sticker size below, in an EPS, PDF, or JPG format for Illustrator or Photoshop.

---
Related Products
Top Sellers