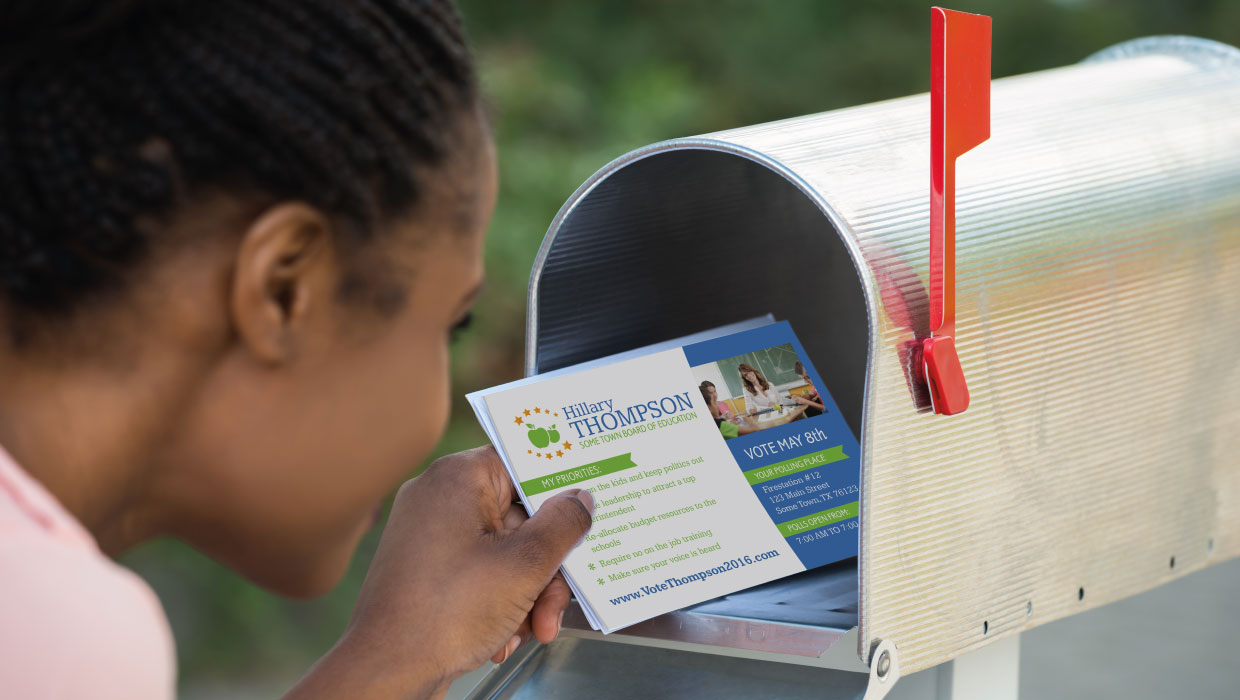 How to Create a Direct Mail Campaign
Creating a direct mail campaign can seem like a daunting task, especially if you haven't done one before. Here's a video that details how to create a successful direct mail campaign.
This week's Graphic Design Friday video details the steps you need to take and how to do them effectively for a successful campaign.
Let's be honest, the post office does have a lot of rules. But they do handle a lot of mail.
According to usps.com, they processed 158.4 billion pieces of mail in 2013.
The good news is that PrintPlace is here to make your direct mail campaign simple.
After watching this video, if you still have additional questions, feel free to call us for more help. PrintPlace can help you every step of the way. We can make sure your direct mail looks professional and targets the best demographics for your campaign. Postcards for politics are one of the most effective tools to send out through a direct mail campaign.
To target a specific neighborhood, Every Door Direct Mail is most likely the right campaign for you. We also have more information about the layout of your mailing piece in this post about Every Door Direct Mail.
Our customer service representatives can walk you through any questions at 877-405-3949.
Video Transcription
Hi, welcome back for another tip from PrintPlace.
This week we're going to dig a little deeper into the world of print marketing and discuss creating your own direct mail campaign.
Direct mail can be a powerful weapon in your marketing arsenal when done right. You get the chance to directly address a potential customer with the opportunity to respond.
Before even creating your mailing piece, you must decide who your target group is.
Begin by creating a customer profile. Include demographics such as age, gender, and income level. Make sure you include their psychographics.
How do they think?
What are their preferences?
What do they enjoy?
What do they hate?
What is their worldview?
Another helpful thing to know is where they live.  If you plan on marketing to specific neighborhoods using Every Door Direct Mail with USPS, this is a must. Check out city-data.com. It's a fantastic resource for locating potential customers.
With the customer profile as your foundation, the next step is obtaining your mailing list.
PrintPlace can help you target and purchase your list.  With access to 14 million businesses and 220 million consumers, we can help you target and reach the people to help your business grow. Follow the link in the description to learn more.
The next step is creating your mailing piece.
Whether a postcard, booklet, or brochures, make sure the design is informed by your customer profile. Postcards are definitely the cheapest and most effective way to do a direct mail campaign.
At PrintPlace, every standard postcard size meets USPS requirements. However, keep in mind if you want us to process your list, the backside of the postcard must be uncoated for the address to print cleanly. Our ink-jetting process cannot print on paper with High Gloss UV or Dull UV coating.
Also, our mailing services require either 10 pt. or 14 pt. cardstock for postcards. Paper stocks such as 100# or 70# are too flimsy to mail by themselves.
Once you have your mailing piece, it's a good idea to test the campaign's effectiveness. Mail the piece to 10% of your list and observe the response rate. Anything less than 2% indicates your piece, your offer, or more likely your list, needs revision. If this happens, don't be afraid to revise and re-test the campaign. Only send to the entire list when you know it will be effective.

That's all for this week. For more information, on mailing services, or using Every Door Direct Mail click the video links at the end of the video.

PrintPlace's mission is to provide customers with unparalleled printing services through the knowledge and expertise of its employees.