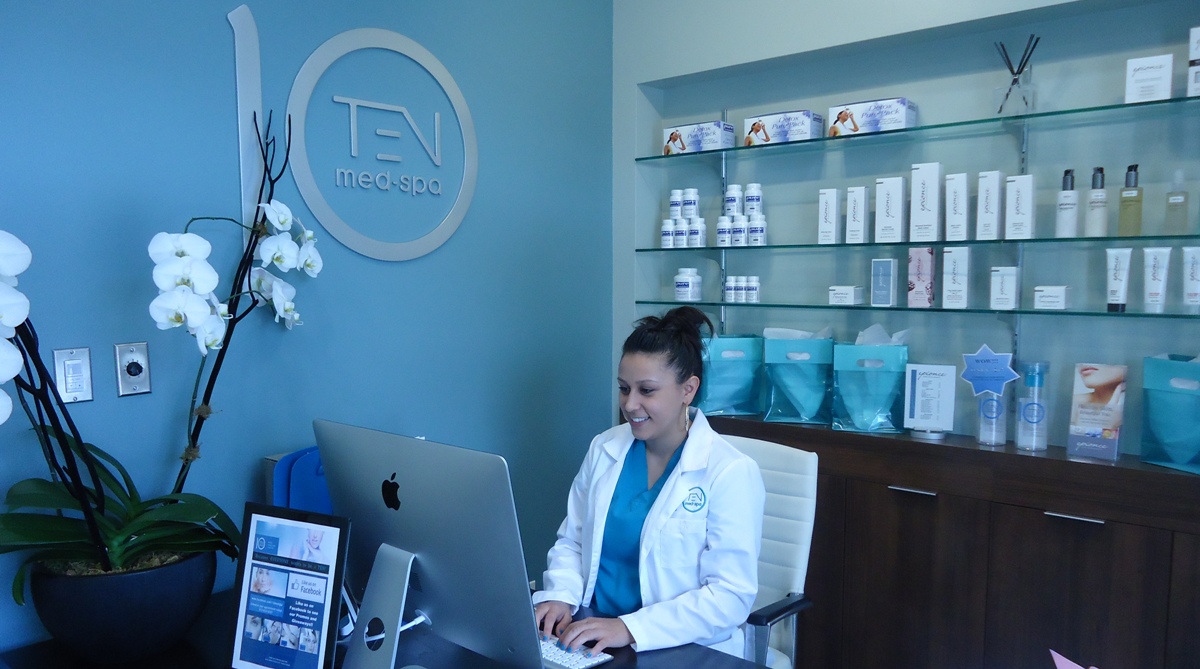 Customer Spotlight: Premier Healthcare of North Texas
Does a doctor's office need printing? What about a spa? A medical clinic or a hospital?
The answer to all of these questions is "yes."
It is important for each of these places to distinguish themselves, to build a brand around what they do and who they serve. People perceive a business by how it is presented. Premier Healthcare of North Texas understands that this has an impact on its place in the community.
Serenity in branding and in practice
Premier Healthcare of North Texas is a family practice that provides testing, treatment and maintenance. Amy Warner, the office manager, described the practice as "progressive."
"We are very concerned with prevention and wellness," she said, "rather than just taking care of the problem once it's occurred."
Everyone we talked to at Premier Healthcare stressed the importance of a calm, serene, clean office. I would say most doctors strive for a clean look to their offices, but many do so with a sterile environment (literally of course, but also with a design consisting only of white walls and steel). Premier Healthcare also wanted to create a soothing atmosphere, since most of the patients that come in are not feeling good. To do so, the office was styled with white orchards throughout, calming blue and white colors on the walls, and a lobby full of white furniture with clean lines. The art on the walls reflects Dr. Shadle's personal taste as well, with modern prints in complementary colors.
The branding of the practice followed suit. The design of the company stationery needed to portray this same clean, quality look. This was created with just the right letterhead, envelopes, and business cards for correspondence. The serene, modern feel is maintained as patients walk through the office during a visit.
The addition of a med spa
Dr. Jeffrey M. Shadle, owner and medical director of Premier Healthcare, has been running the family practice since 2006. This year he added a medical spa because he saw the desire for these services in his patients. It allows patients to receive additional care from the same practice and medical professionals they already know.
The med spa, located at the far end of the family practice, offers microderm abrasion, botox, and Venus Freeze, to name a few.
Before creating the branding for the new med spa, they first had to find the perfect name.
Dr. Shadle told me, "We were in Amy's kitchen, and everyone was throwing out French names for the spa and I said, 'How about we just call it "10"? Everyone wants to be a 10.'"
"10 Med Spa" is was.
When the spa first opened, Amy knew they wanted to promote the spa to more than just current patients, so she created a postcard campaign. She planned to do all of the stuffing and mailing herself, but when she looked into the time and effort that would take, she realized she didn't have either.
She told me, "When I looked online at PrintPlace's mail services, I knew that that was the way to go for us, because it just made it so easy."
After creating a direct mail postcard with information about 10 Med Spa, Amy contacted PrintPlace.com to purchase an address list for the area around their office, and had the postcards printed and mailed. Everyone at 10 Med Spa was impressed with the turnout of the open house and the buzz around the new addition.
Watch our video at the top of the post to find out how Premier Healthcare creates the perfect brand for their practice, or the video below for more on the campaign that successfully launched 10 Med Spa.
Writer. Marketer. Enjoying writing about printing and marketing. Other things to talk to me about at a cocktail party include travel, dance, and food. Find me on Twitter @writtenbyemilie