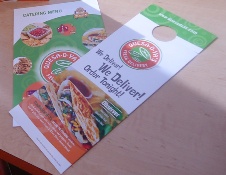 Why door hangers make this restaurant unforgettable

Today's customer spotlight is about Quesa-D-Ya's. The restaurant's unique focus on quesadilla take-out and delivery has proven successful, and owner, Paul Oltmann, says print played a huge part in that.

What is Quesa-D-Ya's?
When I walked into Quesa-D-Ya's to meet Paul, I was met with a clean, bright space. Everything was lime green and orange from the chairs and napkin holders to the tile on the walls. Even the menus and door hangers matched the inviting, modern color scheme. Even though I hadn't been inside the restaurant before, having seen the flyers for Quesa-D-Ya's, I felt as it was already a favorite place.
Paul greeted us with a smile and was eager to talk about his restaurant. We actually had to stop him a couple times and tell him to wait until the camera was rolling.
As Tim filmed, and Paul and I talked, the smell of grilling quesadillas floated through the air, pans clinked, food sizzled, and deliveries were sped out the door.
I had a hard time concentrating because I couldn't ignore my stomach's desire for a quesadilla.

Why door hangers?
Paul distributes door hangers in surrounding neighborhoods to promote Quesa-D-Ya's fresh food and fast delivery service. This gives customers information to order the night they receive it, or something to hold onto and remember at a later date.
With the fast pace of the restaurant, Paul appreciates the ease and speed of PrintPlace.com. The ability to reorder adds to this as well. When he needs more door hangers, he can just reorder a set without uploading the artwork again. This makes the time minimal that he spends on the order.
The brand that Quesa-D-Ya's has created is unique. In fact, Paul told us they are the only place like this in the country. They don't consider Mexican restaurants to be their biggest competition. They compete with pizza. He also told us why this makes print even more pertinent to his success.
"You get home. You're hungry. You don't want to cook. You don't want to go out. You want to order for delivery. If we're in that drawer with the pizza delivery places, you're going to choose us, hopefully, instead of the pizza…Without us being in that drawer, if we didn't have that print there, we wouldn't be chosen," Paul said.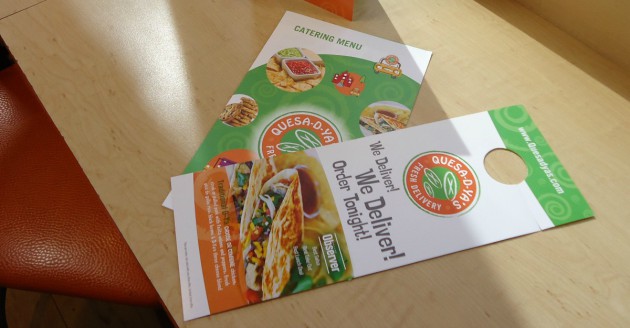 Watch our video to see Paul's story. (Don't be surprised if you find yourself ordering your own quesadilla for dinner tonight though.)
Writer. Marketer. Enjoying writing about printing and marketing. Other things to talk to me about at a cocktail party include travel, dance, and food. Find me on Twitter @writtenbyemilie