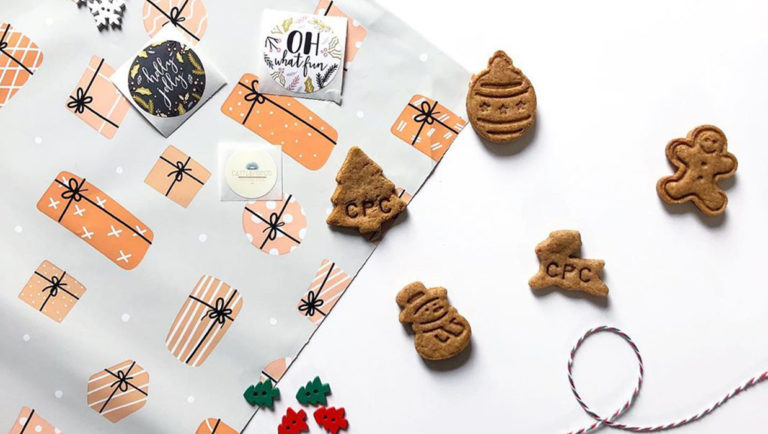 Small Businesses Unwrap Holiday Opportunities With Custom Stickers
It's the season to spread cheer!
Celebrations will be done differently this year – nonetheless, with safety precautions and virtual parties as a viable option, we will still be able to connect and celebrate with friends and family.
One of the things that will remain the same is the tradition of gift-giving. For many brands, and especially for small businesses, the holidays usher in plenty of opportunities to increase sales, introduce new products, and foster connections with their respective communities. A lot of them offer gift-ready items, after all.
It is not uncommon for us to see members of our PrintPlace community make the most of the holiday season to push promotions and personalize their packaging with a little help from custom stickers!
Here's a roundup of the best ones we've seen so far.
The Spriced Stitch
If you're looking for a creative addition for your home, The Spriced Stitch will not disappoint.
Owner and embroidery artist, Sam, describes her brand as "a collection of curious creations for creative curators". She is a talented maker of custom hand-stitched artworks with designs that feature Disney princesses, custom portraits, zodiacs, and more!
Sam has started crafting new designs for the holiday season that will make perfect presents for a loved one, or to keep for yourself.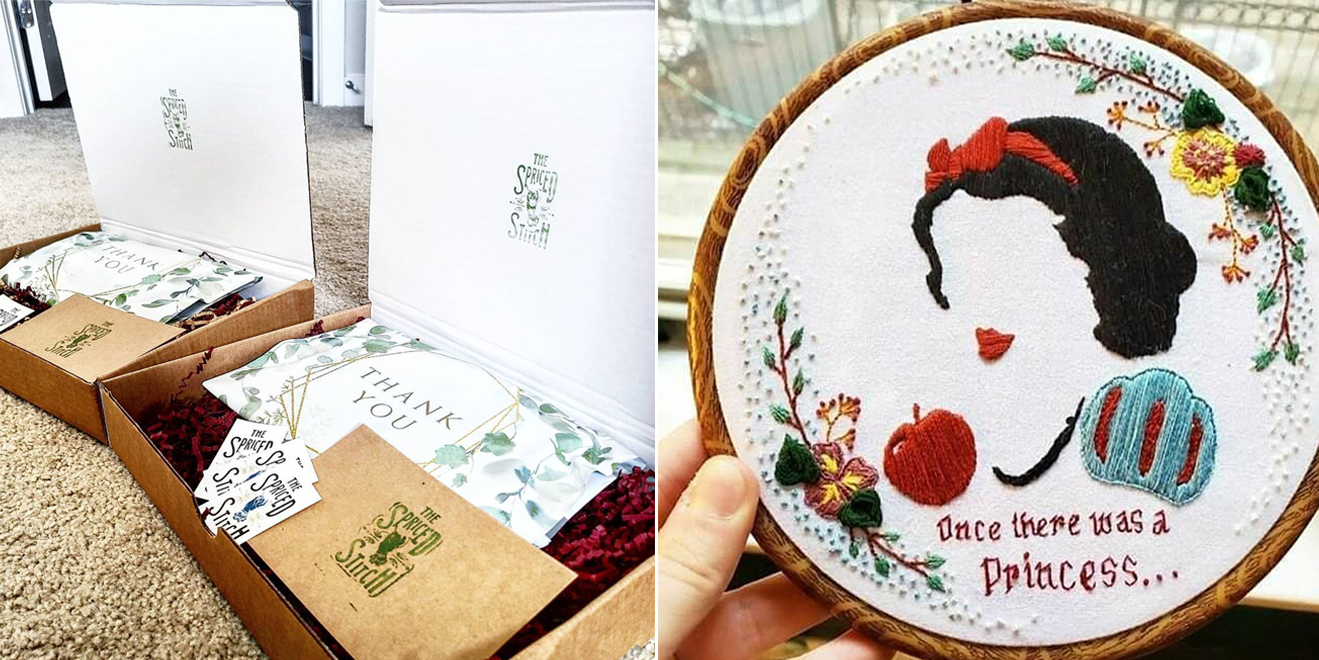 Making the most out of every opportunity to reinforce her branding, Sam includes custom prints such as postcards and logo stickers in every package she sends out.
Having printed her custom stickers, we are beyond thrilled to be part of her customer's unboxing memories!
"My whole heart exploded, I'm so happy. Ready to include these in packages, give them out to all the people I bump into in quarantine (LOL), and use them for packaging. Thank you, PrintPlace!"
The Westside Wrapper
"Wrappin' better than Missy Elloitt"
Hit up The Westside Wrapper when you need your presents to pop out of the gift pile. Based in Northern California, this gift-wrapping company specializes in wrapping for local businesses and private companies during the holiday season.
Need to wrap gift baskets or giveaways for an event? How about for birthdays and other special occasions? They can take care of those for you, too!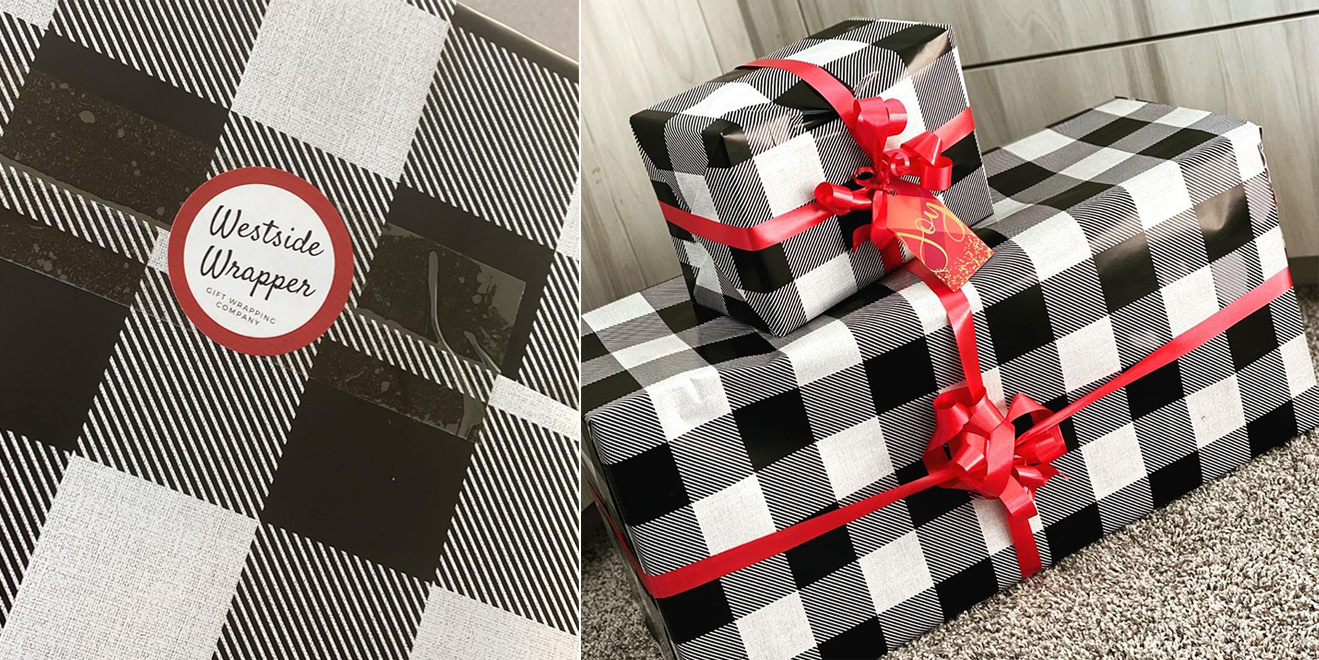 For a touch of branding in their beautifully wrapped gifts, The Westwide Wrapper uses stickers with their logo to subtly promote their business.
A small yet clever addition if you ask me. Gift recipients will see the custom stickers when they unwrap their presents which would help the business to spread the word about their services!
Cattle Pup Co.
If you're a pet owner, then you know there's really no need for any special occasion (or a special reason) to buy swag for your furry companion. But since it's the holidays, perhaps you're looking for something unique?
Not to worry, we have the perfect small business to recommend – Cattle Pup Co!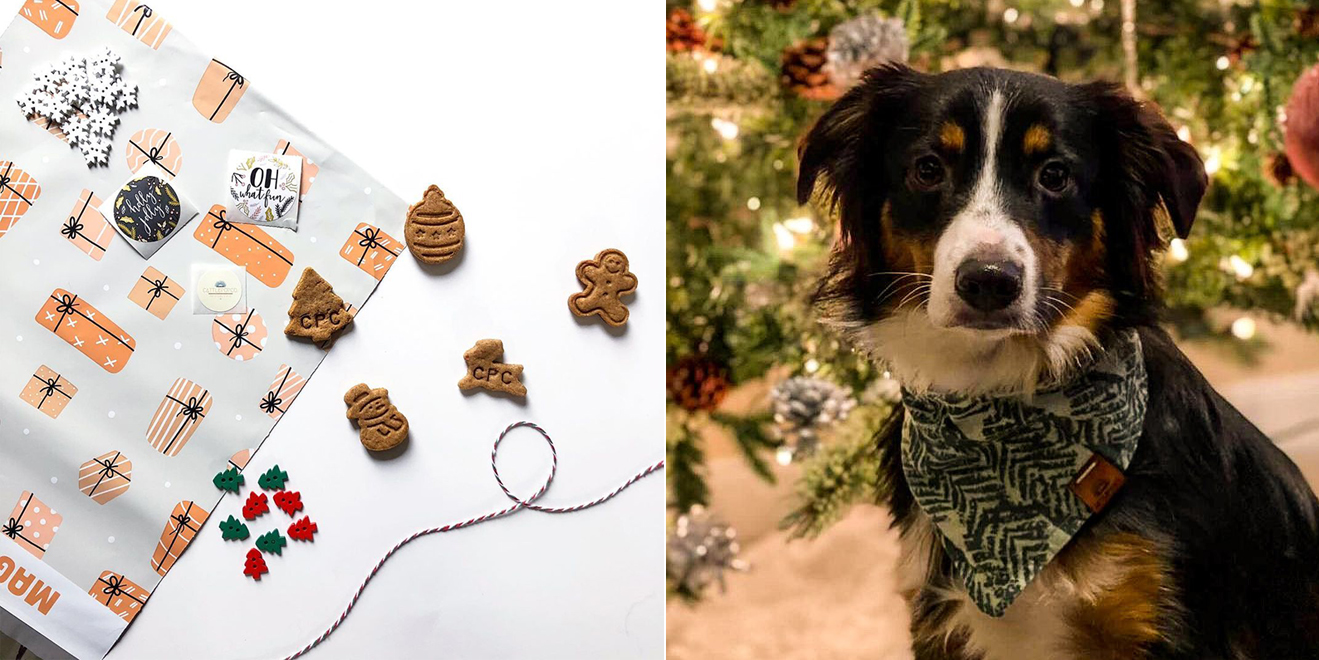 Cattle Pup Co. offers unique and beautifully crafted collections of handmade doggie apparel including bandanas, bows, and headbands. They also offer a line of pretty somethings for humans such as shirts, scrunchies, and decals.
So where do their custom stickers come in? You guessed it. Packaging!
With the intention to delight customers with every unwrapping, the brand slips in some custom printed stickers along with every order. These small additions bring big impact for Cattle Pup in continuing their promotions even after a purchase is made.
And these stickers are the cutest swag to easily spruce up whichever surface you choose to stick them on!

Do you want to share your small business story with us and our community?
We'd love to hear it. Send your story to community@printplace.com
or tag us on Facebook and Instagram.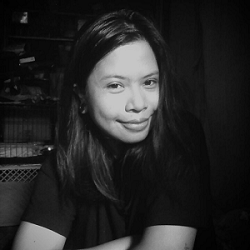 Roxanne is a furmom to 5 dogs and 4 cats. She loves to doodle, people watch, and obsessively wonder how Frank McCourt wrote Angela's Ashes.