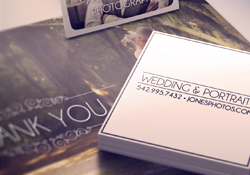 We have a new host for our Friday tip videos. Her name is Ara and she hosts our first episode of "Tipster Friday." What is "Tipster Friday," you ask? It's avideo with tips from a hipster every Friday. We will have tips to help you with all aspects of your printing.
Today's tips include creative marketing ideas for photographers. These aren't just standard "pass out business cards" type of ideas. Ara came up with some unique stuff that could actually be eye-catching in any industry.
Watch the video or read on for her inventive ways to promote your photography business.
Video Transcript
Hey guys. My name is Ara and it's "Tipster Friday" from PrintPlace.com, where I give you tips you've probably never heard of.
This week I'm talking to all you photographers out there. I L.O.V.E photography. I'm kind of a photographer myself. Filters, blur, it's no big deal.
Anyways, so the biggest challenge for you besides just being an amazing photographer is letting people know you exist. We all seem to default to online promotion. However, with companies like Facebook charging for you to reach your followers, it's becoming harder and harder for photographers to promote themselves. So, here are four creative tips for marketing your photography business.
Business cards are the first and obvious way to promote yourself as a photographer. Include photos that show your best work.Also, consider having different types of cards for the work you do. Have a wedding card for bridal clients and a separate card for seniors.
Get creative with your business cards and make them stand out! Create a square business card with your photo on one side and contact on the other. You get totally original, Polaroid-shaped business cards that people can't ignore.At PrintPlace we only print standard-size business cards. However you can choose postcards and add a custom square trim for the same effect.
A simple but amazing method for marketing yourself is simply saying, "thanks." In a world of likes, favorites, and upvotes, it seems easy to show your appreciation, but get old school and send a thank you card to your clients after every portrait session.Customize the front of the card with a photo and your branding, and then write a personal message on the inside. A client who feels valued will choose you again and again.
Finally, think about other skills you can bring to the table to add as perks to your photography. You probably know your way pretty well around Photoshop, right? Start offering design services for custom cards and invitations. Your clients will definitely love the added bonus.
That's all for this week! For more ideas for marketing your photography business, check out this video. Photographer Roderick Pena talks about his minimalist approach to portraiture and how his business cards reflect his style. Click here to watch this video.
So, I'm pretty sure it's about time for my lunch break and there's a kale and soybean salad with my name on it. And yes it's organic. See you next week!
(Visited 115 times, 48 visits today)