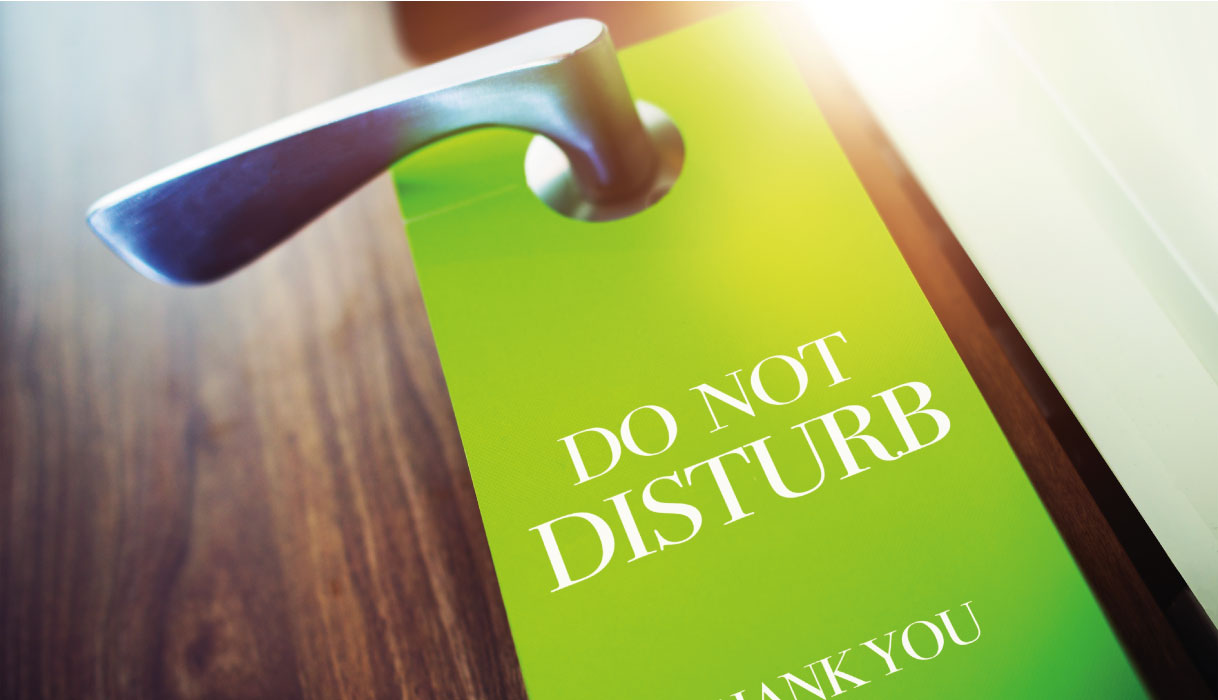 4 Ways to Make the Most of Your Hotel Door Hangers
Whether as a simple way to tell the staff a room is ready for cleaning, as a means to offer different services, or simply as a giveaway, hotel door hangers are an expected part of the "hotel experience."
It's unfortunate so many hotels seem to phone it in with their door hangers. But as with everything else in life, the devil is in the details. Here are a few ways you can make hotel door hangers stand out.
---
1.) Keep your hotel door hangers simple
---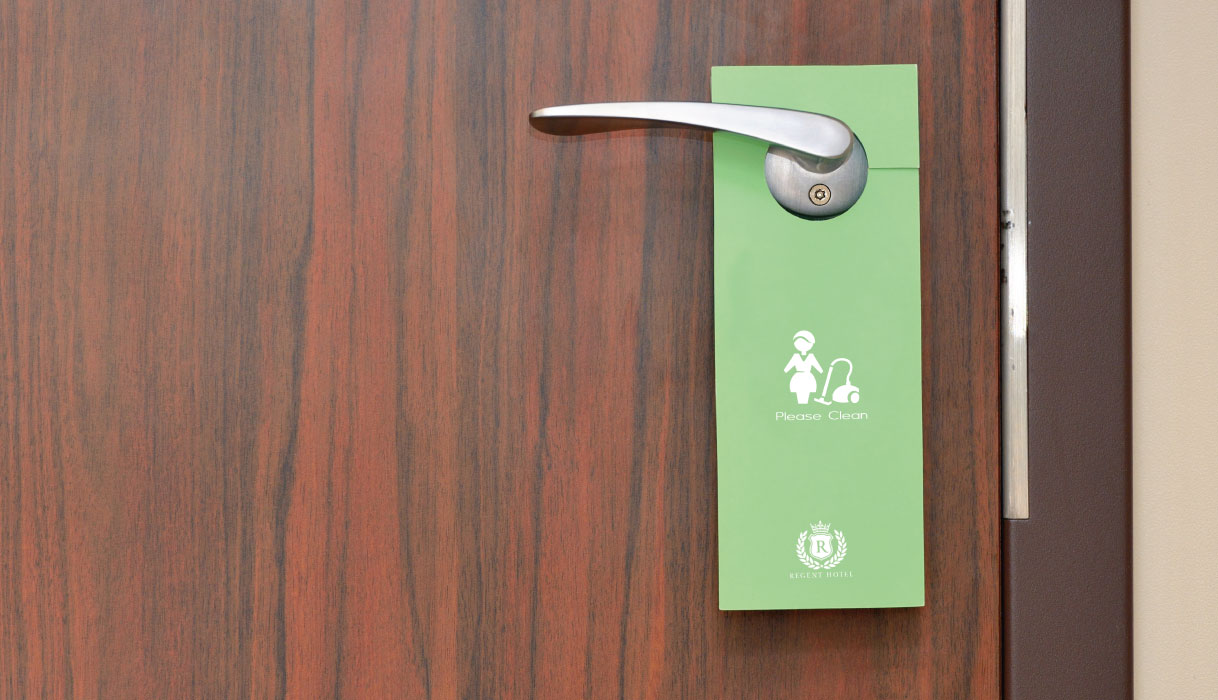 We've previously touched on why minimalism works for many print products. The same holds true for door hangers. You want them to make an impression on the guest as soon as they're seen. Avoid cluttered design, convoluted copy, and pointless frills.
Of course, you don't want your hotel door hangers to be simple for the sake of simplicity. The simplicity needs to have a purpose, especially when it comes to our next point.
---
2.) Important details need to 'pop'
---
Many designers hate hearing this word from clients, but your call-to-action should '"pop." A call-to-action may not necessarily be a bit of copy that says "call now." It could also be an image or contact details — anything you want your guests to take notice of.  This is easier on a minimalist design. However, it could still be pulled off with complex layouts.
This just makes sense if you want your door hangers to have an acceptable conversion rate. Ideally, a door hanger could be read at a fair distance.
It's also important to make sure whatever you design can be accurately matched in "the real world."  Choose a printing company that has specific expertise in door hangers — preferably one that has actual human beings doing the color matching and print proofing.
---
3.) The slots matter!
---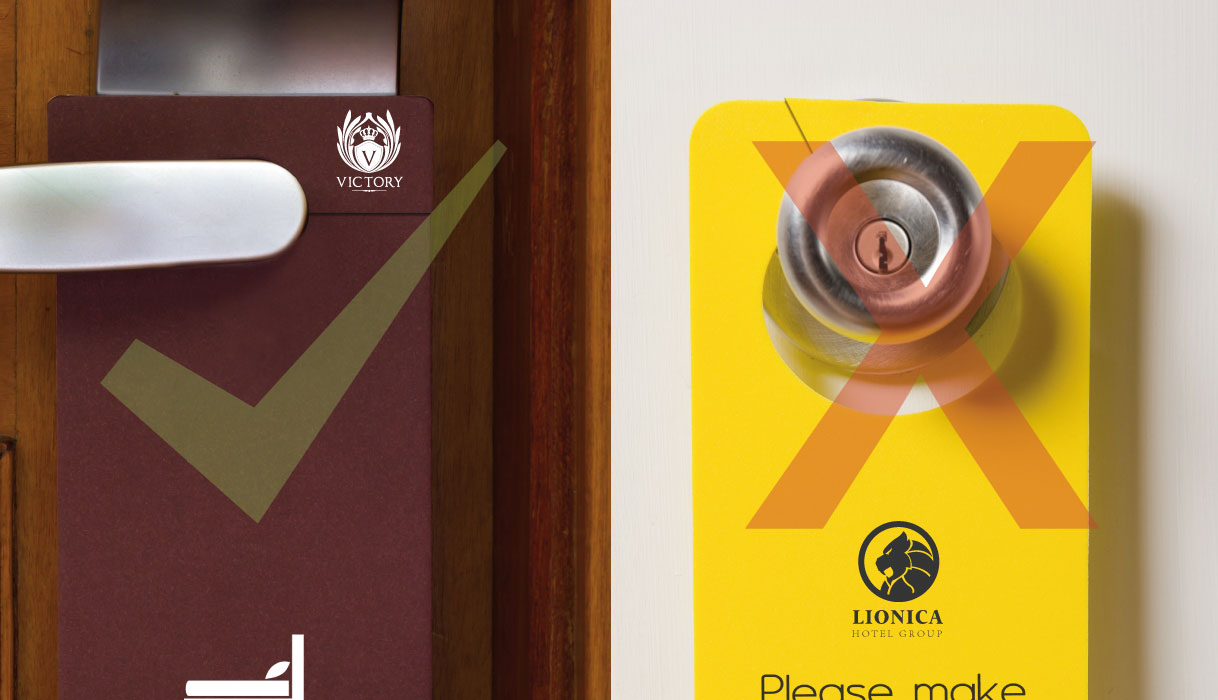 We strongly advise not to design your hotel door hangers with slots at any position above 9 or 3 o'clock. This makes it too easy for them to fall off a door knob or handle.  If the slot is around 9 or 3 o'clock or lower, this will help it stay on better, and also slightly prolong contact with guests, which you want in order to maximize potential conversions, if your door hanger also includes advertising.
---
4.) Use the 'best-feeling' stock you can afford
---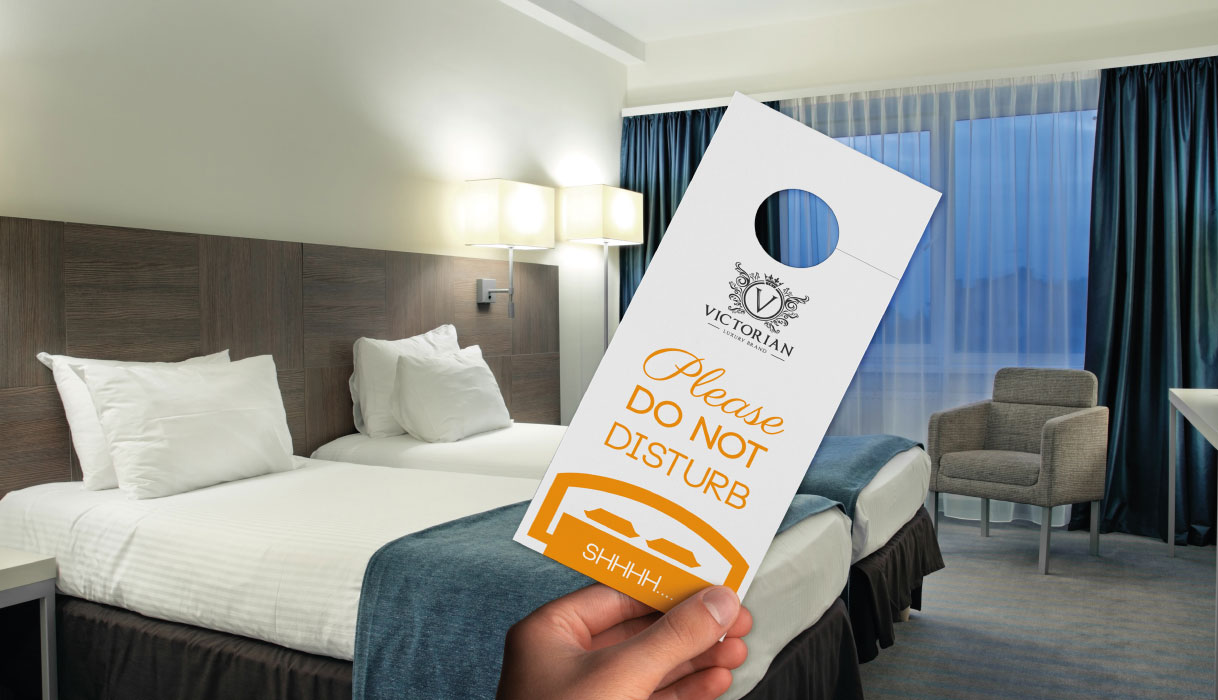 Alright, you've designed your hotel hangers so that they look great, have a clear message, and won't fall off a door handle. Now you also need to decide which stock will work best.
Designers used to designing for web applications may not give much thought to the importance of the stock you design print materials for. Business owners and marketing managers who only consider the bottom line might prefer to go for whichever option is the cheapest. This can be a critical mistake.
The type of stock used is especially critical for door hangers. Using quality stock helps give a better impression of your hotel and better weights and textures help guests better retain the information. A few studies suggest printed information is better retained compared to information from electronic screens. This is especially true if there's a strong tactile element involved.
---
How would you use hotel door hangers? Comment below.
---
Arthur Piccio is a feature writer and subject matter expert for the PrintPlace Blog. In his spare time he studies guitar and writes about goats.