Top Promotional Materials to Boost a Political Campaign [Updated 2022]
There's no doubt about it – the candidate who attracts the most attention during campaign season has a higher chance of getting elected. Come election day, the names voters recall the most will ultimately emerge as the winners.
According to political strategist Celinda Lake, "whether you're Pepsi or Obama, you have to run a campaign to get your brand out". Logos and slogans make you more memorable, and so they should be part of every campaign strategy regardless of whether you are running on a local or national level.
Effectiveness of Political Campaign Materials
A successful campaign is one that effectively reaches its target audience. If you are running for office, you must be present where the people are – otherwise, how else would they know you're the most suitable candidate for the position?
This is where political campaign materials come in. Signs, banners, flyers, and other promotional paraphernalia such as custom button pins and bumper stickers not only make great giveaways to supporters during events such as town hall meetings and rallies, but they can also go where the candidate physically cannot.
In fact, a 2017 study on the effectiveness of printed media revealed that 92% of 18 to 23 year olds prefer reading physical content over digital. And if you think postcards are obsolete, you may want to reconsider. According to the same research, people are 37% more likely to respond to direct mail postcards compared to e-mail newsletters.
Remember that campaign giveaways such as brochures and posters serve as tangible reminders voters can always go back to and share with others. Unlike digital ads that disappear every time a page gets refreshed, your yard signs and stickers will stay where they are until they get taken down.
In case you missed it, the US midterm election is right around the corner (November 8, 2022). Gather more supporters and make your presence felt with promotional materials guaranteed to boost exposure and recall this campaign season. Here are some tried-and-tested campaign staples that will help you stay on top of every voter's mind.
1. Voting Stickers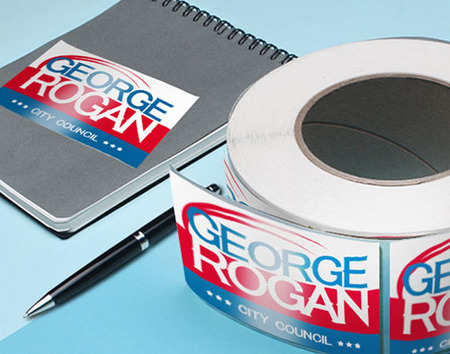 Stickers are considered a marketing powerhouse for several reasons – they come in different sizes, they are easy to customize, and they are inexpensive to produce. It's no surprise that when campaign season rolls in, political bumper stickers bearing witty taglines or vibrant logos become a common sight. Go the extra mile by giving away custom stickers your supporters can proudly display on personal belongings such as water tumblers and laptops. Who knows, they might be able to convince an undecided voter on their next trip to the gym or the neighborhood café.
2. Political Direct Mail Postcards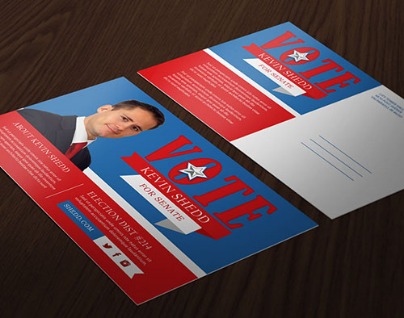 Incorporating direct mail postcards to your campaign strategy has several advantages, but the greatest benefit of political mail is its ability to reach the target audience with 100% accuracy. It also offers endless possibilities when it comes to personalization. Political direct mail is usually categorized into four common types: one tells your story, the other breaks down your platform, the third explains why voters should choose you over the other candidates, and the last reminds everyone to cast their votes on election day – why not try them all to see which one is the most effective?
There's also folded postcards in case you need extra space for the details of your platform. These are delivered folded, with the option to add tabs and perforations.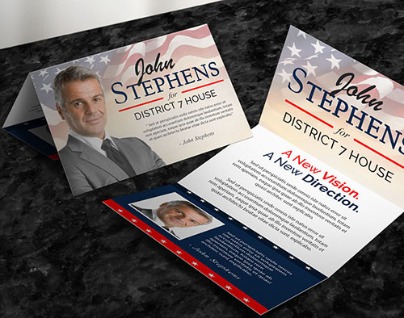 3. Campaign Door Hangers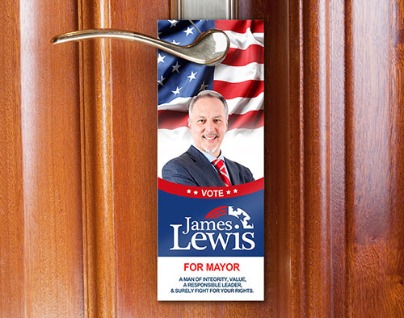 If you are looking for a unique way to promote your candidacy, try custom door hangers. These come in different sizes with the option to add perforations at the bottom. One of the main reasons door hangers work is because they're extremely hard to ignore. Everyone who goes in and out needs to turn the knob, after all. This subjects them to multiple exposures to your campaign ad.
4. Campaign Rack Cards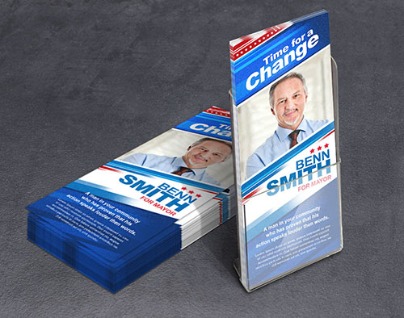 Rack cards are a great alternative to brochures if you want to keep your message short and simple. Businesses and establishments that support your candidacy can display these at their reception or cashier area so customers can easily get a copy.
5. Campaign Posters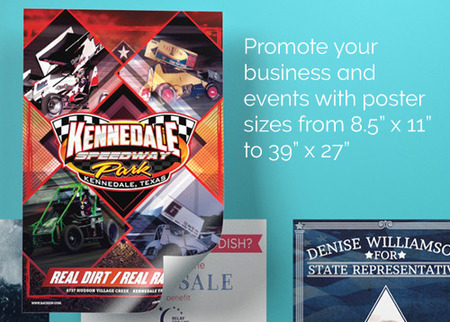 No political campaign is complete without posters. Whether it's to promote a candidate or to smear an opponent, poster printing has always been a reliable method in getting the word out.
Like other marketing materials, good design is what will set your poster apart from the competition. Just take a look at Alexandra Ocasio-Cortez's campaign posters when she ran for congress in 2018. Not only did her team use a non-traditional color, but they also paired it with an equally bold typeface. Breaking the mold has always been part of her branding and her posters communicated just that.
Political Marketing Essentials for Grassroots Campaigning
If you're a candidate for a local position, there's a high chance that grassroots marketing tactics are part of your campaign strategy. Make it easier for your supporters to spread the word about your candidacy with branded print products they can easily give away to friends, family, and strangers.
6. Campaign Brochures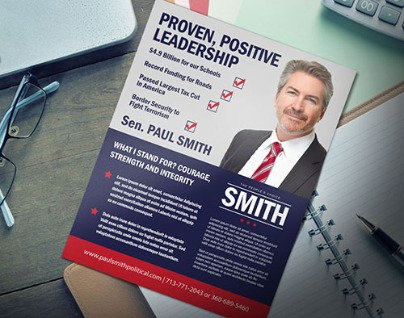 There's no better way to introduce a candidate in a highly detailed manner than with campaign brochures. With the amount of space and the range of folding options, the content possibilities are endless!
7. Campaign Flyers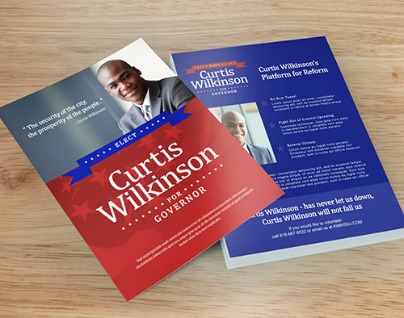 Political flyers are an affordable way to educate voters and spread awareness about your candidacy. Hand them out at your next fundraiser, rally, or door-to-door campaign.
8. Campaign Buttons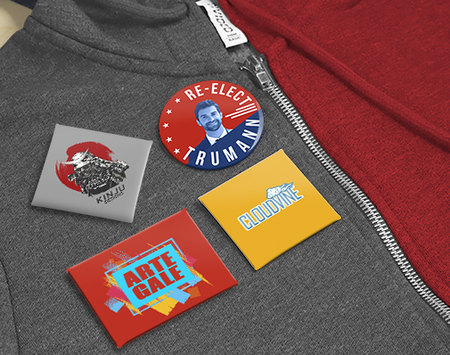 Custom button pins are a fun and easy way to express support towards a certain candidate or political party. Give them away to your constituents so they can easily identify other supporters. Political campaign buttons actually go way back in US history – they were first spotted on George Washington's supporters during the 1789 elections.
9. Campaign Signs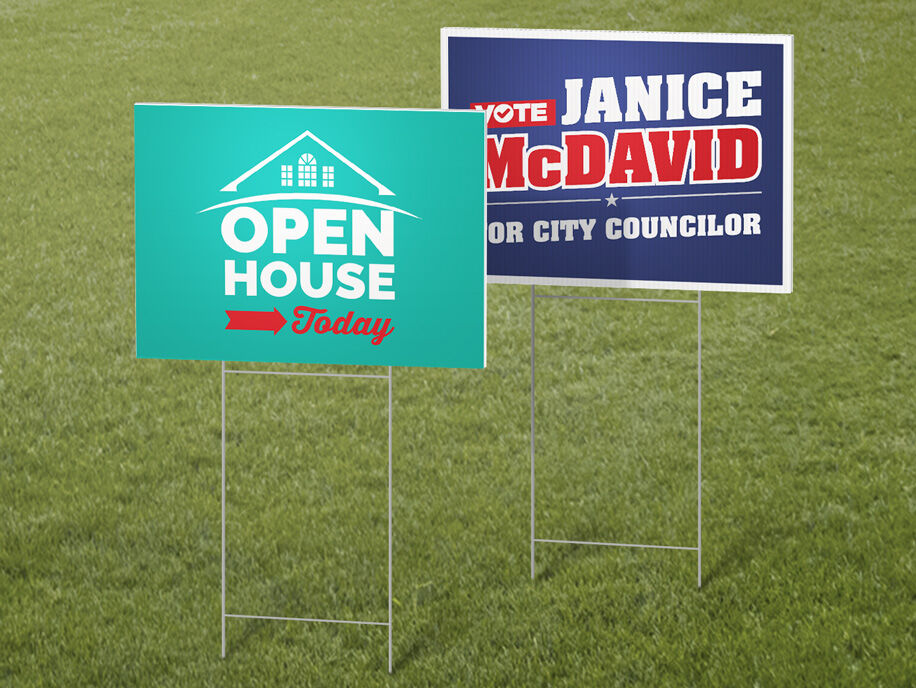 Like campaign button pins, custom yard signs have been part of political campaigns in the USA for centuries. Although the rules for displaying yard signs are much more stringent compared to the rest of the print products in this list, this hasn't stopped candidates from giving them away during campaigns. Make sure to check the regulations in your state to avoid breaking any laws!
Political Campaign Products for Brand Consistency
You can always go the extra mile with your promotional materials this campaign season. Think of every interaction as an opportunity to engage with voters and supporters.
10. Political Business Cards
For instance, business cards can make or break first impressions. The quality of the card and the way you hand it over say a lot about your personality and work ethic. Always have a stack on hand during events, especially if the other candidates are also in attendance.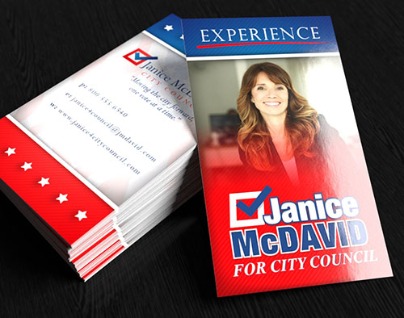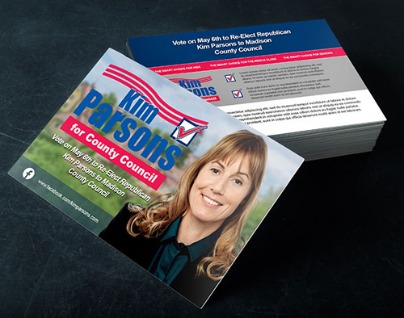 11. Political Letterheads
Using a personalized letterhead during campaign season also indicates how serious you are about the position. The recipient will surely notice and appreciate the details, whether it's for office stationery or for fundraising letters.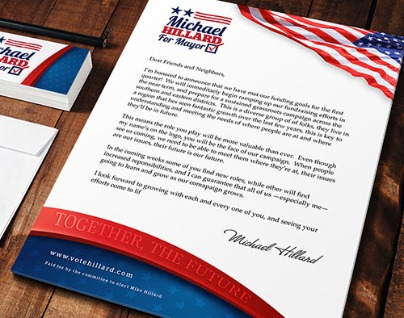 12. Political Invitations
And speaking of fundraisers and community events, don't forget to brand your giveaways so the attendees can take home a remembrance of your campaign.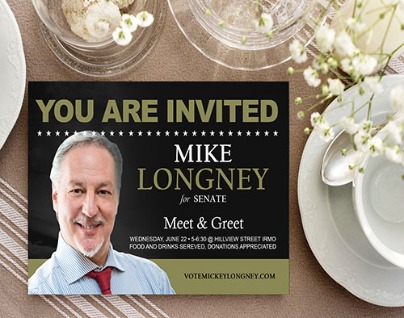 13. Political Programs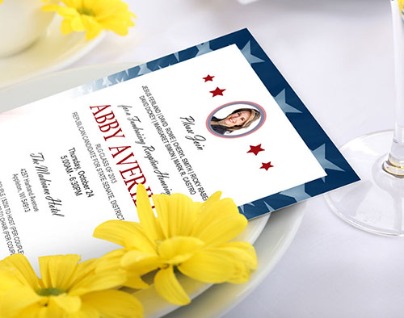 14. Political Table Tents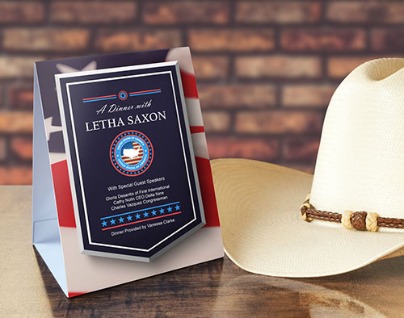 15. Political Mailer Boxes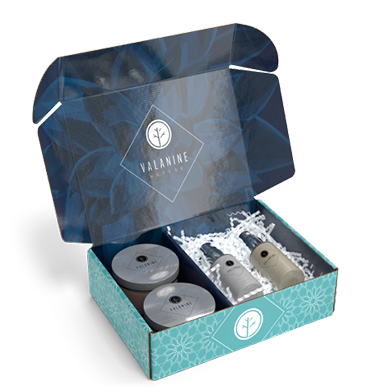 Colleen has extensive experience helping brands align with their ideal clients through stories that resonate. She spends her free time reading speculative fiction and watching animated shows.