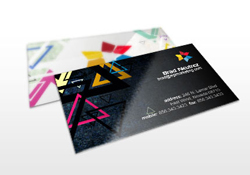 Don't your business cards deserve a new look for the new year?
It's that time of year again when all around you people are resolving to eat less, exercise more, and save money. This year they are really going to do it. Maybe.
I can't do much to help you with your eating and exercise routine. I have enough of that to worry about for myself. I can offer some financial advice though. It refers to something so simple that it is often overlooked. Your business card.
Business cards play an important role whether your financial goal this year is to find a new job, drive more sales through the one you already have, or add some freelance work.
These little cards are one of the first impressions you give a new contact. They are the lasting impression you leave. They influence whether that prospective client will contact you. They are responsible for working your networking magic.
Sounds pretty important, right?
Everyone has business cards, but many of them are just a few words on a rectangular piece of cardstock, with no individuality or appeal. Your card should not only stand out, but instantly show what you do, and leave a memorable impression. Your cards can say so much before any words are written. Did you know they don't even have to be rectangles?
Die cut business cards
You can, in fact, have them custom die cut to almost any shape you can imagine. Do you own a flower shop? What about flower-shaped business cards? Offer pet services? Create cards in the shape of dog bones. A landscaping business could order cards shaped like leaves.
For a simpler, but effective change, try a vertical business card.
For more tips you can read our article about how to get noticed with die cut business cards.
Full color business cards
Color says a lot more than you might think. The colors on your business cards should fit with your industry. Bright colors, for example, make more sense in a creative field than a technical business.
Keep in mind the message you are portraying and who you will be handing them to. Customers? Clients? Fellow industry professionals? What do you want your cards to say about you?
Business card content
What you include on a business card is also an important factor. You don't want to crowd the card with every possible contact avenue and social media network available. Include your name, business, phone number, and email address as the basics.
Think carefully about what else is important for you. Fax numbers are usually not necessary anymore. When was the last time you rang a new business contact by fax? Often street addresses aren't even needed, especially if your business is based online. Social media links should be included with caution, and only one or two that are professionally relevant.
There is a lot more that can be said about business cards. For a little bit more, watch our video about how to design a business card.