Marketing using flyers has become so commonplace that people have actually gotten the habit of avoiding employees or volunteers handing the pieces of paper over. That and the fact that you only have one page to deliver a marketing pitch that's supposed to stick make flyer printing design a bit tricky. Luckily, there are some simple ways to deliver that much desired lasting impact.
Adapt to Modernity
Flyers might seem so outdated what with the current ongoing cyber boom. Everything in reality will eventually have a cyber counterpart. And when it comes to marketing, the Internet counterpart of the actual thing far exceeds the latter in advantages. So why not make your flyer print design adapt to modernity?
DISCLAIMER: The following images are not owned by PrintPlace.com and are used for the sole purpose of inspiring our viewers.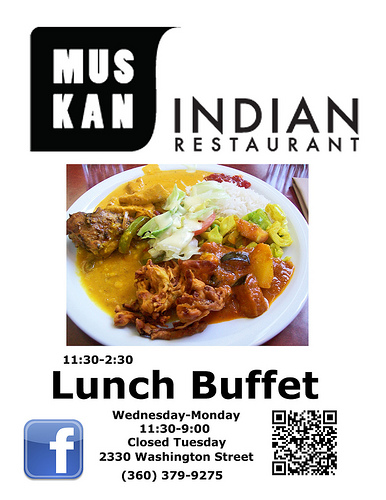 A QR Code on a mail flyer.
Try incorporating your business's Web address or portal into your print design using prominent font. Don't stop there, go ahead and put in a Facebook "Like" page or other social media or communities. Better yet, deliver all this information through technologies such as QR (Quick Response) codes that can easily be scanned by a smart phone camera.
Evoke Emotion
You don't have to send them belly-flopping in laughter or weeping rivers of tears. You just need to instill upon your audience a sense of either urgency or pleasure, as these two emotions are most useful in marketing.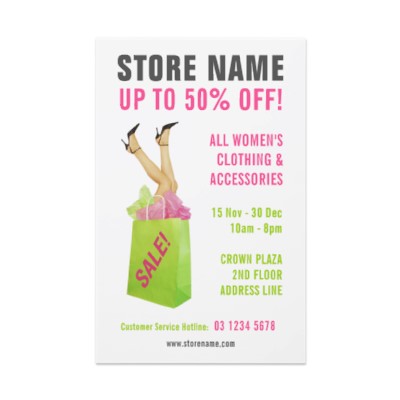 Sales have always been effective in getting women excited.
Messages or notices like "only until supplies last" or "limited time only" or "special offer" spark a sense of urgency and the need to avail of the goods or services or discount immediately. It's a classic touch that hasn't lost its touch quite yet. One of the best ways to evoke pleasure through such marketing paraphernalia as flyers is through aesthetic quality and readability. Readability scores high with a modern audience that merely scans for important data instead of actually delving in and reading, and beautiful designs and layouts are always appreciated.
Add Practical Value
The most useful giveaways are the most kept ones too. Unfortunately for flyers, they don't have much use aside from disseminating info. That's where you add practical value into the equation.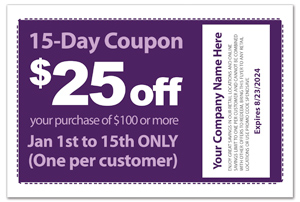 This is a template from flyerdesignpro.com.
You can design your flyers with value adding gift certificates detachable via perforated edge. You can use the flyers themselves as discount tokens your audience can use in their next purchase. And of course alongside practical value is brand reinforcement: testimonials (social validation) or business partners (professional validation).
For print and graphic designers, the usual best design practices and concepts are threadbare. They know they're important and would always implement them in their designs. But beyond standard print design is marketing, and using modern integration with the Web, evoking emotion, and adding value to flyer printing makes them more potent marketing tools.