If you have used PrintPlace.com for a while, you've probably spoken with one of our helpful customer service specialists. In that case, you already know how awesome they are. If you are a dedicated customer, maybe you've already seen the data from my customer service test that proved they are the most eager and willing to answer your call.
A phone call isn't the only way to talk with us though. If you'd like to find us through your computer, we have a couple of options. Pick the one you prefer and get the answer to your question ASAP.
Live chat: By selecting to use our live chat option, a window will pop up on your screen. In a matter of seconds you can talk to a customer service rep through a personal instant message chat.
Email: Our customer service is also available by email. Send your questions through our email form and an answer will soon arrive to your inbox.
Call us:
817-701-3555 or toll free at 877-405-3949
Our customer service hours are:
Monday – Friday
7am – 8pm CT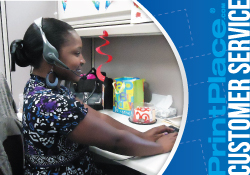 If you aren't familiar with our customer service, I'll give you a taste of what to expect when you call, chat, or email us. These happy PrintPlace.com customers told us about their experiences with our customer service department, so I thought I would share them with you.
"Thanks so much for your help! I appreciate you taking the time to talk with me. You were the first person that I have dealt with in a printing company that I felt like actually understood the issues I was having, and genuinely cared about helping me. Thank you so much for your customer service and professionalism. I look forward to dealing with PrintPlace and you more in the future. "
– Anne, Eclectic Design Company
"I AM SO GLAD THAT I CHOSE TO USE YOUR COMPANY. Every step of the process was either easy to understand or had someone available to answer my questions and help support me through it. I cannot remember all the wonderful folks that helped my job, but they are certainly representative of your entire staff. Your service is fantastic. You have won our business. We are now looking to find as many things that we can partner with you on as possible. You can be sure that we will be using your services much more in the coming year. Thank you and the wonderful folks that make up your customer service team and company!"
– Rev. Daniel Neises, The Foothills Church
"PrintPlace.com makes it easy and affordable to send a colorful message to thousands of contacts. Just as important, their professional customer service staff is why the NY LLC Company—its sister companies—have been coming back to PrintPlace.com for years!"
– Beth Gazes, Director Sales & Marketing, NY LLC Company