Stand out from the competition this year with your Thanksgiving marketing. Everyone seems to stick with the same icons and ideas for Thanksgiving, such as the turkey. Break away, but not too far away, from traditional Thanksgiving graphic design with the tips below, and you'll be sure to capture the attention of consumers.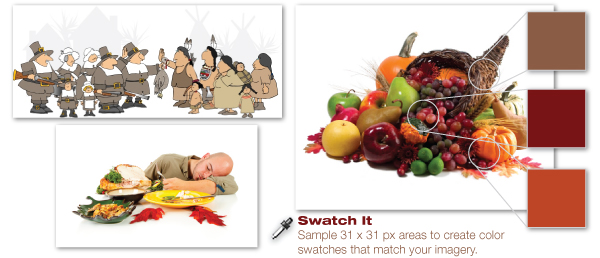 Family
Thanksgiving dinner is a common theme for marketing during this time of year, but rather than using a photograph of a family at the dinner table with a large turkey in the center, try a different approach. For a funny tone, use a picture of Uncle Ed snoring on the sofa with his mouth wide open. Or for advertising for a restaurant, use a picture of Mom dropping the turkey on the kitchen floor with a subtitle mentioning your delicious turkey dinner available for just such an emergency.
Pilgrims
Incorporate the Pilgrim story and legends into your promotional materials for touching on the heart of the holiday. You may want to include the first Thanksgiving story into your brochures or catalogs to entice readers to open the cover. Or you may want to use images from this historical account. Play on the message of the Pilgrim theme such as giving, sharing, and thanksgiving with free gifts or discounts.
Cornucopia
The cornucopia can also be called the "horn of plenty," which can be spun into nearly any marketing message. Plus, a cornucopia gives many color options, from the orange of pumpkins to the purple and green of grapes. The harvest theme can also include autumn leaves, which give another array of color – greens, golds, reds, browns, and oranges are all options for a Thanksgiving graphic design.
Whatever theme you decide to use for your brochures, postcards, flyers, or catalogs this year, be unique but don't stray too far from tradition. Thanksgiving gives plenty of options for creating a one-of-a-kind marketing campaign that still connects with the holiday spirit and with your customers.
Design tips by Susana Ortiz:
When designing an image take advantage of the Adobe Photoshop's Eye Dropper Tool, as seen above. Below are the step-by-step instructions.
Select the Eye Dropper Tool
Change Sample Size to "31 by 31 Average" (or higher, depending on the size of image)
Sample different areas and create new swatches to use for text or design elements in your artwork.